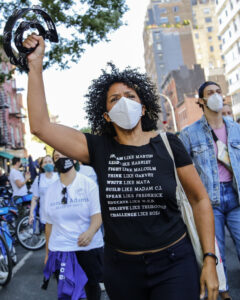 For New York City Mayoral candidate, Dianne Morales, calls to "Defund the Police" is more than just a slogan — it's her campaign promise to the city. 
Morales, former counsel to Mayor Bill de Blasio, has laid out a multi-prong platform to reform how the city approaches policing in the city.
"We've got to move away from the idea that public safety and policing are the same thing," said Morales at a mayoral forum hosted by Seaside Independent Democrats, a Coney Island based organization, on Facebook Live.
As a first step, she wants to establish a Community First Responders Department with trained professionals in intervention and de-escalation that would respond to situations like homelessness, mental health crises and substance abuse issue that police forces often are less ill-equipped to handle.
Her plan also includes connecting people in these situations to programs that will prevent them from ever ending up in a similar position again.
"The people that are closest to the challenges are the people that are closest to the solutions," said Morales.
National calls for police reform have been growing since Black Lives Matter protests erupted last summer in the wake of the police killing of George Floyd. The movement has used the death of Floyd, along with Breonna Taylor and  Ahmaud Arbery, and others, as a call for direct action against police brutality and over-policing that disproportionately harms communities of color.
But for some New Yorkers the phrase stirs up fears of lawlessness and lack of authority where crime can run rampant. 
At the event, Patrick O'Brien, a lifelong Brooklyn resident and member of the Seaside Independent Democrats, said a common misperception is that many believe Democrats want to defund the police, a claim he says is "completely untrue." Progressive calls for "Defund the Police," reference reallocating funds to community resources. 
He asked Morales about the possibility of reallocating some police funding towards mental health professionals to assist the police on 911 calls involving mental health crises. 
"What I have called for is divesting from policing and investing in communities," Morales answered.
Lauren Spiegel, research director of the Policing Project at New York University School of Law, agrees that police reform and community funding are not mutually exclusive ideas.
"You can both be thoughtful about the purview of the police in a community and also invest more resources in other types of services," said Spiegel. 
While Morales has clear ideas concerning the future of policing in New York, she is prepared to be held accountable by citizens by bringing them into conversations about what they need from the government and its systems.