Walking along Hell's Kitchen's jam-packed Restaurant Row, the QR codes on every table mark a significant transformation in an industry that has changed very little in the last 70 years.  Aside from "bottled or tap," clientele are now asked whether they know how to use the formerly obscure tech, designed as the New York Times reported in January, to "connect people and information."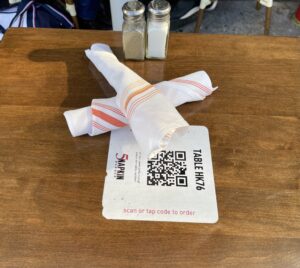 This change has lead San Francisco-based startup "Cheqout" to find a profitable niche. 
Developed in the pre-pandemic world of 2019, Cheqout was launched in 2020 with the mission of allowing small businesses to maximize control over their customer base. Cheqout's QR tech creates an instant link between the customer and the merchant. Diners can view menus, as well as order and pay for their checks themselves, which minimizes wait times for servers and reduces errors. 
QR codes are now being used by several companies to avoid use of menus. However Cheqout is unique, as its platform allows restaurant owners to bypass traditional credit card fees. Now operational in more than 150 establishments nationwide, the platform additionally allows restaurants to break free from the grip of industry giants such as Uber eats, Seamless and DoorDash, by offering their own delivery options.
"A lot of platforms that are starting to emerge right now are about helping the little guys get up to speed with corporate America," says Cheqout CEO and founder, Jamie Sunderland. "Most of the time small merchants are preyed upon by [large] tech companies".
But the implementation of technology in restaurants begs the question, is yet another industry succumbing to automation? And, at a time of high unemployment, is Cheqout facilitating layoffs in an already-tenuous job sector?
Sunderland doesn't think so.
"At first, I thought what we were doing was improving labor efficiency," Sunderland said, noting how servers would have fewer responsibilities and could focus on serving food and drink. "However, more often than not, it's a simple revenue boost. People tend to order more when they are ordering through their phones."
For Maren Powell, the owner of four Manhattan establishments that survived the aftershock of the pandemic, the boost is crucial. In a time of renewed enthusiasm for dining, Checkout allows her locations to squeeze out an extra "turn" per night, by serving customers more efficiently. 
"Our check averages have gone up," she said, "our customers are able to order immediately." 
Sitting perched on Ninth Avenue at 'Rita's, one of Powell's establishments, Sarah Arviso agreed, "I've yet to come across any other tech that has made the customer dining experience so seamless."