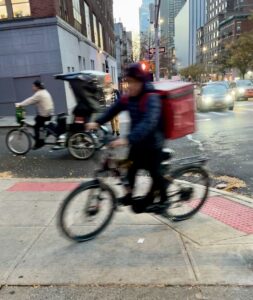 NEW YORK – The debate regarding unsafe e-bike usage continued Thursday night as Manhattan's Community Board 5 fielded calls to action from residents of New York's most densely populated district.
One Midtown resident, who was introduced on the Zoom meeting as Charles, voiced her concerns during the public hearing portion, saying she has witnessed e-bike riders running red lights and not yielding to pedestrians when they crossed the street.
"I'm really concerned about cyclists cycling on the sidewalk, and also going the wrong way, and just going very fast as people are crossing in the crosswalk," Charles said.
These concerns add to a litany of complaints from residents across the city. Motorized vehicles, which include e-bikes and e-scooters, have seen a 20% increase in incidents compared to last year, according to data from the New York City Police Department.
New York City streets have long been shared by commuters who use many different forms of transit — all vying for the same limited space. Many board members have argued that there are no concrete means to regulate e-bike users if safety laws are violated, as permits or licenses are not required.
Since 2020, e-bike riders have been permitted to use bike lanes at speeds of up to 25 mph. Along with other community districts, the Community Board 5, which includes Times Square within its borders, has long opposed the legalization of e-bikes without contingent regulations which would enable law enforcement to crack down on the unsafe usage of the vehicles. 
The legalization of e-bikes was largely seen as a win for delivery workers, many of whom  depend on their speed for their livelihoods, according to advocacy group Los Deliveristas Unidos. However, as accidents and fatalities are on the rise, the lack of e-bike regulation is quickly becoming a major issue. Despite this, Lyft announced earlier this year that the ridesharing company will be rolling out more e-bikes in the city. 
Another community member at Thursday's meeting upvoted Charles' concern. They reported seeing a cyclist hit a tourist, calling the incident  "absolutely terrifying," and noted that the pedestrian had been crossing the street during a designated walking signal in the Flatiron District. They called on Board members to find ways to regulate e-bikes in the area. 
In the three years since the Board first opposed e-bike legalization, New York City Council has chosen to not pass laws that would result in legal ramifications for individuals who violate traffic safety laws.
Board Chairperson Vikki Barbero could not offer concrete solutions during the meeting, recommending that those concerned should instead attend transport committee meetings. Barbero added that this issue remains "a very large concern for all of us."