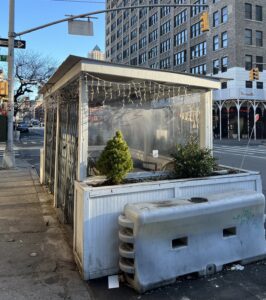 Amid shifting attitudes to the Covid-19 virus, New York City residents are increasingly labeling many relics of pandemic-era lockdowns obsolete.
Streetside dining – once a popular method to preserve both restaurant business and socially-deprived residents – has recently joined the relegated ranks of KN95 masks and Clorox wipes. Policymakers responded to initial positive feedback on the dining structures and promised to make outdoor dining a permanent feature of New York's streets. However, as Covid-19 guidelines continue to evolve, New Yorkers have become divided over the use of the haphazard structures.
In October 2020, the New York City Council first paved the way for a permanent solution for al-fresco dining, passing legislation that codified the emergency Open Restaurants program into law. The program was initially set up in June of that year, following months of lockdowns and economic hardship. It has since been credited with bringing back over 100,000 jobs, according to Andrew Rigie, Executive Director of the NYC Hospitality Alliance. 
"I think the most important thing to put in perspective is that outdoor dining as we know it was set up quickly in crisis to save thousands of restaurants," Rigie said. "[The program] powered through the changing seasons, year after year, and has been a model of resilience, vibrancy, and perseverance that New Yorkers should be proud of, but the nature of the situation and program has of course created challenges."
Some of those challenges come from the lack of standardization by agencies overseeing the program. 
"I think when [dining sheds] are maintained, like most things, they add to the experience," said Ellen Shell, a frequent outdoor diner who resides near Hell's Kitchen's Restaurant Row. "Sadly, many have become eyesores due to being not maintained." 
Another local resident, Patricia O'Neil, agreed, stating that "Empty shacks on the sidewalks along Ninth Avenue make life as a pedestrian more challenging than necessary at this point in time." 
Multiple locals have stated that the structures can be havens for drug users, with O'Neil adding, "The majority of the meals I've eaten outside were interrupted by panhandlers that came uncomfortably close."
The Coalition United for Equitable Urban Policy, or CUEUP, has posted a petition with over 2,500 signatories calling to repeal the legislation that makes the program permanent. They cite noise pollution, increased rat infestations and fire hazards, as reasons to "shut the sheds." 
While outdoor dining enabled restaurants to operate during the worst of the pandemic, not all restaurant employees continue to be grateful for the extra capacity. At Mama Mia, a restaurant celebrating 51 years in business, one server, who asked to remain anonymous, said he hated the structures.
Mama Mia occupies a busy corner off Ninth Avenue and has two street-side sheds. As a result, clientele sits far away, and dealing with rain, rats and corralling homeless people away from customers has become part of his job description. 
However, the establishment's owner, Connie Schiattarella, is enthusiastic about the added dining space, saying, "I am hoping that they will let us keep it. It enhances my business. I lost a lot of money in the pandemic, so I'm trying to recruit the money that I lost. And people love it."
Guidelines for permanent structures are still being finalized and feedback will be solicited at borough meetings held throughout December 2022 and into January 2023. 
"One size does not fit all with respect to these outdoor dining structures, so it is imperative that the rules to be drafted governing the operation of these curbside dining facilities include robust input from Community Boards," said Mark Diller, an Upper West Side community activist, and Community Board 7 member. 
As New York enters the third winter since dining sheds became part of the city landscape, a balance between the needs of neighbors and businesses has become intertwined with reimagining the possibilities for what outdoor public spaces are used for.
"The Open Restaurants program has demonstrated that valuable curbside space can be used for something other than a place to store private vehicles," said Ken Coughlin, a member of Manhattan Community Board 7.
The Department Of Transport has set a 2023 deadline for the final implementation of the permanent program. As legislation for permanent outdoor dining structures continues to be tweaked despite pushback, many acknowledge the need for dialogue.
"Observing servers dodge pedestrian traffic, then a busy bike lane, while holding hot plates, only to be undertipped, is disappointing," O'Neil said. New York City's streets will continue to be cramped and its residents committed to fast walking and hard drinking in equal measure. "Maneuvering through a crowd of intoxicated people on the sidewalk can be annoying," she added, "especially when I'm in a hurry."