The 45th president is great for business. Blonde wigs, "Yuuuge" shades, Troll dolls titled "Hair to the Chief," masks, and hats are among the Trump merchandise displayed at Halloween Adventure in the East Village.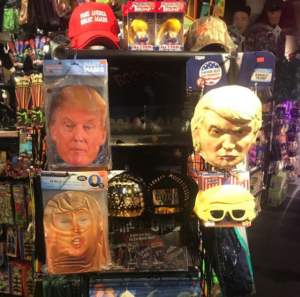 Two passing shoppers laughed as they took pictures and held some of the merchandise. To them, the items provided an amusing joke, but to the store's employees, the appeal of Trump bashing has provided a needed boost for sales.
Halloween Adventure, on Fourth Ave., is New York's largest costume and accessory superstore, open year-round in the East Village. Despite more than a decade of popularity since it opened in 2002, the store has suffered from increasing competition from Amazon. This season, President Trump, along with pop culture icons like Wonder Woman, have helped to attract passersby, and potential buyers.
Amazon's speed and low prices are major factors the store's employees blame for dropping sales. "Amazon beats us all the time," said Tony Bianchi, 72, the manager of Halloween Adventure, and he continued, "This store is an experience to walk through, but people don't want to go through the hassle. Even my grandchildren buy costumes through Amazon Prime."
Online searches account for roughly 35 percent of shoppers' costume inspiration compared to about 30 percent from retail stores, according to the National Retail Federation's annual Halloween survey. In addition, while only 22 percent of customers will exclusively buy online, that number has consistently grown over the years since 2006.
Despite the growing online trend, some employees are confident in Halloween Adventure's appeal. "There's an accessibility to thousands of items you can actually see and touch," said Michael, 26, a store employee, and he continued, "There's always uncertainty with the product you're getting when you're buying online."
The store takes full advantage of its many displays, especially that of President Trump, creating an experience that ties in with the news cycle. "The more Trump brands himself by sparking controversy, the more merchandise we can put on display," Bianchi said. "Good news or bad news, it's great for costume sales."