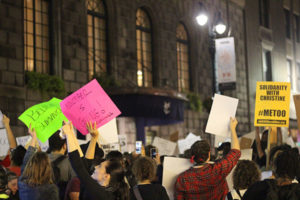 The allegations against Supreme Court nominee Brett Kavanaugh have incited a wave of activism and conversation in New York.
Hundreds gathered at Madison Square Park, marched to Yale Club, and then rallied at Grand Central on yesterday.
Among the chanting of "Hey-Hey, Ho-Ho, Kavanaugh has got to go," Sarah Whitman, 34, said she was frustrated by the process that might lead to the confirmation of Kavanaugh,  despite the sexual assault allegations against him.
"They don't care about humans," Whitman said, speaking about politicians who support Kavanaugh. "They specifically don't care about women."
She believes he will be confirmed.
"I don't know why anyone would think otherwise," she said "Looking at history, looking at what happened in the judiciary committee hearings, and looking at the motivations behind the Republican majority, it feels very clear that he's going to get confirmed. If they were not going to confirm him, they would have already pulled his name."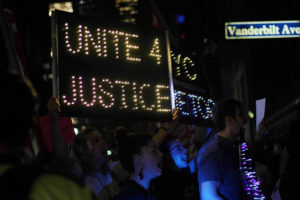 On a much smaller scale, a quiet group gathered in Washington Square Park to show solidarity to victims of sexual assault. Many spoke of their own experiences and reasons for not reporting at the event organized by women's activism group, "I Will Not Be Quiet."
One woman, who wished to remain anonymous, spoke about her reactions to the allegations against Kavanaugh.
"I am absolutely disgusted by it, but I'm not surprised by it." she said. "Like a lot of the women here, I've tried to report rape. It's a commonplace thing for authorities to either think we're lying or say, 'well, you know you wanted it, you provoked it'."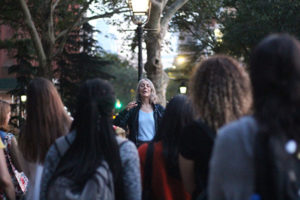 Many of Kavanaugh's supporters cite the lack of physical evidence and the time gap between the date of the alleged assault and when Dr. Christine  Blasey Ford decided to come forward. But supporters of Dr. Ford argue that negative and often accusatory reactions are exactly why victims of sexual assault are hesitant to report.
The pending decision was also heavily discussed on New York University's campus.
Alison Biedron, an NYU sophomore gender studies major at NYU, recognizes the problems that people have with the 36-year-old time gap, while still echoing her support for victims.
"There is such a doubt, for men all around, even liberal people, to believe survivors," Biedron said. "There is, in the US, 'innocent until proven guilty.' But, you shouldn't be shamed for coming forward and immediately be called a liar. I think that students, especially male students, have a hard time with that."
Biedron is sympathetic to victims, especially in Dr. Ford's case, where many feel that her motivations are pure.
"[Victims] know that there's nothing in it for them, except for closure," Biedron said. "There isn't a reason for [Ford] to come forward other than to tell the truth."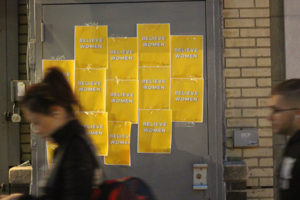 While women staunchly defended Dr. Ford and other victims of sexual abuse, many were resigned about the outcome.
"It's not really a matter of whether they believe her at this point, it's whether they care," Lena Friedman, a sophomore at NYU, said. "And I don't think they do."
Hannah Whitaker, a sophomore at NYU, believes that the discourse revolving around Kavanaugh and Ford is having an impact.
"I think it's really redefining how we see consent, especially with the #MeToo movement," Whitaker said. "Some people still see it as a bad thing. But times are changing."
Whitaker said that it is unfortunate that men grow up in an environment where inappropriate behavior with women isn't discouraged.
"That's why the rest of us have to scream in protest, and really put an effort in to change people's views, minds, and just change the people that are in charge," she said.