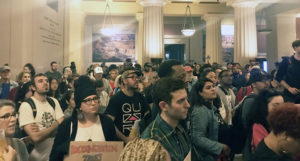 Over a thousand protestors gathered outside the American Museum of Natural History yesterday, to show their frustration with the museum's legacy of celebrating colonialism.
The anti-Columbus Day protest was designed to bring to light the misrepresentation of Native Americans and other people of color in the museum. Activists want the museum to hire more indigenous curators and return artifacts to their original communities.
"[We] have been organizing decolonial action since 2016," said Natasha Singh, a member of Decolonize This Place, the organizers of the protest.  "We've been asking the museum to start a decolonial commission and to also change the American Museum of Natural History into a decolonial space."
Protestors stood at the museum entrance and handed out tickets for their version of the museum tour.
Members of the South Asia Solidarity Initiative stood in the museum hall titled, "The Lore of Asia" holding signs that read, "The Looting of Asia".
"Colonialism was a system of looting," said Rovindra Deb, a member of the South Asia Solidarity Initiative. "There are artifacts and relics that are inside the museum. These are not things that were procured in a legitimate way, they were actually looted."
Deb, who is of Indian descent, said the museum makes mass generalizations about South Asian people.
"There is an exhibit in the museum about India," said Deb.  "It talks about 'the Indian way of life'. Well, you're talking about 1.2 billion people, like there's no way of life for 1.2 billion people."
Deb also noted that the in the context of the exhibit, "India is sort of a stand in for [all of] South Asia."
Activists also demanded the removal of the Theodore Roosevelt statue at the museum's entrance. Roosevelt is flanked by caricature-like statues of a Native American man, and an African man. While Roosevelt is dressed in his military uniform and riding a horse, the other two statues wear little clothes and walk subserviently at his side.
"I brought a group here and we were talking about the statue," said NYU Media, Culture, and Communication Professor Nick Mirzoeff, who attended the protest with group of grad students. "I was standing with a young woman who was from Senegal and she's in my class, she's looking at [the statue], and her eyes just filled with tears. Racism is toxic, it's contagious, and it does damage to people."
Mirzoeff is not the only New York City educator to bring his students to the American Museum of Natural History. It is the most visited museum in New York City. The majority of the visitors are school groups.
"I love to be informed, so I think it's kind of a disrespect to me on how what I learned [about Columbus and Imperialism] in school is not the same thing I learned outside of school," said Hanna Mingo, an 11th grade student from the Bronx.
The protestors also want Columbus Day to be renamed Indigenous People's Day.
"I think it's really important to reclaim this day, to really be a presence here, and calling out New York City, first of all, for still recognizing this day as Columbus Day,"  said indigenous activist, Lorena Ambrosio.
She called Columbus  "a colonizer and a genocidal maniac."
 "We don't want to honor that,"  she said. 
More than 50 U.S. cities have replaced Columbus Day with Indigenous People's Day. 
Museum officials did not comment on the protest.