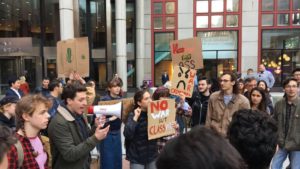 A crowd of over 200 filled NYU's Gould Plaza  yesterday, to protest the university's decision to host former Secretary of State Henry Kissinger at the Stern School of Business.
Students and activists screamed chants of "War and occupation will never bring liberation," and "Hey, Kissinger, what do you say? How many kids have you killed today?" while holding signs that called out Kissinger's legacy and US intervention in foreign countries.
Kissinger was Secretary of State during the Nixon and Ford administrations in the mid to late 70s. He is known for his controversial foreign policy initiatives, including US military intervention is Latin America and South East Asia. Most notably, Kissinger was integral to the decision to bomb Cambodia.
"Henry Kissinger is like the [original] war criminal," said Tory Smith, the national campaigner for anti-war activist group the War Resisters League who took part in the protest. "[His legacy] still continues to have an effect, like there's still unexploded bombs that are in Cambodia and kill people occasionally, from the saturated bombing of that country. I feel like if you do that to a country you do deserve to be followed around for the rest of your life by people telling you you're a [bad person]."
Smith was joined by Yoni Chang, a field organizer for the War Resisters League.
"The fact that [Kissinger's] still being invited to gigs, and he's still being invited you know as somebody whose perspective is meaningful or valuable for the direction we want society to go in, that's ridiculous," said Chang.
Kissinger was asked to speak at Stern as a part of the school's "In Conversation with Mervyn King" series. The series, which started in 2016, invites influential figures in economics and politics to engage in conversation with Stern Professor Lord Mervyn King.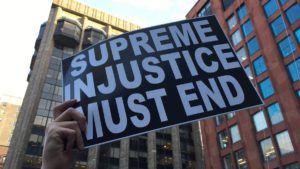 Twenty-seven activist groups signed a public statement asking NYU to cancel the event.
"We had no expectation of [NYU cancelling]," said Aeslyn Valhos, an NYU junior involved in organizing the protest. "He's a very well-known person who's been involved with the government. It was just to let them know that we weren't happy about it."
Protestors were invited to speak to the crowd to on behalf of an organization or themselves about the effects of Kissinger's policies.
"I speak today as a Southeast Asian woman, and a daughter of a refugee family," said Areerat Worawongwasu, an NYU student activist from the Asian American Political Activism Coalition. "Kissinger personally planned and presided over the dropping of 500,000 explosives over Cambodia, and 2.5 million tons of explosives on Lao, killing at least 10,000 civilians. To this very day, the genocide is hurting us."
Worawongwasu called upon NYU to listen to its students.
"While NYU continue to market itself as a global network university and perpetuate the rhetoric of neoliberal multiculturalism, we demand accountability in regards to inviting war mongers such as Kissinger onto campus valuing the so-called marketplace of ideas over the lives imperialists such as him have destroyed." said Worawongwasu.
NYU Tisch Freshman Simon Cadel spoke to the crowd about Kissinger's statements regarding the Jewish community.
"When discussing the Soviet Union, he said, 'if they put Jews in gas chambers in the Soviet Union, it is not an American concern.'" said Cadel. "He also said 'if it were not for the accident of my birth, I would be anti-Semitic.' However, being the pragmatic that he is, he managed to find a way."
Cadel recalled that Kissinger's only positive acknowledgement of his Jewish identity occurred in his defense of Israel.
Other students spoke about upheaval in Chile, Ecuador, and Yemen.
While the majority of the speakers were students, the crowd varied in age. Mark Woodcock was involved in the anti-war movement during the Vietnam War era.
"It's important to keep protesting, especially in this era," said Woodcock. "It's really important that everybody get involved."
Woodcock attended the protest with his sister Elspeth Woodcock-Macdonald and her husband, whom he noted were "lot more active than I am."
"It's ten times worse [now] than it was," said Woodcock-Macdonald. "Back then we could count on some kind of standard of law, and now this ridiculous agent orange, or our supreme leader, is just unspeakable. It's practically a part-time job, demonstrating."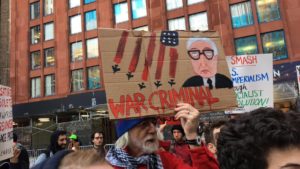 While protests occurred outside the Stern School building, other students disrupted Kissinger's speech from the inside. NYU sophomore Clayton Farris attended Kissinger's lecture, in which he and other students stood up at integrals throughout the hour to address Kissinger face to face.
"Basically, we're just making the event just a living hell for Kissinger and everyone in there who's supporting him for whatever reason," said Farris. "It was crazy. My adrenaline's going right now."
Farris and other students were thrown out of the auditorium by security after making comments about Kissinger's past.
NYU Stern released a statement following the protests, referencing NYU's commitment to "the free exchange of diverse ideas and viewpoints," while also acknowledging the "the importance of dissent."
Protesters stayed for the duration of the speech. A few braved the cold to stay until Kissinger left the building. Shouting followed Kissinger's car as he drove away.