A Day in the Life of Jahron Black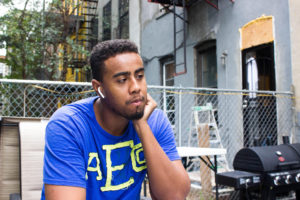 Brooklyn local Jahron Black relaxes in his backyard before heading to the New York Association for Blind Athlete's goalball practice, a sports game specially crafted for the visually impaired. As the president of this organization and a visually impaired man himself, Black prides himself in the awareness he raises for people like him. "This was a sport that was founded over 20 years ago after World War II, to help the veterans cope with losing their vision," said Black.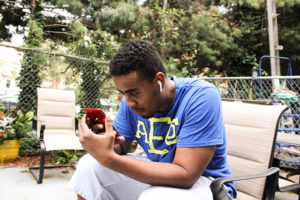 When he was born, Black was diagnosed with Optic Nerve Hypoplasia, a medical condition in which some optic nerve axons in the eyes do not develop fully. As a child, he fell in love with sports and after getting involved in NYABA, he has worked towards inspiring all kids with visual impairments to be active. "A lot of times parents are afraid for their child, and what happens is that the child ends up being sheltered. They become socially awkward and they do not excel in public," said Black. "Just because you are visually impaired, does not mean you have other cognitive disabilities."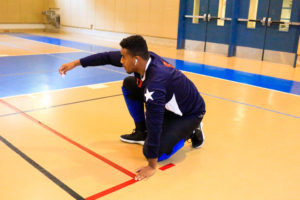 Black carefully sets up the 9 x 18 meter court with wire, to assist the visually impaired players with touching the court boundaries. He reaches for the 4-pound ball in the back of the gymnasium, which is filled with bells in its center to assist players with hearing when the ball is volleyed back and forth. "I always call it a mix of bowling and soccer," said Black.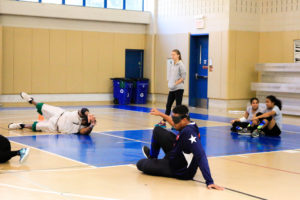 In the game, the court is broken down into three sections: the left wing, the right wing, and the center wing. Although all players are visually impaired, some have different levels of blindness. To make the game completely fair, all players are blindfolded.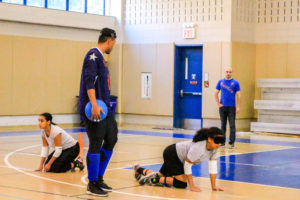 Along with being a player in the goalball league, Jahron works to teach people with vision about the game. Pictured here is Jahron teaching two New York Cares volunteers with sight how to play.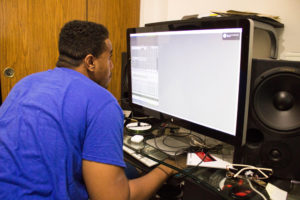 Apart from being involved in the NYABA, Jahron works on telling his story through rapping, which he works on from his bedroom in Brooklyn. "It is therapeutic for me. I think music is a gateway into the soul, and I pride myself for the life I live to be a connection point to all walks of life. It can change many lives," said Black.