A study conducted by the Research Alliance for New York City Schools at New York University's Steinhardt School of Culture, Education, and Human Development for their Equity, Access, and Diversity series found that 12 percent of New York City children who began kindergarten in fall 2012 experienced homelessness by reaching fifth grade.
The study also found that the periods of homelessness had a wide range, but favored longer periods of time. 70 percent of the children being homeless for over a year, and a quarter for all five years. There is an unequal distribution of homelessness among the school districts. District 10 in the Bronx had the highest rate of homelessness. More than 10 percent of the students who experienced homelessness throughout all 32 school districts in the five boroughs started kindergarten in District 10.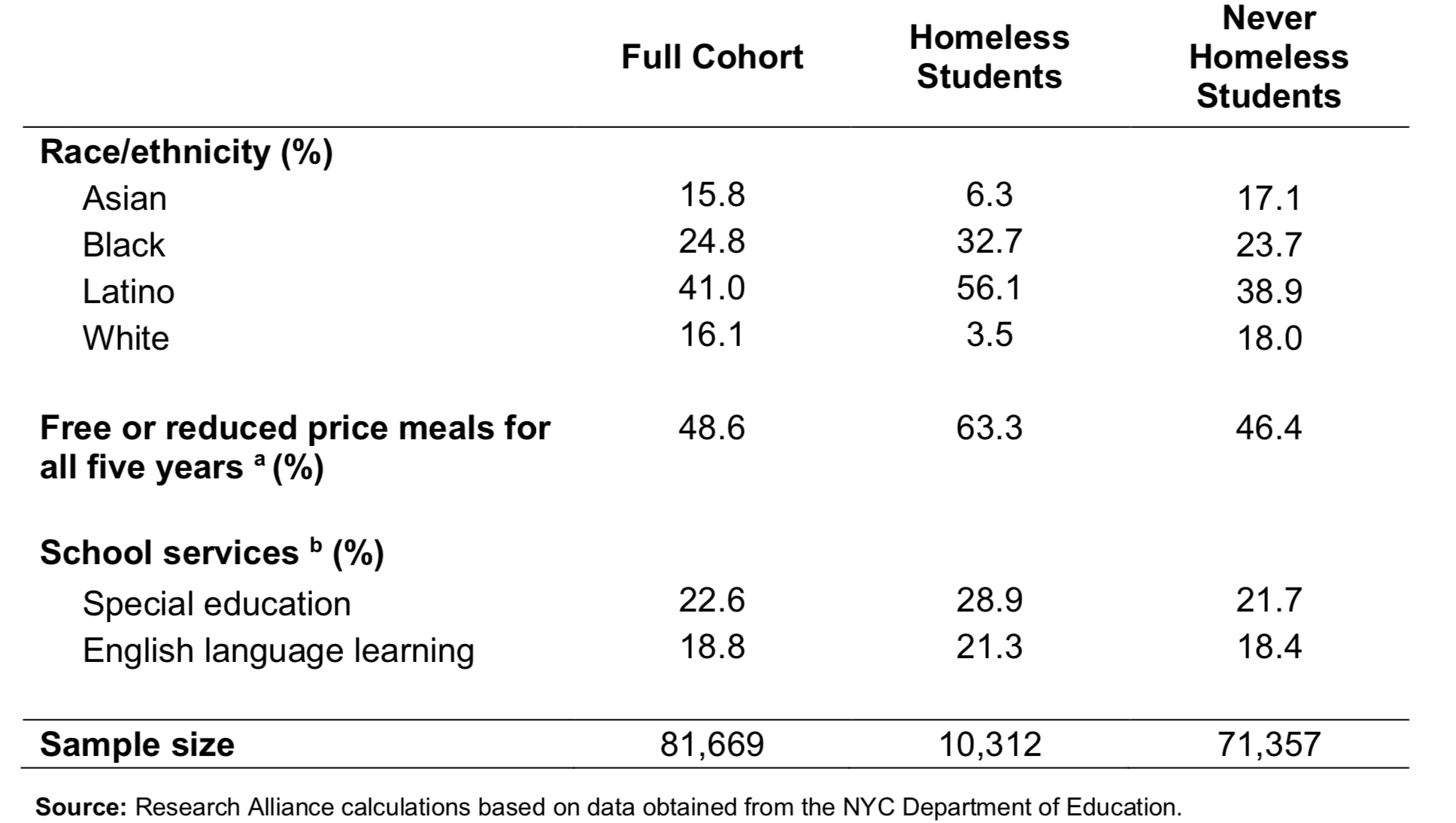 95 percent of students who were in a shelter for an extended period of time, for three years or more, were Black or Latino. These statistics "underscore[s] the disproportionate impact of extreme poverty on NYC's Black and Latino students," said Kathryn Hill, who briefly co-authored the study, in NYU's report on the study's findings. This disparity is suggestive of racial inequalities on other scales, specifically economic.   
"A big lesson from the brief is that it reflects other troubling trends we see in social and racial economic disparity, they are disproportionately likely to be Latino and Black," said Dr. Zitsi Mirakhur, who co-authored the brief, "Black and Latino students are more likely to be homeless for longer periods of time, and White and Asian students are not." "Another major and interesting finding of the brief is that Asian and Latino students are disproportionately more likely to be doubled up (taken in by friends and family members)."
The racially disproportionate impact of extreme poverty is "terribly unfortunate, and even more unfortunate it was not that surprising," said Dylanne Hernandez, a freshmen at NYU.    
The study also addressed how these situations affected the children's academic performance. Statistics suggested that homelessness negatively affected attendance, certain academic proficiencies, and caused for students to switch schools more regularly. Dr. Hill and Dr. Mirakhur also investigated what district elementary schools do to aid homeless students. Interviews were conducted with educators in five schools with high rates of homelessness. The educators described multiple complications, such as identifying homeless students, which make helping difficult. Community-based organizations are extremely helpful and appear to be the best way to reach out to homeless students according to the brief. 
"Speaking with education officials, shelters are considered a last resort, we see more Black students in shelters," said Dr. Mirakhur. "When we think of homelessness, we think of single men, but children can be homeless too," Dr. Mirakhur said regarding how this brief helped change perspectives regarding the issue of homelessness which was raised due to the Washington Square New's coverage of the police removal of the congregated homeless outside of the Silver Center and a homeless man's removal from outside Alumni Residence Hall.
"That is an astounding statistic"Hernandez said regarding the 1 in 8 statistic determined by this study. "I feel like children are a priority as far as non profit organizations go and I would think more is being done for them."