ACCRA, Ghana- Jagged orange holes polka dot the N5 highway between the Asikuma area and the town of Ho where vehicles and sub-saharan weather gnawed away at the asphalt.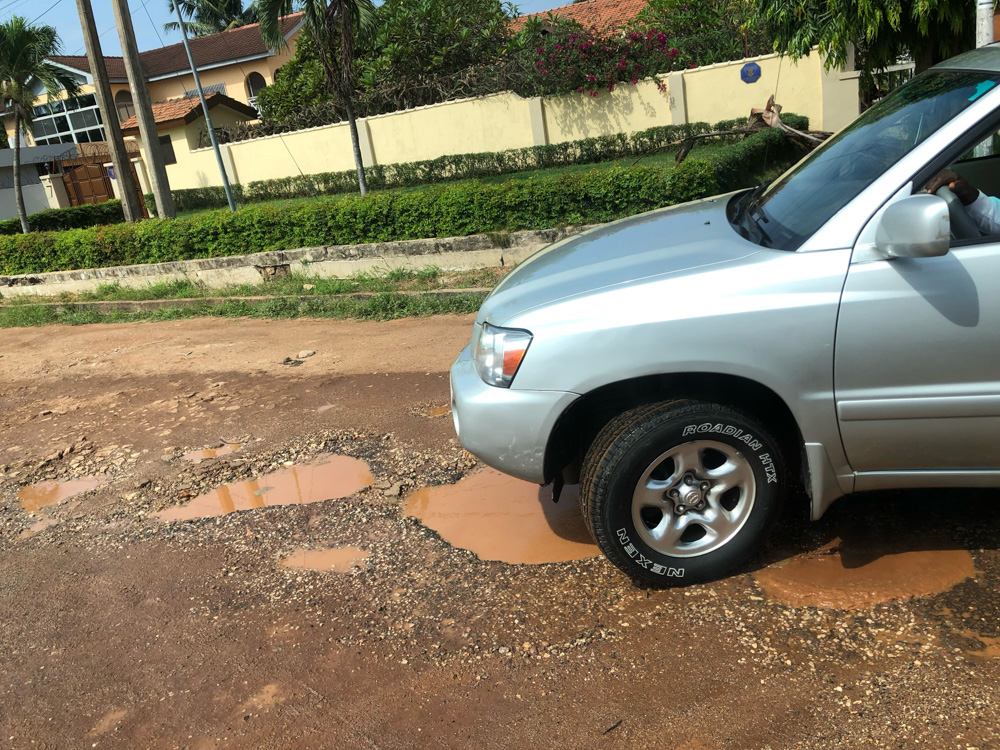 They widen and multiply with time like some splotchy rash. Cars and motorcycles erratically dance around these yawning chasms which are ready to swallow rubber and jolt spines.    
"The potholes are too huge," exclaimed Micheal Nana Osei, an Uber driver in Accra. "We can't drive safely. Every week we have to go to the shop for maintenance, every week!"
If there is not pavement, dust swirls around cars as they trundle along and clouds the vision of drivers already discombobulated by bobbing back and forth on the uneven road. 
"The dust gives me a cold, I have a cold all the time," Osei lamented about dust related health concerns. "The dust is killing us." 
Even upscale neighborhoods in the rapidly developing country's capital such as Labone and Cantonments have potholes like craters and stretches of rutted dirt roads.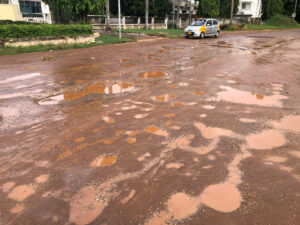 "Some of the roads are really rough," said Akyempem Mensah Joseph as he surveyed a mud splattered, dust faded Nissan 4X4, one of his rental cars. His prices vary depending on where people take his vehicles due to poor road conditions. 
He explained a car's shocks are damaged by deteriorated roads even if the car does not crash. "You are supposed to know where to brake and groove with the potholes, in Africa, our roads are not like in the US."
Road conditions only get worse the farther you go from the main veins of pavement which run through the country. From the sky, roads diminish in size and turn a dirty orange red as they wind away from the veins like little arteries.
Roads and highways are Ghana's circulatory system, and it is being clogged by the fact that 73% of Ghana's roads are unpaved according to Kwesi Amoako-Attah, the Minister of Roads and Highways.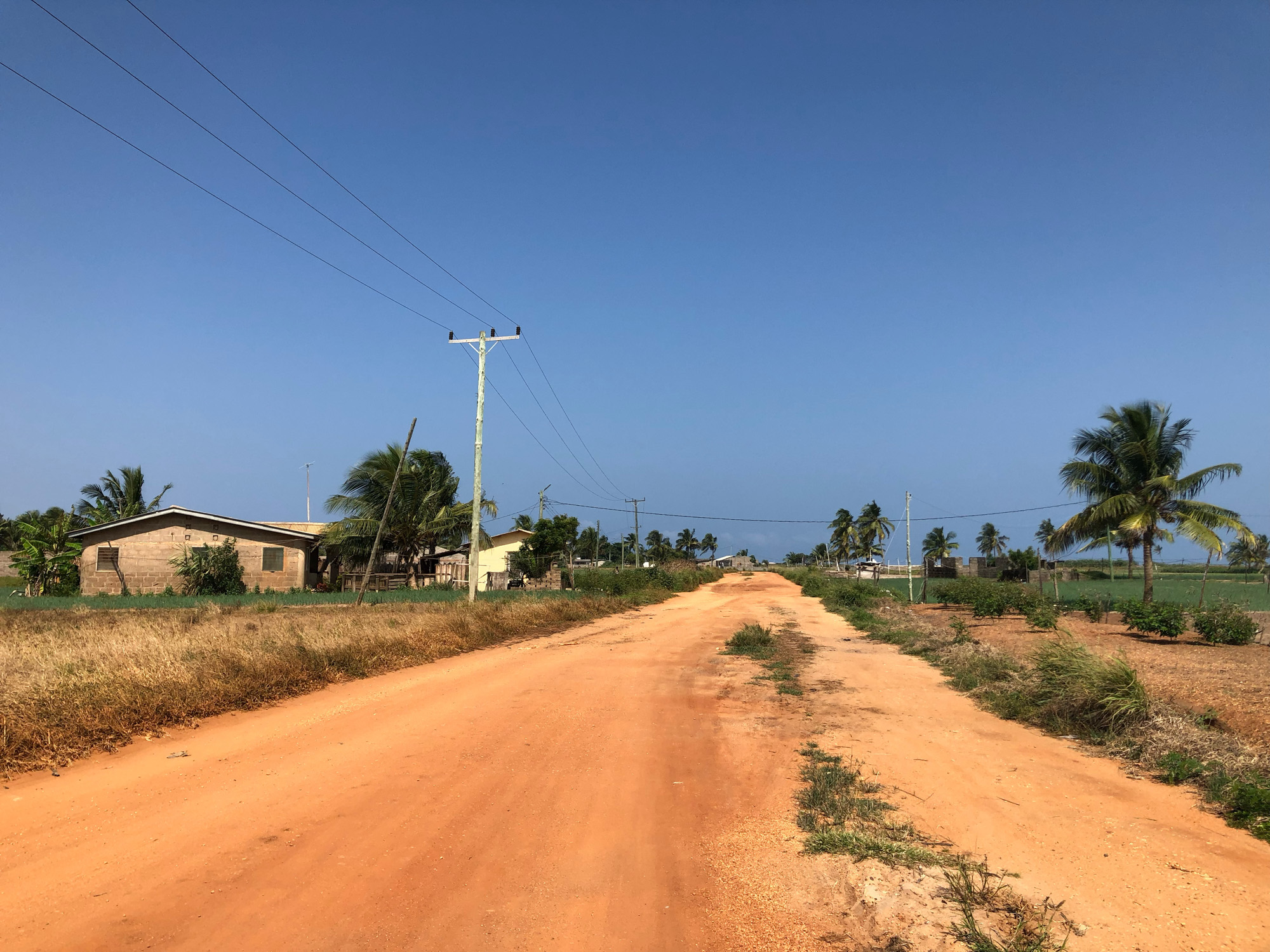 These conditions upset and delay daily lives and larger economic factors, like the shea and cocoa industries. Tourism is also deterred according to the Ghana Heritage Conservation Trust, and taxi and trotro (minibuses used for mass transit in Ghana) drivers protest health risks caused by dusty roads.
"Many young people have business ideas, but they have to worry about things like road conditions," said Banantooro Ernest, who grew up rurally in the Brong-Ahafo region with extremely deplorable roads. "If you want to start a business, is there even a road to where you could afford to set up your business?" 
To solve these issues and to promote economic development, many companies are bidding for construction contracts and some are introducing Ghana to alternative road paving methods and technologies. 
The Ministry of Roads and Highways is feeling the pressure of the growing nation's need for roads. President Nana Akufo-Addo wants to increase the budget for roads and highways from 2019's budget of $3,000,000 to $5,000,000 according to Sampson Akligoh, the Ministry of Finance's Acting Director of the Financial Sector Division. 
"We want to pave as many [roads] as possible," said Ernest Obeng, the director of Research Statistics and Information Management at the Ministry of Roads and Highways. "We are now trying to find alternatives that would one, meet requirements of cutting down cost and controlling dust, and then, we are in the tropics, where the sun and the rain are serious elements." 
Heavy rain and harsh sunlight wear away at paved roads and cripple the asphalt's foundation, so regular maintenance and repair costs are expensive. These factors make longevity and durability important when considering new methods.  
Companies based in Canada, Australia, South Africa, Israel and the US have presented their methods to the Ministry of Roads and Highways. After approval, they pave test segments of road which the Ghanaian government monitors for a year to see how it endures heavy traffic and what environmental impact the chemicals might inflict.
The products and methods include polymers, roller compacted concrete, recycled plastic and multiple soil stabilizers. There are multiple stabilizing products, and they all supposedly function differently. 
Innovative Technology Solutions Group Ltd (INOTECSOL) is one of the companies trying to break into Ghana's market with a soil stabilizing method alternative to bitumen and concrete asphalts for paving roads that uses enzymes. The US company distributes Cypher Environmental's (a Canadian company) patented product called EarthZyme. 
This product costs one-third the cost of polymer methods and should easily last ten years according to INOTECSOL's officials. One kilometer of road paved with conventional asphalt would cost $1,500,000, while EarthZyme would cost approximately $200,000. 
Where as polymers form rigid roadways prone to permanent cracks, EarthZyme undergoes extreme compression, hence it can endure more weight. 
The Ministry is also currently observing multiple polymer test sites, one of which was done by a South African company in Kumasi. The polymer was used to seal old potholes.  
"This road was closed two months ago for construction, and now look at it," Felix Agyemang said with a frustrated, satirical chuckle as he motioned towards a deep pothole in downtown Kumasi, right next to the famed Kejetia market.
Despite such issues with polymers, the Ministry of Roads and Highways is not ready to contract INOTECSOL. EarthZyme and other soil stabilizers have to pass the Ministry's standards and the year of observation first. 
"They all come with the same story, but we don't want to believe them till we see the facts of the tests," Obeng said about the companies and their sale pitches. 
"Most of them are coming as brands," he added. "It's the same product and somebody puts a different name on it, and we are not interested in brands, we are interested in standards." 
The multitude of products currently going through the testing and observation processes are not new, Cypher's enzyme stabilizing solution being distributed by INOTECSOL was developed 15 years ago. They are new for the African market, which is why so many foreign companies are trying to establish dominance in Ghana and obtain contracts. 
Some of the methods are new, such as the recycled plastic. These new methods will require more fine tuning before they are ready for the market because they are still somewhat experimental.
"Roller compacted concrete is one of the projects I am working on," Edmond Balika, an engineer for the Ministry of Roads and Highways said with a hint of pride after remaining relatively reserved as Obeng talked about newer methods. "The approach is slightly different [than concrete asphalt], so they just lay the concrete as they go and then roller compact it," Balika explained.
"It is a technology that also helps us construct the road's surface faster and cheaper," Obeng added. "That one is also in an ongoing trial." 
Even as more products, methods and technologies meet the government's standards, the Ministry is financially limited to smaller contracts, such as the 4.5 kilometer contract INOTECSOL is bidding for against other companies, which they estimate will cost between $700,000 and $900,000. 
Until income is budgeted for investment in roads and highways for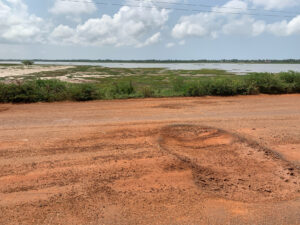 the sake of promoting development, illegal motorcycle taxi, okada, riders like Joshua Adjei will have to continue "angering passengers by dodging and swerving around potholes."