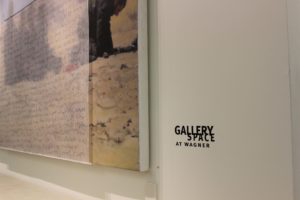 On Tuesday, February 25, attendees and panelists gathered at the gallery space of New York University's Wagner School of Public Service to participate in a discussion and observe the art made possible by the life and death of American journalist James Foley. 
The event included an exhibition featuring "Inescapable Truths", a series of artwork by artist Bradley McCallum. Through the use of Foley's unpublished source materials, McCallum created the series with the mission of countering the social amnesia that can follow traumatic news and evoking Foley's legacy through art.
Intended to start a public conversation, the art was accompanied by the panel discussion "Inescapable Truths: The James Foley Legacy & the Challenges of War Zone Reporting in the Middle East." The discussion addressed journalistic issues such as war journalism and the protection of war-zone journalists, as well as Foley's life and work in activist journalism.
Foley's Legacy
Often thought of in the light of his tragic symbolism, the event was dedicated to remembering Foley's legacy as well as Foley in his full and individual complexity.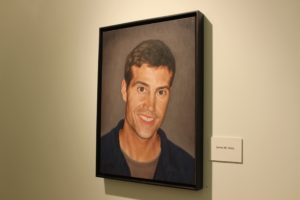 For Amanda Rogers, a panelist and professor at Colgate University, Foley death — the news event with the second highest recognition among Americans — has long-lasting effects.
"[Foley's execution] has had such a profound impact on international relations, on the way communities see each other," said Rogers. "I don't think that we can overstate it."
However, Rogers also reinforced the importance of contextualizing Foley's death and focusing not only on the death of Foley, one white American, but also the deaths of many Syrians as a result of the Syrian civil war.
"We fall into traps when our unrecognized bigotry is weaponized against us," said Rogers, a professor of Middle Eastern and Islamic Studies, who joined the panel via video conference due to concerns for her safety as a result of her research and advocacy.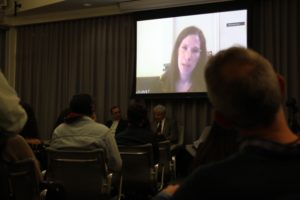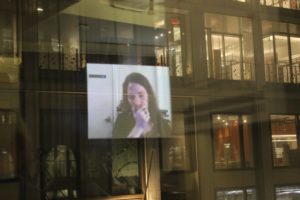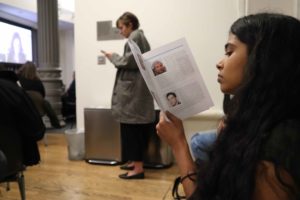 This larger focus, for McCallum, is what Foley strived for in his career as a journalist.
"One of the things I learned about James is that he had this incredible empathetic way of looking at and engaging and wanting to tell people's stories," said McCallum, about the process of going through Foley's hard drive. "There is a lot of work and attention to the individuals that are impacted by war…there's a sense of quiet collaboration with Jim to really focus on the lives of others."
For McCallum, "Inescapable Truths" isn't about Foley's death. "It is about acknowledging his life, his work," said McCallum.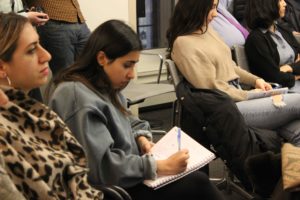 Other panelists, such as journalist and James W. Foley Legacy Foundation Board of Directors member Jere Van Dyk, acknowledged McCallum's role in memorializing Foley's legacy and life as a storyteller.
"What Bradley has done is taken one person," said Van Dyk. "And through that one person, we can understand so much better."
Van Dyk posited that there are two types of artists: commercial artists and human rights artists. For Van Dyk, McCallum is a human rights artist.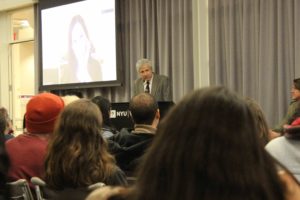 The Art
Valentina Di Liscia, a journalist for an online arts magazine, is one audience member who was more familiar with Foley's legacy than with McCallum's artwork prior to the event. Upon viewing the exhibit, Di Liscia felt intrigued by McCallum's use of artistic mediums that she was previously unfamiliar with.
"[The way McCallum] hand-painted the canvas and then he silkscreened an image on top — I thought that was interesting," said Di Liscia, a student of art history. "It's an interesting way to deal with complex and violent images, to have that multi-dimensionality to them."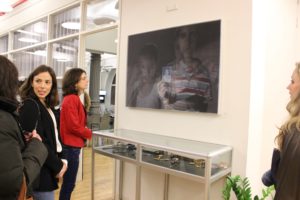 For audience member Fabio Periera Anes, McCallum's art raises larger questions about the nature of war.
"[The work] reminds us of the toll of war and refracts it through a light and frame," said Pereira Anes, an international relations student at Columbia University. "And that makes you question whether or not [war] is an endeavor worth doing."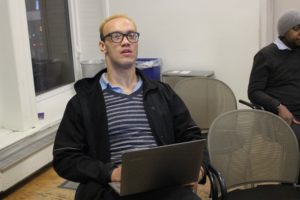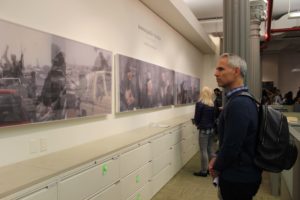 McCallum believes that the panel is important for audiences to be able to better contextualize the art.
"[It was] a way of trying to begin experimenting with how we can use this body of artwork to engage civic discourse and to connect with students," McCallum said. For McCallum, the panel also adheres to the key components of the James W. Foley Legacy Foundation of education and outreach, especially regarding journalism.
"The primary goal is to reshape the way we think and remember Jim," said McCallum, "and in turn, how we think about and reflect on the role of news and the impact that journalists have and the profound responsibility that they have."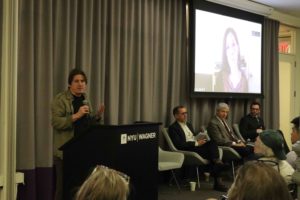 This rang true for audience members like Di Liscia.
"It's important to have some context before you see works like these, especially if they're so charged," said Di Liscia. "It's definitely important to have a conversation."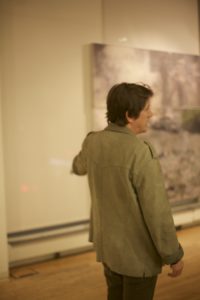 Next steps
"It is a work in progress," McCallum frequently explained his project as such, not only in the title of the exhibition but also to NYU Multimedia as well as the panel audience. "But it has a long shelf life, I hope, in terms of what role it can have."
"I hope [the work is] not only being seen as an exhibition," said McCallum, "but [also] being able to participate in shaping conversations."