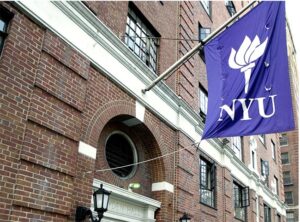 Students under NYU's mandatory quarantine utilized their social media platforms to expose the university's poor meal service and time management in the weeks before classes officially started.  
"I wanted to make sure I wasn't the only one who wasn't eating the meals," Edgar Gatsinzi, an NYU junior said. "When a salad composed of chunks of mushy watermelon and unseasoned chicken cutlets was delivered at my door, I decided to show everyone what the school was serving us by posting pictures of the food online." 
NYU promised students a delivery of three free meals per day because travel outside their dorms was going to be very limited during their 14-day quarantine. The plan included meal options to align with dietary restrictions such as vegetarian, vegan, gluten/dairy free, and even Halal or Kosher. But the university's dining plan didn't live up to its expectations. Since posting that meal, Gatsinzini and other students quarantined inside NYU's dorms have received hundreds of likes and comments on Twitter, Tik Tok and other social media and have been asked by multiple media platforms for statements on the food they were served. They've also commented on the lack of scheduling as far as meal deliveries. 
"On the second day, I didn't receive any meals at my door until 2 p.m." Kourtney Tucker, another student said. "If I hadn't brought groceries with me from before the move in, I would've had nothing to eat because not only were the meals not brought on time, they weren't good." 
Paying roughly $70,000 per year for their education and putting themselves at risk to return to campus during a pandemic, the students hoped that the university would be up to par in its quarantining efforts. After pictures surfaced of molded bread, small meal rations, and other meal disasters, it was clear that little consideration was put into the planning. Students had expressed their dismay in multiple emails to their residence halls and at times were frustrated by the staff's unresponsiveness. 
"I emailed my Residence Hall Director at around 10:00 A.M. when I didn't receive any water with my meal. No response, " said NYU student Lauryn Willis. I emailed them again around 4 p.m. and they told me they'd bring water by the end of the day and they never did. I had to wait until the morning after for them to deliver me water."
https://www.tiktok.com/@bootysnail/video/6862834017411124485
It wasn't until a few days into quarantine, on August 20th, when NYU finally released a statement from spokesman John Beckman on the difficulties with the meal service delivery. In it, the university took accountability for the poor dining service and responded to several complaints by adding shifts to prepare meals for prompt delivery, adding staff to respond swiftly to student food complaints, and bringing on an additional food service provider. The university concluded the statement saying "This is a particularly regrettable error, and a let-down for our students. We are dismayed that this didn't go off as planned, we and Chartwells apologize to the students, and we are committed to correcting this promptly." 
Gatsinzi said that he and other students simply relied on the fact that they were allowed to order food and grocery deliveries as an alternative to the meals provided by NYU. 
Between the hours of 2:00 and 8:30 P.M., NYU Residence Hall staff would deliver any orders made by students from outside places. Eventually, NYU even gave students a daily Grubhub gift card containing $30 for them to order dinners each night of quarantine from the restaurants of their choice. 
"Being able to order my own food made me more comfortable for the rest of quarantine. But, I hope this doesn't foreshadow what NYU Dining will be like for the actual school year," Tucker said.