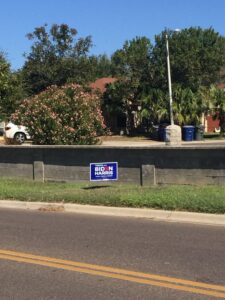 Laredo, Tx.— For months Sofia Campos has avidly followed the presidential debates, the candidates' policies, and been encouraging others to vote.
But while this would be the first year that the 20-year-old would be eligible to vote, Campos, like many residents, remains on the sidelines. 
"It's upsetting because I'm living here and whatever happens affects me," lamented Campos, a lifelong resident of Texas. "I'm here in the US and I can't do anything. I feel like my opinion doesn't matter." 
Campos is among the 2.2 million temporary residents and 12.3 million permanent residents, 11 percent of whom reside in Texas, who are ineligible to vote, according to the Pew Research Center. While immigration policy remained at the forefront of the presidential debates, many of those who are most affected by policy changes were ineligible to vote. Like others interviewed for this article, Campos was most concerned about immigration.  
Under the Trump administration, legal immigration has been cut by 49%, according to the Department of Homeland Security (DHS). According to DHS, over 100,000 immigrants are waiting to become citizens and COVID-19 and increased naturalization application fees have complicated the path to citizenship.
Like Campos, Andrea is a temporary resident and has closely followed the election process. Andrea, 20, civil engineering student at the University of Texas Rio Grande Valley, hopes the winning candidate will reshape immigration policy. Andrea preferred to be referred to by her first name because of privacy concerns tied to her immigration status. 
"I've done everything by the book," Andrea said. "We came here legally. We've done the temporary residency. We've applied for permanent residency, and it still doesn't work. I've been here for 20 years," she said.  
Andrea believes people's interest in the presidential election might lead to conversations about what is missing from immigration policy— a pathway to citizenship. To Andrea and Campos, citizenship would broaden their employment opportunities upon graduation. 
Vice President Biden has vowed to reform immigration policy and create a pathway to citizenship for immigrants in the first 100 days of his presidency. Andrea and Campos are hesitant to believe in promises made during the presidential campaign. 
"Hopefully, Biden does change immigration policy," said Andrea. "We will see."
Laura, a temporary resident since 2000, sees immigration as an important issue but believes COVID-19 should take precedence in the first 100 days of the winning candidates' presidency. Laura preferred to be referred to by her first name because of concerns tied to her immigration status. Laura says whoever wins should impose stringent measures to combat the global pandemic and stressed the importance of this election for the livelihoods of every American. 
 "A lot of people say, 'I don't care who wins,' but sooner or later it will affect you," said Laura. "Vote, make yourself heard."