College voters in Arizona are bracing themselves for post-election unrest and what a second term for President Donald Trump could mean as polls in the battleground state come to a close on Tuesday night.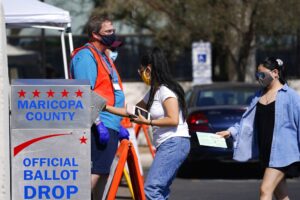 Young Arizonians are part of the rapidly growing demographic that could flip the historically Republican state from Red to Blue in the 2020 election. The state has not won a Democratic candidate for nearly 25 years. And while Biden is maintaining a lead in the state, according to initial election results, no winner has yet to be called. 
"It's pretty hard to get a feel for which way things could truly go," said Reyna Cota, a sophomore at Arizona State University studying English and Secondary Education. "Sometimes I feel confident, other times uncertain… so much is at stake for so many people."
Arizona is not only a key state in determining the election outcome, but is also crucial for immigration policies as a border state and home to many refugees, said Kim Alexis Adversario, a senior at ASU studying Political Science and History. She said the state is among the lowest-ranked for education with two of the most brutal police forces in the nation and does little to protect reproductive rights. These are just a few of the pressing issues that are contributing to a historic voter turnout in Arizona this election.
Early voting in the state surpassed the total number of votes cast in the 2016 election. As of Monday, 2.7 million of the 3.5 million ballots requested were returned with Republicans' ballots leading Democrats' by roughly one percent.
Arizona has long had a vote by mail history, but this year the state began counting ballots 14 days prior to Election Day for the first time. 
If Trump were to win the election, "many securities for the LGBT community, the people who rely on government healthcare and minorities will be ultimately discarded, as if we are going back in time," said Lauren Hemesath, an ASU sophomore studying Mechanical Engineering. 
During his term, Trump and his administration have reversed protections for the LGBTQ+ community, taken steps to undermine the Affordable Care Act and blocked immigrants from entering the country. 
"I want everything to change. There's no other way to say it," said Stephanie Husman, a sophomore at the University of Arizona studying Pre-Business. "At this point, if Biden wins we'd be asking for the minimum of what Trump took from us."
But what gives Husman hope is the investment that she has seen from the Tucson community, a largely liberal city in Arizona. Husman said the absentee request website crashed for a day from the number of people on the site, proving that "people just want to improve their current situation."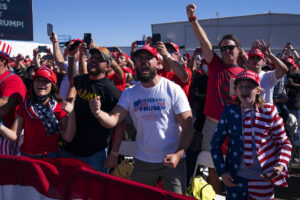 Although many young voters in Arizona are hopeful for a Democratic win, they are also preparing themselves for the civil unrest that may follow. 
If violence ensues from conservatives, who are "very adamant about arming themselves," Hemesath said she would not be surprised. 
Adversario agreed, saying she is more worried about the response from Trump's supporters if Biden were to win than she is about who takes the presidential seat. 
Living in a pro-Trump dominated area, Hemesath does not feel comfortable speaking against Trump. 
She watches fleets of trucks with pro-Trump and confederate flags as she passes by roadside shops selling Trump merchandise with dozens of cars lined up to make purchases without a mask. 
"These people are there when I go to work at 8 a.m. and I see them with large bright lights still out there at 7 p.m.," Hemesath said. 
And while some are placing more focus on the election outcome, others emphasize the importance of continued civic engagement regardless of the winner, stressing that pressing issues "will not just fade away with a party flip."
"There is so much to fight for beyond the ballot," said Adversario. "Voting blue will not stop the wars or the imperial policies of the U.S."