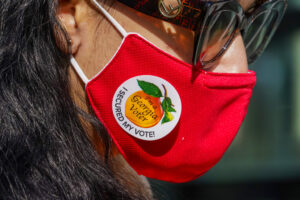 With Tuesday's night vote, college students in Georgia are not entirely hopeful former Vice President Joe Biden, the Democratic nominee, will win their home state in the 2020 Presidential Election.
They are even more concerned about the aftermath of the election and what the next four years may bring.
 "I'm super nervous about the fact that we have very blatant plans by our president to do things that will steal the election including [state] supreme court motions and trying to throw out votes," said Kate Porterfield, a senior at New York University from Marietta, Georgia.
The stakes for the 2020 national election are high as the country faces resurging cases of COVID-19 and wrestles with critical issues of climate, social justice reform, and economic uncertainty. Speaking to a crowd in Warm Springs, Biden pitched Trump voters directly, asking the crowd to give him a chance to "restore our soul and our country." 
Not since 1992 has Georgia gone Democratic, and it's expected to be a tight race with Biden currently at a 1-point lead, according to FiveThirtyEight. In 2016, Trump held a 5.1-point lead, winning the state's electorate. The New York Times/Siena College poll last week also showed Trump and Biden deadlocked at 45% each. 
Adam Parhoo, a junior at NYU from Woodstock, Ga., expressed concern over a possible Trump re-election. "Because I live in the area I do, there [are] so many Trump supporters here and I'm like, 'Wait, so maybe he does have a chance,'" he said.
Still the thought of Georgia going Blue was exciting for Parhoo. "Normally, Georgia is super Red, but I've been seeing stuff that it could honestly flip," he said.
Both presidential campaigns have not shied away from spending campaign money on the state proving that they do not consider the state a lost cause. The Biden campaign has $3 million in TV ads booked through the fall in Georgia but has only spent $13,000 so far. Republicans, on the other hand, have spent almost $6 million on ads in an effort to amp up their base, specifically wanting to win back support with suburban women. 
One of the reasons Georgia is so contentious is because the state is currently dealing with serious flaws in its administration of elections. 
Democrats have alleged voter suppression because of voter purging rolls, and the implementation of an "exact match" law that eliminates ballots with typos. Since the gutting of the Voter Rights Act in 2013, the state's voter rolls have grown by 2 million, but polling locations have been cut by 10%. 
The difficulty of voting due to dysfunctional polling machines, missing absentee ballots, limited poll workers, and long lines particularly for Black voters could help aid a Trump win, making young voters in Georgia nervous.
The past mismanagement of the elections caused Porterfield, who votes in Cobb County, one of the nine counties that make up half of the state's active voters, to be concerned about her ballot being counted. 
"Since our state is notorious for throwing out votes after our gubernatorial one in 2018, I felt like I was checking my status every couple of days, [and] it took like a month," said Porterfield. 
And while the state saw a historic turnout in its June primaries, it also experienced extremely long lines.
Hannah Day, a senior at Georgia Tech from Cobb County, said she witnessed long lines during the early voting period.
"I was surprised at how few locations there were to vote in person early, which I think contributed to the long lines," she said.
And Parhoo said he spoke to a couple while waiting in line to vote who told him they waited "five hours to vote" in the last election.
In addition to the logistical obstacles, cities all over the country are bracing for violence after results are called — and Georgia is no different.
"I am worried about driving into Atlanta on Wednesday," said Day. "I fear that it could get bad."
Porterfield also felt that the "heavier culture of outright conservatism" in Georgia "especially manifesting in open carry laws" made conditions for violence even more likely. 
Many are also deeply concerned about the future of their country.
Parhoo hopes that the next president will not use their "power to sow hate and division amongst everyone."
A sentiment shared by Porterfield. "I don't want someone who very openly calls for violence against other civilians," she said. "The bar is so low, like I just want someone who doesn't advocate for killing other citizens."