Michigan Gen Z voters may have casted their ballots hoping for change, but now they are waiting for what comes next.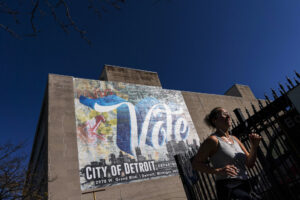 "The country is so divided right now and I think that what we can do is unite, but unite by understanding that we have more in common than what divides us," Kamali Clora, 21, studying public health in Wayne State University, said. 
As a Black college student, Clora has observed the country's "division and hatred" during these past few months to an exhausting level. At times, it's felt like having to stay "constantly alert and constantly on guard" after the nation saw sweeping protests this summer over racial injustice following the deaths of George Floyd, Ahmaud Arbery and Breonna Taylor. 
Clora is among the surging number of young voters in Michigan that have upped their political involvement in the 2020 race for the White House between President Donald Trump and former Vice President Joe Biden, the Democratic nominee. 
To him, the problems we see today in the United States are the exact reasons why he emphasizes the need for a changed presidency for the future, who can rebuild the collapsing country through qualities like leadership, dignity and respect — attributes he says he sees in Biden.
"Our Democracy is being challenged," said Clora. "I'm looking for a sense of normalcy and stability."
Like Clora, Grace Forster, 21, studying political science at Albion College, also desires the same future for the country and believes that Biden can help to restore normalcy in a country facing a rising global health pandemic and economic uncertainty. 
"Just on the most basic human decency level, I think people that aren't political can just expect from Joe Biden normalcy in this country—when you can wake up and not think, 'Oh my gosh, what did Trump weirdly tweet today?'" said Forster.
But despite her confidence in Biden, Forster fears a repeat of the 2016 election, making this year's election even more angst ridden. 
"There's a lot up in the air, and I think that people are really nervous for tomorrow, and days after that, even months after that. What will the U.S. look like?" she said on the eve of the Election.
Although Michigan appears to be leaning Democrat, some students have cast a cautious reminder that nothing is sure until the results come in. Within the state of Michigan, there's a deep political divide between East and Western parts of the Rust Belt State, adding more tension and uncertainty over the outcome
For a student like Jacob Aupperlee, who's residing in the Western region in Michigan, the uncertainty about the election results is even greater.
"It doesn't necessarily feel like Biden's got it 'locked down'," said Aupperlee, 20, a junior studying literature from Calvin University.
"I know the poll's saying something but it doesn't necessarily feel that way from my experience just because of where I'm from, where I went to high school and stuff. What I see is a lot of support for Trump," Aupperlee said. 
Tyler Kochman, 24, a graduate student at Eastern Michigan University, agreed. He cautioned that assuming the Democratic Party's victory in the state could be a misleading approach, pointing to the 2016 election as an example. Although state pre-election polls have shown a slight leaning toward Biden, Kochman still doesn't think that "we can ever feel too safe especially after 2016." 
And while it could be seen a challenge to be voting in a swing state for some, others like Aupperlee see it as a "gift," knowing the impact their ballot holds. 
"This morning when I was voting, I felt like it feels good to know that my vote has a lot of impact as a Michigan voter, and I'm pretty proud to be able to make an actual difference," Aupperlee said. "But it doesn't feel like everyone has that gift, so I'm very grateful for it."