In Nevada, many young voters have cast their ballots in their first presidential election, which will likely be the most consequential of their lifetimes.
The past four years have deeply divided the country, and with this year's Presidential Election many voters tired of the political divisiveness are hoping to change the country's trajectory. That's especially the case among the country's youngest voters in Nevada, who make up 37% of the eligible voter population, according to the Brookings Institute.
And their voices will matter a lot in a state with such a diverse population.
"I think that Nevada itself is so diverse," said McKenna Owen, a Nevadan attending Southern Methodist University online from Reno."You look at Reno compared to Vegas and you're like, 'How are they even the same state?'"
Indeed, Nevada's diverse population, especially its growing Hispanic and Latino population, is a critical part of the electorate that Biden will need to win the state.
A recent poll from Siena College and The New York Times Upshot showed Biden ahead by six percentage points, leaving him currently at 49% in Nevada. Biden is also seen ahead by 29 points among Hispanic voters. In 2016, Trump lost the state and its six electoral votes by a mere 27,000 votes.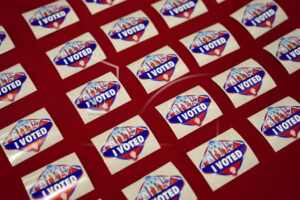 While Nevada has gone Blue in the past three presidential election, it still remains a swing state because of its diverging political views.
"I think that Nevadans are very one way or the other," Keighley Bader, a freshman virtually attending Arizona State University from her home in Reno said. "We're like, 'Yes Biden!' or 'Yes Trump!'"
Owen, too, recognizes this divisiveness.
"We all need to coexist with our political views," she said.
Such diversity is a big reason why Nevada often plays an important, if uncertain, role in national elections. And this year's election has already seen an encouraging voter turnout. A day before the election, the total amount of votes already amounted to 97% of the total vote from 2016.
Both Owen and Bader voted early and in person. This was their first time voting in any election. Bader even received a certificate and a celebratory round of applause at the polls.
"It was really cute," she said.
But voters like Bader recognize that, due to a nationwide surge in absentee and early voting, they may not know the official results of the election for days or even weeks.
"I have no idea what's gonna go on," she said. "For me right now, I'm like, there's no point getting emotionally attached."
Other voters are also aware of a potential delay.
Joshua Padilla, president of the Consolidated Students of the University of Nevada, Las Vegas, the university's undergraduate student government, said that he would take the live election results "with a grain of salt" and rely mostly on official state counts for data.
Padilla, who also voted early and in person, said he was proud to have fulfilled his "civic duty" by voting, especially in an election riddled with so much "contention and controversy."
Padilla hopes that this election will help restore some of the credibility and respect of the nation's leaders.
"I'd like to see a little bit more professionalism return," he said.
Despite so much division seen in the last four years, however, Padilla has found a "silver lining" in the fact that there are more "eyes on every election," even at the local level. He added that people "are a lot more educated" about elections in general and the impact their votes have on the outcomes.
Many voters have not given up hope in America's future. But whatever the results may be, for Owen, its citizens still have a responsibility to cultivate mutual respect for each other.
"We all just need to come together and support whoever our president is, even if it's maybe not who we voted for," she said. "I just hope that we don't become so divided again."