Young Minnesotans fear that voter suppression may impact votes for Democratic Presidential Candidate Joe Biden and continue the state's pattern of discrimination against its marginalized groups.
Following months of Black Lives Matter protests and incidents of police brutality, Minnesota college voters are worried their state will 'swing Red' in favor of President Donald Trump after a recent federal appeals court ruled that mail-in ballots must be received no later than Election Day. With Democrats more likely to vote with absentee ballots and by mail, the 2-1 ruling in favor of Republican challengers has left young voters concerned more Democrat votes may be disqualified.
"As long as it's postmarked by the end of Election Day, I think it should be counted," said Leah Taylor, a 19-year-old voter and resident of Minnesota. "There shouldn't be a deadline on that. We're in the middle of a pandemic. It's hard for some people, and we need to understand people aren't under the same circumstances. Look at Bush vs Gore; there's a lot that's been done to mess with votes."
In the 2000 election, the US Supreme Court reversed the Florida Supreme Court's request for a selective manual recount of the state's U.S. presidential election ballots. George W. Bush had won the presidential election after former Vice President Al Gore lost 25 of Florida's electoral college votes—with less than 600 votes separating the two candidates. According to Florida law, a machine recount of all the votes was required because the victory was less than 0.5%.
However, many including now-Justice Glover Roberts and Justice Brett Kavanaugh, who were then-Republican lawyers, worked to stop the recount. The case ended with a 7-1 ruling in favor of Bush.
The election and nomination of Roberts and Kavanaugh onto the Supreme Courts has left many young voters scared how the country's highest court could intervene should Trump win over their preferred candidate, Biden.
After the rushed confirmation of Justice Amy Coney Barrett a week before the election, many young voters were fearful that she could break a 4-4 tie if the Supreme Court was forced to weigh in on the outcome of the election and potentially support a second term for the sitting President.
"With everything that happened in Minneapolis, I'm not surprised," said Nimene Wureh, a New York University sophomore student studying remotely from Minnesota. "It scares me. At City Hall, they let you vote if you're been waiting in line after they've closed, but that's not going to be an option for people who can't go in person. With George Floyd being murdered and Philando Castille shot with his daughter in the backseat, the divide has been very clear."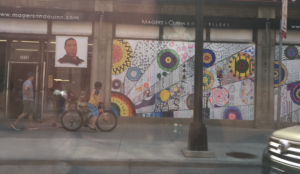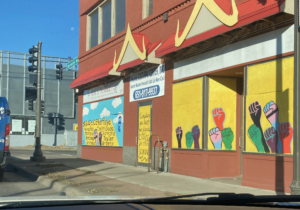 Black Lives Matter murals across Minnesota, Wednesday, November 4, 2020. (Images by Emily Rascher)
While voters were encouraged to turn in their ballots at designated drop-off locations by 3pm on Election Day or forfeit their absentee ballot to vote in person, college voters feared the ruling would suppress the votes of many Black, Indigenous, People of Color (BIPOC) unable to vote in person.
"I was sent home from work early the day the riots happened, so this is very personal to me. It's very close to home," said Emily Rascher, a student at the University of Minnesota. "I saw the murals and what happened to the low-income and marginalized communities."
Those who supported the Black Lives Matter Movement see the representation of BIPOC voices in the election as necessary in reforming the systems that suppress those marginalized groups.
"I'm really terrified if I'm being honest. After seeing the results of [the Black Lives Matter] riots and the havoc that came to Minneapolis, I know something will happen. Look at what's happening to these low-income and marginalized communities," said Rascher.
Having been in the middle of BLM riots and seeing the aftermath from supporters of the movement and those opposed, young voters the sentiment that civil unrest would be inevitable regardless of the outcome of the election.
"I'm going to be anxious until we absolutely know who has won. I'm hoping that whoever wins President will be someone who isn't impulsive, is compassionate, and is willing to take the time to walk in another person's shoes and see that perspective," said Rascher.