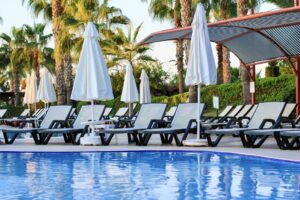 Imagine a room with 100 Covid-free people. Now imagine one idiot with Covid going into that room, infecting everyone else. In this  case, the room is Puerto Rico, and the idiot–Americans.  
Puerto Rico has been forced to balance the spread of the coronavirus amongst their densely populated island, while also trying to maintain their economy through tourism, an activity known to foster more Covid cases. 
"Puerto Rico relies on tourism, but from what I've seen most of the tourists that have come here have abused the island," said Maria Freyre, a 19 year-old Puerto Rican. "If you're gonna be a tourist, be mindful that Puerto Rico is not just a playground for Americans, there's people that live here." 
The first few cases of Covid in Puerto Rico appeared in March of 2019. An Italian woman is believed to have brought it to the island via cruise ship. Because Puerto Rico is a small, but densely populated island, the virus spread very easily. 
Freyre said that they went into lockdown for most of spring. When restrictions were lifted in June, there was a huge push to get tourism back on the island. Prices of flights were lowered to a mere $40-$50, causing a new wave of tourism. Many of these people were from the Southern United States, like Florida, where COVID-19 cases were especially high in the summer.
"They didn't care about restrictions," Freyre said. "It feels like people are escaping to come to Puerto Rico, just to avoid strict restrictions in the US, but in the end it's affecting us who are less likely to survive than those on the mainland." 
Many small businesses have been shut down due to Covid and the lack of tourism. Places like Old San Juan, whose economy relies heavily on tourism, were hurt the most. 
"Old San Juan is a big tourist spot with a lot of small and independent businesses. These places are a part of the charm of Puerto Rico, but they have been hurt by the lack of tourism recently," Freyre said.
Because of the backlash against tourists, Puerto Rico put in place new restrictions. Now, tourists must provide a negative COVID test 72 hours before coming into the country. In addition, there is a form of contact tracing through the app Sara Alert.
"I've been getting these texts from a system called Sara Alert," said Caromyr Figueroa, 46, a Puerto Rican who recently traveled back to the island. "The app asks me if I have symptoms, if I've been anywhere, where I'm quarantined, all the basic COVID information. I have to fill it out daily for 14 days." 
If one does not have a negative COVID result 72 hours before arrival, they are asked to provide information on where they are staying, and quarantine for 14 days.
Figueroa said she understands wanting to travel, and is completely fine with it, as long as tourists remain respectful to the territory and its people. 
"It's an easy thing to do, you just have to follow protocol," Figueroa said. "It's not like you have to be locked up in a hotel room. It's as simple as wearing a mask, social distancing, the things that are required of you in the mainland."
There are many efforts to help Puerto Ricans out with the rise in Covid cases. Sofia Toymil, a 19-year-old Puerto Rican, created a LA based mutual fund aid that helps Puerto Ricans with many different social/political issues. Some work they have done includes raising money for people struggling with unemployment, repairing areas affected by the hurricane season, and creating infographics about LatinX issues. Toymil has one thing to say to Americans.
"We are still reeling from Maria, we have a frail healthcare system, and frail infrastructure," Toymil said. "Be mindful that there's people that need to survive. Stop being selfish and understand there are real-life people on our island."
According to Toymil, the healthcare system is currently strained with little resources and an exponentially increasing pool of Covid patients. The CDC recently issued Puerto Rico as a high-risk area, and advises against any unnecessary travel to the island.