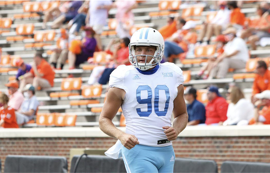 Depending on who you talk to, Matt Campbell is not Matt Campbell.
To some teammates and coaches, he is 'Matty Ice.'  To a few classmates, he is 'Matt the Engineer.' But those really close to Campbell know him by one name: 'Matty Ice…Cream.'
The 6'1", 227-pound junior Citadel punter is not overweight. Cheez-Its, not ice cream, are his favorite snack.  But the nickname serves as a repartee to his appearance and velvety personality.
"I'm a big punter, I get it. They like to call me fat," Campbell said with a shrug, admitting that the insult doesn't offend him. "I think it [the nickname] is hilarious."
Whatever you want to call him, Matty Ice Cream is one of the most dominant punters in the Southern Conference and the FCS. Through four games, he has punted 23 times with an average of 40.5 yards. Eight of those punts were downed inside of the 20-yard line. Before the 2020 season, he was named First-Team All-Southern Conference and HERO Sports Preseason Third-Team All-American. After his freshman season, he was named the 2018 FCS Phil Steele Magazine Freshman Special Teams Player of the Year.
He commands respect for what he does on the football field," Mike Capaccio, Citadel athletic director, said. "He has the ability to pin people back and is very accurate with his punts."
In addition to punting this season, Campbell also handled kickoffs and was a holder for the Bulldog squad, a testament to his versatility.
"For him to step into two new roles [kickoffs and holding] and to continue to do well punting, it just speaks to his mental toughness," Turner West, Campbell's special teams coach at The Citadel, said. "He stepped up this year."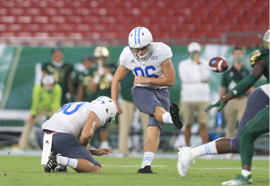 In Citadel's most recent game against Army-West Point, Campbell's adaptability was on full display. On the opening kickoff, Campbell executed an onside kick, gently lifting the ball twelve yards into the air and into the waiting arms of a Citadel player. The kick was so accurate, an Army player wasn't able to touch it.
Although an onside kick to start a game could go terribly wrong if executed incorrectly, the confidence the Citadel coaching staff had instilled in Matt trumped all worries of a mishap.
"Coach West told me that Matt can handle it," Citadel head football coach Brent Thompson, referencing the responsibility of Campbell attempting the trick play, said. "And he executed it perfectly."
Campbell also added two punts, both inside-the-20 and one for 54 yards, in the contest.
But it hasn't always been success and accolades for Campbell on the football field. On September 12th, around 8:30pm in Tampa, his life, arguably, changed forever.
The Citadel was playing South Florida in their first game of the season.
It was fourth down. Campbell was called to punt deep in Citadel territory in the windy, rainy conditions. He botched the snap, bobbled the ball momentarily, and then kicked the ball…five yards forward and into the arms of a South Florida defender standing in their end-zone. Touchdown Bulls.
"After it happened, I made so many jokes on the sideline," Campbell said.  "I told my teammates, "Watch this show up on ESPN's Not Top Ten."
It did. And not just on ESPN.
From one muffed punt, Campbell went from being an inconspicuous college punter to a victim of internet trolling everywhere.  "Citadel punter fail" was trending on Twitter.
"It was the most '2020' punt there has ever been," Coach West said with a chuckle.
Campbell agreed.
"That [the muffed punt] happened at the worst possible time. We are in the middle of a pandemic, people are cooped up at home," Campbell said, admitting that he deleted social media after the incident. "What else do they have to do but to bash other people?"
According to Citadel coaches and teammates, Campbell's performance after the blunder exemplifies his mental toughness.  Despite the folly, Campbell launched five punts for an average of 40 yards throughout the remainder of the game.
For Campbell, the fact that he now plays college football at the Division I level is a combination of hard work and luck.
As a child, Campbell developed a strong leg playing soccer at six years old. But it wasn't until his freshman year, at a soccer tournament, that the possibility of punting was introduced to him.
"I was a goalkeeper on the soccer team, and the head football coach on the ninth grade football team was there looking for a kicker," Campbell said. "After seeing me kick and punt the ball, he called me a week later asked if I wanted to try out for football."
Spoiler alert: he made the team. And his career as a punter began.
From his freshman to junior years at Mill Creek High School in Hoschton, Georgia, Campbell only punted. It wasn't until senior year that he was used on kickoffs, punts, and field goals.
"The kid goes out and hit two 50-yard field goals and missed only one his whole senior season," Greg Davis, Citadel alumni and Campbell's kicking coach in high school, said. "He had a great year punting, too."
In order to become the punter he is today, Campbell said that he had to become a "student of the game." And with hard work came high expectations, specifically to improve his craft each year. As a high school senior, Campbell won multiple awards, including "Honorable Mention Punter" in the state of Georgia.
"As a senior, he was automatic at placing opponents inside of their own 20-yard line," Coach Jed Hodges, Campbell's high school special teams coach, said. "I didn't have to teach him much."
After a dominant senior season, Campbell received a scholarship offer from The Citadel. Army-West Point was his only other football offer. Besides the requirement of service for West Point graduates, another deterrent of the military academy was the weather–the frosty New York winters versus the yearlong, amiable Charleston climate.
"I hate the cold," Campbell said with a smirk. "I'd rather be in warm weather and close to the beach."
Along with his distaste of cold weather, Campbell is vocal about his other preferences, from his favorite peanut butter cracker brand (Lance) to his NFL affiliation (the Falcons).
Campbell's favorite music genres are country and heavy metal–he mentioned he knows how polar opposite these are–but said his personality aligns more with heavy metal. Perhaps the earsplitting, discordant heavy metal vibe aligns perfectly with a punter bashing footballs into the air. 
But his avidity for heavy metal has provided more lessons for life than listening pleasure.
"My brother told me about a quote from one of my favorite bands, 'A Day to Remember.' It goes: 'Keep your hopes up high and your head down low," Campbell said. "That's my motto and what I do every day.
While Campbell's head might be low, his actions on the field certainly have caught the attention of Citadel teammates and fans. And Campbell also dominates an area of football not typically associated with punters: the weightroom.
"One day I'm in the weightroom, doing my reps and I look across the room and our punter is bench pressing about 100 more pounds than me," Javonte Middleton, 180-pound junior Citadel cornerback and Campbell's teammate, said. "It [his size] is just an advantage for him."
Campbell's eagerness to shine in the weight room is not only seen by teammates, but also present when no one is watching.
"The team was on an off-week," Donnell Boucher, Citadel strength coach, said. "The first person to contact me to ask about the weight room was Matt, first thing Monday morning."   
While Campbell tends to thrive in most areas involving the game of football, his favorite thing to do is to bring his teammates together off the field. His favorite way to do that? Fishing.
"I went fishing with him a lot over the summer," Middleton added. "He is just as good at fishing as he is at punting a football."
Although Middleton marveled at Campbell's ability to be a fisherman extraordinaire, it wasn't only players that noticed Campbell's affection for angling.
"Every time I talked to him during the pandemic, he was either fishing or on his way to fishing," Coach Thompson said, referencing the daily check-in's he had with his players in the spring. "I was wishing he was out on the football field practicing punts, but nope, he was out there trying to catch some fish."
Many of Campbell's coaches and teammates think the NFL is a potential destination for Campbell should he continue to improve. All of them agree that Campbell will succeed in whatever field he chooses–engineering, football, or…fishing.
When Campbell was asked directly about future plans, he was happy to waft through his many interests and passions. But when asked about the prospect of another designed play–either a fake punt or onside kick–Campbell's expression abruptly changed.
He stretched his legs out, crossed his arms, and sheepishly grinned. His eye contact averted and he lowered his head down slowly, in typical Campbell fashion.
"That's classified."