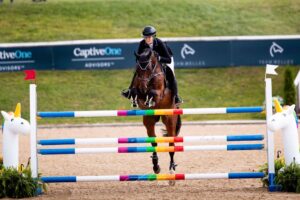 It's something most athletes struggle with: burnout. The decision to stick with a sport or try a new one or just quit sports can entirely define athletes. 
When Katherine Dash, a 21-year-old equestrian and 2024 Olympic hopeful, was planning on taking a gap year from school to compete, she was feeling burned out. She's been riding since she was three years old; so many years of this sport has been consuming her time, plus the miles and miles of travel — has she missed out on her teenage years? 
She decided to take some time off from riding, maybe permanently. Nearing three months post high school, she had the time to work at a SoulCycle studio, stay at home, and see friends, but Dash needed something more in her life.
"It was really nice," Dash said. "But then, probably like, two months in, I started realizing, maybe being at home isn't as great as I actually thought it would be, just because I think I was so used to traveling. It was just kind of bizarre to not have anything on the horizon."
Nearing two and a half months at home in Bellevue, a city outside Seattle, she had plans to watch a friend compete at a horse show, purely as a spectator. 
"Once I went, I was like, wow, I really missed this," Dash said. "And it's something that I want to do again, but I think almost the perspective of not doing it has made me realize how much I appreciate it, and how much it can offer as a balance."
Fighting burnout and not having as much money compared to other riders, Dash literally got back on the horse. She hit the ground running, and fell back in love with the sport that she committed so much time to previously. 
Soon she found herself once again competing with some of the best riders in the nation, and the Olympics were within sight once again. Dash eventually found a true balance between her double lifestyle on a horse and as a college student.
A rough ride, at first
Dash grew up around horses on the Eastside of Seattle. It was her mother, Shawna, who initiated a life with horses at a young age. Dash started finding joy in going to the stables with her mother when she was around three years old. For them, it was a chance to bond. 
"My mom played a really big role in that," Dash said. "She's very knowledgeable about the sport. So she kind of knew who the best coaches would be for various parts, within my career trajectory. And so, the person in Oregon was super great. And they started me on the path."
On the other hand, Katherine's father, Michael, was somewhat clueless of the sport. For someone with no background in horseback riding, it can be terrifying seeing your daughter interact with an unpredictable animal.
"[Shawna] grew up riding," Michael Dash said. "And she was the one that was the big advocate for Katherine getting on a horse. And I remember mom walking around with a lead line. And I just sat there. And I was like, 'oh, my goodness, I hope she doesn't fall off.' So I would say it has been that I was always concerned whenever she'd get on the horse. I still am."
Dash rode casually until she was 5, when she began a quick diversion into swimming. It wasn't until swim practice start times crept earlier and earlier that Dash transferred her energy back into riding. By the time she was in seventh grade, she rode competitively. 
Shawna has always said Katherine had something special. At the same time, horseback riding is 50/50 between the rider and the horse. A great horse cannot fully compensate for a poor rider, and a great rider cannot compensate for a subpar horse. Furthermore, horseback riding is very financially dependent. Compared to some of the high-roller competitors she was facing, Dash could not afford the best horses. 
"There were times when she was younger and growing up, where it would clearly be frustrating and disappointing or that she wasn't able to finish higher in a class because she kind of knew that she had the worst horse in the class," Michael Dash said. "I would say over time, I mean, she's always been a kid who just outworks other people."
If it weren't for Dash's tenacity and persistence, it might have been an obstacle she couldn't overcome. She began working harder than the others around her. Due to the lack of good coaches in the Seattle area, Katherine branched out to Oregon and California for better instruction. 
By junior year in high school, she was fully invested in committing to USC due to its proximity to her coach at the time. 
She then outgrew competing in California and Oregon and took the next step to ship her horses out East, where the best coaches are. Her first serious coach, Archie Cox was the one that pushed her to make this move.
The East Coast serves as an equestrian hub state-side. For older professionals, most people go to Florida, especially to Wellington, a horse community west of Palm Beach. Wellington is just about the only place where no one bats an eye at seeing horses and riders everywhere. When Wellington gets too hot, riders will travel up north to the mid- to upper-Atlantic regions.
While Dash lives in Los Angeles most of the time, two weekends out of a month, she flies to the east coast to compete. Her performances are not solely reliant on her, however. 
The horse, of course, is the other half of the show. 
A 2000-lb Sidekick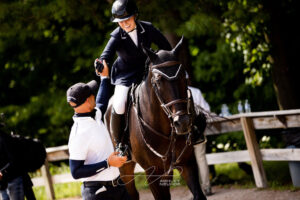 Although it would be ideal if a rider could stick with one horse, many horses are needed because they each have different capabilities. Between the horse and the rider, the horse depends on the class they want to compete in, and the rider's skill level.
"It's not like a car where you can just like, 'oh, I really like this, it's fun, it's silver (color choice),'" Dash said. "But the horse also has to be willing to jump for you and be willing to work hard for you. So like, there's that added concept of, it's not just me, there is another living being that is a part of this."
However, the process of choosing a horse is somewhat like test driving a car. 
"You'll know whether or not you feel comfortable on the horse…you can watch a lot of videos of the horse with different riders, you can look at his record… you can basically deduce whether or not you think that the horse is going to be a good match."
 The horses she rides now — HH Casey Jones, Oasis Spirit, Diabolo H, and Vendetta de Cossigny — are chosen by her and her coach. Her main horse she uses for shows is HH Casey Jones. Unlike any other sport, the attitude of the athlete not only influences themselves, but the horse, too. 
"Horses are live animals and they can definitely sense your attitudes towards them. So if you go into it, like really excited with an open mind and think 'oh my goodness, this is a great horse.' Even the worst horses that maybe aren't as great as you think they are, are going to end up being better because you believe in them."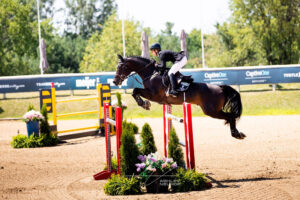 She guides the horse through a course sprinkled with the tall rails. One extra step could cause her to not clear as jump. Falling out of rhythm could devastate her event. Hitting the reset button after a bad round is important for riders because horses react to negative attitudes.
"When you're riding a live animal, you don't want to carry baggage from like a bad round to the next round," Dash Said. "Because like that could affect the future performance."
Jumping the Rails
The primary training season is February-October. During the season Dash takes the 6 hour flight from Los Angeles to the East Coast. Still prioritizing her schoolwork, she is out of L.A. from Thursday-Sunday on competition weekends so that she doesn't miss class. 
A typical show is drawn out throughout the weekend, the riders can choose 2-3 days to compete within a Wednesday-Sunday time span. This is because the horses can't jump constantly and overworking the horses risks injuries. The constant travel doesn't bother her anymore due to the balance she feels with riding, a full course load, a social life, and traveling.
"There were some weekends where I had a really big exam coming up, and I was supposed to go to a competition and I was just like, 'I can't go to this competition because of my studies,' explained Dash. "I think I've been really lucky because all of my coaches have been really supportive of my learning."
Riding is a sport of quick ups and downs. In a summer show in Michigan, Dash was attempting to jump the tallest track she's ever jumped. It was the biggest class of the week that was offered, and she was up against the top equestrians in the country. Before an event, the riders have to walk through the course to plan. 
"You determine how many footsteps you're going to do between each fence," Dash said. "And you can basically make a plan about how you're going to get around the track. And I remember walking out with my coach, and thinking, 'this is so big. I don't know if I can do this.'"
And then she did it. She cleared the track. It was that moment when Katherine could see the potential her mother, her father, and her coaches always told her she possessed. Certainly, on a 2,000-pound animal, nothing is guaranteed. 
"At the same horse show…on my next horse I fell off. So, constantly there are times, where you're like, 'this is so great. Love that. I'm so good.' Then it snaps back to reality, you are riding a live animal and not everything can go perfectly. It's definitely a humbling sport."
After a bad event, she goes for walks and chats with friends to clear her head. Michael Dash has seen his daughter fall on her back, on her head, or on the fences, the thick wood planks that the horses jump. But she doesn't let it get under her skin, she is able to focus on her positive performance from her Michigan show, and to the future. 
Like how she believes in her horses, she had to learn how to believe in herself. Even though she isn't currently at the top of the ladder, Dash knows that if she keeps feeding her positivity and love for the sport, she can achieve her goals.
"I proved to myself that I am able to do this and through more hard work, I can have more rounds like that," Dash said. "So basically it cemented to me what I'm doing is working and I can keep progressing if I continue to work hard and commit myself."