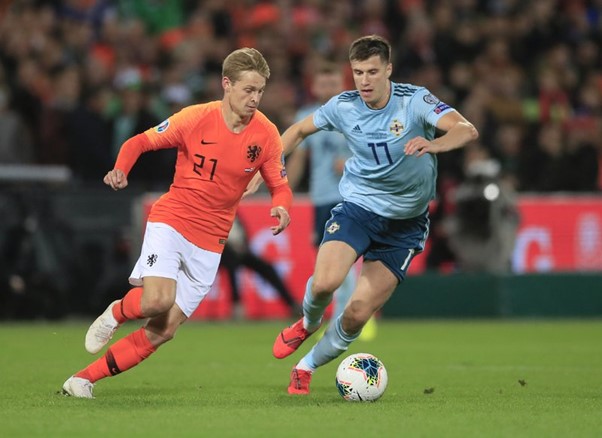 During the first half of UEFA Champions League group stage away match against Juventus, FC Barcelona's centerback Ronald Araújo suffered an injury, and was substituted at half time. Head coach Ronald Koeman turned to Barca's main midfielder Frenkie de Jong as a replacement for the Uruguayan. This came across as a bit of a surprise, and maybe even concern, to the fans, as it was the Dutch playmaker's first time playing centerback as a Barcelona player. In the second half, Barcelona doubled their lead and kept a clean sheet, and returned home with a valuable victory against a formidable side in the Champions League.
So, it worked. Koeman's decision to deploy their main midfield playmaker as a replacement for their starting centerback was, at least for this match, successful.
The basis for playing midfielders as centerbacks is along the same lines of what caused the rise of ball-playing centerbacks in the 2010s, which came with the renaissance of Pep Guardiola's tiki-taka. With more elite teams adopting a short pass game — one that naturally requires quality passing ability from players all over the pitch — centerbacks with better passing accuracy and range were highly in demand.
Having midfielders play this role, which considers their natural ability on the ball, takes this notion a step further. They are expected not only to build the play, but to also function as playmakers to exert influence on the offensive phase of the game.
During the second half, de Jong retained the ball and passed it very well. Having the ball under control, he sped up and slowed down, dictating the tempo of the play. He often waited with the ball at his feet to see if spaces opened up in other areas of the field. If an opening appeared, he would play a pass to see his teammates receive the ball under less pressure.
There was one instance when he was with the ball and dribbled forward to induce Álvaro Morata, the opponent forward, to press him. Once Morata pressed, de Jong squared to Sergi Roberto, and this opened a different passing angle for the team to switch the direction of the play.
This short passage of play, which cannot be executed without skill and confidence on the ball, exhibited why and how de Jong operates as a centerback, and ultimately how he can improve the team's attacking phase by doing so. As a central defender, he was, among the field players, not only the last line of defense but also the initiator of Barcelona's attack.
But if fans were asked right after that game if they would expect to see more of the same in the long run, they would have probably responded with a no, despite him having performed decently. This was a case in which a backup plan for an extemporaneous circumstance worked, but one that would be rarely executed once the squad was fully fit.
But Koeman thought this strategy was worth exploring a bit more. In the following Champions League Match against Dynamo Kiev, de Jong started the game as a centerback.
The head coach's decision to start de Jong as a centerback against Kyiv was more of a conscious one compared to the previous occasion. Against Juventus, Barcelona was lacking options in central defense due to Gerard Piqué's red card suspension and Araújo's injury. But for Kiev Piqué returned after his one-game ban, Clément Lenglet was available, and Koeman had enough time to call up natural defenders from the B team. Instead, it was once again de Jong who played the centerback role.
De Jong was the heartbeat of the buildup phase. He was not only playing successful passes from the back, but he had a significant number of touches. According to whoscored.com, he recorded 7.8 percent possession, which was the second highest in the team (For statistical reference, de Jong reverted to his role as a central midfielder for the final 16 minutes against Kiev. All stats from whoscored.com reflect de Jong's full-game performance). This denotes that he was the central figure when the team was in possession.
Barcelona won the game 2:1, dominating 64% possession and placing 14 shots on target (22 total shots). Their defensive performance was neither impressive nor poor.
What did this achieve tactically?
Centerbacks are often unmarked and this gives them the opportunity to be the initiators of the attacking play, just like the quarterbacks of football. A traditional centerback commonly initiates the play by passing the ball to a more creative player, usually a midfielder, and a ball-playing centerback will achieve that role with efficiency and accuracy. A midfielder, who is often more gifted in terms of technical skill, being deployed at the centerback role will have them initiate attacks by being the creative outlets themselves.
De Jong in this game, transposed the creative tendencies he thrives as a midfielder to the centerback role. Contrary to the traditional centerback, he spent much more time on the ball, often dribbled forward and played forward passes to get involve himself in the offensive phase. According to whoscored.com, he attempted 97 passes and succeeded 91 of them. To put this number in context, the number of the team's total attempted passes were 778. De Jong was zero times dispossessed of the ball.
Kiev players were more burdened in terms of marking. As mentioned earlier, opponent players usually leave centerbacks unmarked as they have little influence on the attacking phase. But as de Jong constantly progressed forwards and played vertical passes, Kiev players started to become more aware of his threat and started to press him.
The pressure applied to de Jong naturally created space for Busquets, Pjanić, and Pedri in the midfield, for them to perform their duties with more space and comfort.
The defensive phase – a potential weakness?
The tactical decision is immaculate in terms of attacking. How about the defensive phase? Midfielders are more accustomed to intercepting the ball in higher areas, which means they are competent at breaking up opposition play near the half-line. This is an advantageous trait for teams that adopt a high line of defense, a tactic increasingly adopted by elite teams in the modern football world.
Top teams, including Jürgen Klopp's Liverpool 2019 Champions League winning team, and Hansi Flick's Bayern Munich 2020 Champions League winning team, adopt this high-pressing game. It is interesting that Flick deployed David Alaba, a former midfielder, as their main centerback in the previous Champions League campaign. The result spoke for itself, with the German juggernauts winning the treble. Klopp also is experimenting with Fabinho, their main midfielder, as a centerback this season in absence of Virgil van Dijk.
This really showcases how the skillset and versatility of a midfielder, their ability to contribute both to the offensive and defending phases of the play, their tactical acumen and ball skills, make them elite central defenders.
But the fact that midfielders, compared to defenders, are accustomed to playing in higher areas of the field is a double-edged sword. Speaking in terms of the defensive phase, while they are familiar in breaking opposition attacks higher up the pitch, which is a beneficial trait as discussed earlier, they may find themselves uncomfortable in deeper areas. Centerbacks are the deepest field players on the pitch; they are the last line of defense. So, it is necessary that the midfielders accustom themselves to defending in deeper areas, a habit that sufficiently comes through with experience.
De Jong's inexperience led to a few sloppy defensive plays that were not costly, but ones he should look over to improve. In the 68th minute against Juventus, Morata ran with the ball in Barcelona's half with Adrien Rabiot sprinting behind de Jong. The Spaniard played a successful throughball behind, Rabiot outran de Jong but his poor shot blew away the opportunity. De Jong could have done much better to prevent this attack, either by anticipating the pass and intercepting it beforehand or by adjusting his body-positioning to avoid being outrun by the French midfielder. He did neither and this showed why he is not yet a natural centerback.
This exhibits the necessity of midfielders accustoming themselves to defending in deeper areas when playing as a centerback, but the hopeful side is that this habit comes through with ample experience.
Conclusion
Whether more teams will have midfielders make this transition to a new, hybrid role is an interesting question. The metamorphosis in the role of centerbacks to one that operates like quarterbacks, the offensive spearheads of the team, is for sure something to look out for. In a fast-changing and tactically sophisticated modern football world, this could possibly be of common occurrence and one that is not at all strange.