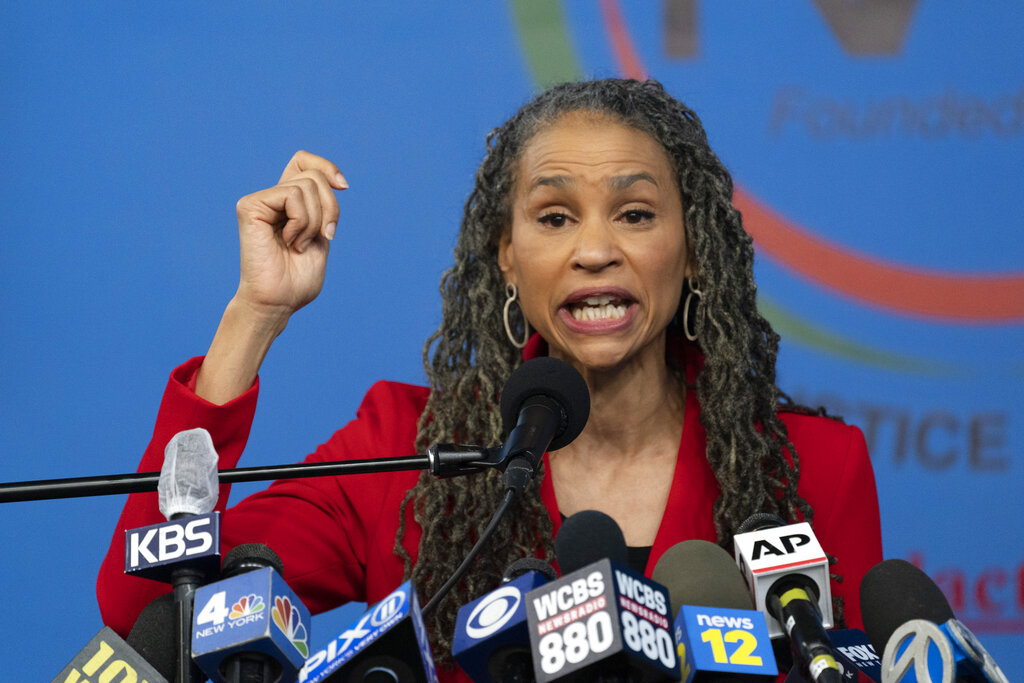 New York City mayoral candidate Maya Wiley has a plan to bring life back to a city hit hardest by the Covid pandemic. 
New Yorkers are facing the worst economic crisis in a generation with more than half of households as of September either having lost a job, wages or hours during the pandemic. Residents have also faced higher food insecurity than ever before. And businesses owned by people of color have had the most difficult time getting federal aid.
Wiley's economy recovery plan, "New Deal New York," is a $10 billion investment plan to help put residents back to work. Her five-year capital spending program, which would help to fund development, infrastructure repairs, is projected to create up to 100,000 new jobs in the city. It would also prioritize affordable housing projects and fund the arts, among other initiatives.
"Arria Williams, a woman I spoke with, who literally takes four buses, gets up at 5:00  a.m. to take care of her client who's a man in a wheelchair because, if she doesn't make it there, he doesn't eat," said Wiley during the 92nd Street Y Race to the City Hall livestream event in February. "She gets paid $15 an hour and she stands in a food pantry line twice a week — twice a week."
Because of people like Williams, Wiley plan under her proposal to put $5,000 in grants each year to a minimum of 100,000 families struggling to support themselves. Her proposal will also create care centers for children and elderly people.
Wiley, a former top lawyer for Mayor Bill de Blasio, says her plan will help the recovery for all New Yorkers and stimulate the city's economy.
Adding, she's never put out a plan that doesn't state how she is going to pay for it.
But commentators aren't all convinced that Wiley would be able to convince New York state legislators to support her robust fiscal plans.
"Siphoning from the capital construction budget is one thing; getting money from Albany is another," said Rebecca Traister, a writer-at-large for New York Magazine in a column.
"It is also likely that a deft communicator like Wiley, who has navigated corridors of white male power throughout her career, might find other ways to finesse the relationship, understanding that Cuomo could benefit from the public perception of cooperation with and benevolence toward a city run by a mayor like Wiley."
She will also still need to win over voters who may know her a little bit as a political and legal analyst for MSNBC.
"I haven't heard much about Maya Wiley but I have heard her commentary on MSNBC," said Jennifer Falk, a woman who has lived in New York City for 31 years. "She's better than de Blasio for sure. It would be nice to have a mayor of color and a woman at that. She talks about affordable housing but I want to know how and where."
For now, Wiley says she will be honest about what she doesn't know if elected — and that she plans to listen to what residents have to say.