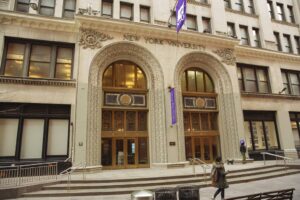 A year into the pandemic, New York University professors have adjusted to their new teaching landscape. They've mastered the technical aspects of conducting lessons over virtual platforms. They've experimented with creative ways to redesign their classes to create more Zoom-friendly content. And they've created pockets of community wherever possible. 
But these professors can't take another year of this. 
"I am desperate to stop teaching on this screen," says Jennifer Morgan, chair of the Social and Cultural Analysis Department at New York University, who has been teaching remotely since the fall. 
Many of the opportunities for students and faculty to connect in-person have been lost to Zoom. Morgan says she misses the interaction before and after class when a student drops by with a quick question or just to say, 'Hello.' 
"It's been harder for me to get to know my students," she says. 
New York University, like colleges around the country, announced last March that all in-person courses would shift online, prompting professors to pivot — quickly. And while faculty have adapted conducting their lessons over Zoom for the past year, the overwhelming consensus is that current teaching practices are not sustainable nor beneficial for students. 
"It's too difficult to produce any optimal teaching environment," says Caitlin Zaloom, a professor of Social and Cultural Analysis at NYU. She was on leave in the spring when Covid-19 hit and has been teaching online ever since. 
"Everything in my life is about whether or not my kids have school — everything," said Zaloom, who teaches from her home and juggles her kids' school's schedules shifting from in-person learning to virtual at a moment's notice. 
Working-from-home has created pressures beyond the classroom, especially for women with children, who have had to balance their careers while simultaneously taking care of their families throughout a yearlong pandemic.
Barrie Gelles, an adjunct professor of Music and Performing Arts, who teaches virtually at three New York colleges, including at NYU, says there are clear drawbacks to online teaching.
"You miss the energy of being in a room with other people," said Gelles. "I mean, it's why we do live theater, right?"
She's also most worried about the mental well-being of her students. "It's not as simple as instead of the classroom, we'll have Zoom," said Gelles.
Instead, professors need to reconsider everything about the way students are taught if faculty are committed to teaching online in this stressful time, she adds.
That means increased leniency around deadlines and absences. Or letting a student bring their cat into the Zoom frame. Agree to allowing snacks in class. And let students do what they need to do to feel okay right now. 
Zaloom has found a silver lining during this crisis in recognizing that everyone is struggling, from faculty to students alike.
"There's a sense of mutual vulnerability that has facilitated this relationship," she said. "We can take the lessons from this year and apply them to our teaching going forward."
Gelles agrees, saying that the collective pandemic experience has offered a new way to connect with students. "I hope some of the generosity and kindness we've learned in crisis follows through to the classroom," says Gelles.