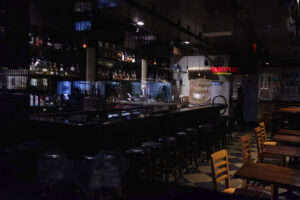 The city that never sleeps has been sleeping for over a year, and for the thousands with jobs tied to the New York nightclub industry not much has changed since last March.
From promoters to DJs to bartenders, nightclub workers have been left jobless for over a year through the health pandemic caused by Covid-19.
Juan Carlos Adams, a promoter for more than eight years at nightclubs like Lavo and Tao, had to relocate to the Dominican Republic because he couldn't find a job in New York City.
"We went from having everything in my line of work to having nothing, no job, no nothing," said Adams. "It was like a shock almost. I still don't have a job."
The New York nightlife industry employs around 32,000 workers, according to a market research report.  And while many restaurants and bars have re-opened recently under limited capacity, nightclubs remain closed and will likely not re-open until the majority of New Yorkers are vaccinated.
Opening a nightclub has become nearly impossible given safety protocols such as social distancing that many restaurants have been able to adopt. Guidelines from the Center for Disease Control limits indoor gatherings to a maximum of 10 people and prohibits maskless events. Nightclubs are meant to be indoor overcrowded venues, the opposite of what is safe right now.
It's been a devastating reality for those in the industry as employment in food services, restaurant, and beverages has gone down 43%, according to the state's Labor Department.
"Even the managers, bartenders, waitresses, security guys, they are all screwed," said Adams.  "When you're higher up in the company you are helped by the owners, they give you money to survive. But the rest are depending on government unemployment."
For some New Yorkers, nightlife is their career and how they feed their family. It allows employees the freedom during the day to work other jobs or take cate of their family as needed.  But with the pandemic, this type of work lifestyle has become impossible, leaving many workers without a source of income.
In New York, Tao Group, which owns some of the most prestigious nightclubs from Lavo to Marquee, permanently closed some of its downtown clubs like Vandal and Avenue because it could not survive this past year.
Up & Down, a popular New York University club in the West Village, has also been closed permanently.
Joey Andrews was working as a freelance DJ in New York clubs for over a year before the pandemic hit.  Andrews said most of his coworkers, bosses, and friends in the nightlife industry have tried to find other ways to continue their line of work during the past year.
"What I've seen most DJs do is they are either doing a lot of live streaming on Instagram or various platforms or they go to open states, which would be Miami or Texas," said Andrews.
But even if clubs open after the majority of the population is vaccinated, there is still doubt whether or not people will return to their normal nightlife habits.