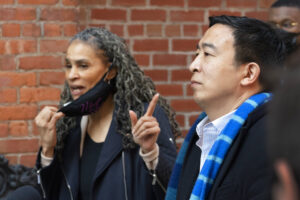 New York City's leading Democratic mayoral candidates are pledging to end the use of all exclusive admission screens at Thursday's Teens Take Charge forum. 
And NYC's teens, who attend high schools among the most segregated in the nation, plan to hold them to it. 
Students, experts, and advocates have worked for years to dismantle the segregation of New York public schools, and the next mayor of New York City will be faced with the challenge of transforming the current education system, which favors white privileged city residents.
Candidates including Maya Wiley, former counsel to Mayor Bill de Blasio, Shaun Donovan, the former federal housing secretary under the Obama administration, Dianne Morales, a former nonprofit executive, and Scott Stringer, the city's Comptroller, are among those that have agreed to at least one policy fix: the elimination of discriminatory screenings. 
"We are hopeful for any candidate that can actually speak to real integration and wants to move forward, but not backward, on the changes that have recently been made," says Nyah Berg, Integrated Schools Project Director at New York Appleseed.
Recently, de Blasio eliminated admissions screenings for middle schools for at least one year in response to the Covid-19 pandemic. But he has left the issue of desegregating public high schools almost entirely to the next mayor. 
In New York, there are eight specialized high schools that require incoming students to take a Specialized High School Admissions Test, or SHSAT. Similar entry exams are used in the admissions process of public high schools.
The city's mayor has the power to remove screening exams from five of these specialized high schools as well as hundreds of public high schools.
"It's all within the realm of city politics," says Norm Fruchter, a senior consultant for the New York University's Metropolitan Center for Research on Equity and the Transformation of Schools. "Nothing has to happen at the state level to get rid of the screening requirements that now control entry for more than 400 high schools." 
These screenings generally favor students from privileged backgrounds, who have the time and resources to achieve a high score. Low-income Black and brown students without access to equitable resources are often shut out from top schools. 
"Most of the students in specialized high schools are white and Asian," says Karla Narvaez, a high school executive director of IntegrateNYC, a youth-led organization that stands for equity and justice in education. "And so when you look at that compared to schools in the Bronx or Queens or certain parts of Brooklyn that are predominantly minorities, you see the schools reflect that directly." 
The segregation is most pronounced in New York's eight specialized high schools, where white and Asian students compose the majority of those admitted. In five schools out of eight, the majority surpasses 80%, according to research conducted by Fruchter.
Narvaez said admissions algorithms should look beyond just a test score.
Policy makers, she said, should make the admissions process "more equity based, making sure there's no tokenization when we talk about diversity in schools, making sure we're actively integrating our schools." 
But not all of the candidates are on board with eliminating screenings, including former Democratic presidential candidate and entrepreneur Andrew Yang and Brooklyn Borough President Eric Adams.
"I think that we should include the test in holistic factors that include very common sense things," says Yang, speaking at the forum. 
Fruchter, and others, recognize the political challenge of removing screening barriers and reserving most public high schools for economically disadvantaged students.
"I think it's certainly conceivable that a mayor with the capacity to build strong alliances and support could actually win that fight but it would be very hard," Fruchter said.
Candidates were faced with their own mock SHSAT at the event administered by middle school student Toby Paperno. 
"These questions will determine what school you go to, and in large part, your future socioeconomic status," said Paperno. "If you do poorly on this one test, on this one day, you will not be allowed into these schools that are overflowing with resources you may have never had access to before."
Only two candidates answered the English question correctly. Everyone failed the math problem. 
"To those of you who got some of the questions wrong, you are not as smart as your peers and will be denied entrance to these specialized high schools," says Paperno. "To those of you who got these questions right, congratulations, you are officially smarter, and better than your peers."