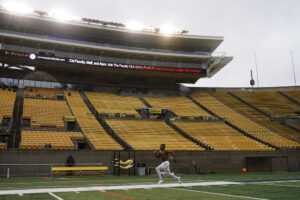 The NFL has a race problem. 
Four years ago, when 49ers quarterback Colin Kaepernick took a knee protesting police brutality, the NFL remained silent. In May 2020, after protests raged across the country over the death of George Floyd, the NFL admitted they were wrong for not listening to NFL players earlier.  In the league today, the divide between white and black has once again been exacerbated by pressures outside of football.
In 2019, the Most Valuable Player (Lamar Jackson), the highest-paid player (Russell Wilson) and the No. 1 draft pick (Kyler Murray) were all African American players.  While nearly 70% of NFL players are African American, there are currently only two coaches of color. In the past three years, 19 head-coaching positions were available, but just two black coaches filled those openings. 
Why does the NFL have a lack of African American coaches?
The answer is complicated. The 32 NFL teams have 32 different philosophies and approaches on how to run their respective franchises. The solution to the race problem among coaches in the NFL is layered. Though admitting that there is, in fact, a problem should be step one. 
"As an African-American, you're sitting there saying, 'There isn't a lot of diversity.' I remember coming into the league and there were no minority coaches on our staff in Pittsburgh," said former NFL head coach Tony Dungy in a recent article. "You might go 7, 8 weeks without seeing a minority staff member on the other side of the field."
But one answer to the intricate question is looking at the executive leadership of the NFL teams. There is not a single majority African American owner in the NFL.
"Owners make the decisions on who gets hired ultimately and these are, in most cases, wealthy, powerful people who aren't going to do anything other than what they want to do no matter the amount of outside pressure," said ESPN NFL Reporter Nick Wagoner. 
The problem isn't just with the owners. It's with other front office staff as well. The NFL currently has only one president and three general managers of color. Until the very people hiring the coaches have representative diversity, black coaches will continue to be overlooked.
"The disparity in opportunities is mind-boggling," said Rod Graves, the Fritz Pollard Alliance executive director, in a recent article. "It is unfortunate that the performances of coordinators like Eric Bieniemy, Todd Bowles…may not meet what appears as 'ever-evolving standards' for becoming a Black Head Coach in the NFL."
In 2003, the NFL introduced the "Rooney Rule," named after Dan Rooney, the owner of the Pittsburgh Steelers and chairman of the NFL's Diversity Committee. The rule required teams to interview at least one candidate of color when hiring a head coach. In 2009, the rule expanded to include general managers. 
There is still debate over the efficacy of the rule, and no shared consensus. But the numbers don't lie. In December 2020, the Global Sport and Education Lab at Arizona State University published a study showing that the Rooney Rule didn't actually improve minority candidates' chances of being hired as head coaches, because many of the pipelines that lead to these head-coaching jobs are still overwhelmingly white. Many believe teams satisfy the Rooney Rule with "token" interviews–simply interviewing a candidate of color but never really considering them in their final decisions.  Some, like Wagoner, think there are more effective approaches that NFL teams should adopt.
"I'd like to see the NFL work with teams to find a way to have people who have a focus on diverse hiring practices who can work on a sort of committee and be privy to the actual interviews that take place with coaches," said Wagoner. "There would have to be enough to be spread out but I think it would add a needed element of checks and balances to help get it right."
Where does the NFL go from here? 
"One way to help, though, is for current head coaches to take some agency in this and try to hire diverse coaching staffs and develop and promote those coaches from within whenever they get the chance," said Wagoner. 
Head NFL coaches, specifically white ones, should look upon themselves as instruments of change. If white coaches promote more African American offensive and defensive coordinators, more African American head coaches will likely be hired. 
In the future, perhaps a more equitable system will be established allowing minority coaches to ascend to the top of NFL teams, both for head coaches and in the front office. Maybe one day there will even be a majority black owner. 
But right now, the NFL is in a bind.