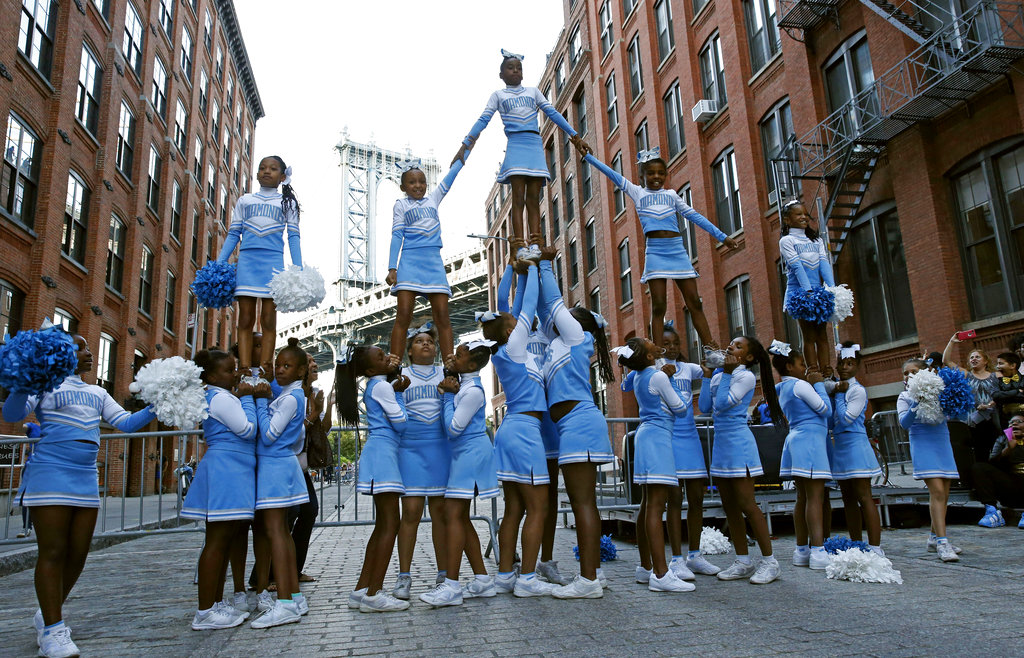 Kennedy Providence, who is on the cheerleading team for the University of Toronto, recalls a time where she was reprimanded for her natural hair. 
"When I first began cheerleading in 2013, I had an afro. The team manager for my high school team had told us that the hairstyle would be a high ponytail with a bump. I remember telling her that my hair was too short in the front to make a bump, but she dismissed me and told me to find a way to make that hairstyle happen," Providence said. "I remember after practice she pulled me aside, in the presence of some other athletes who had naturally long, straight hair and reprimanded me about my hair."
"On the verge of tears, I tried to explain to her the situation, and she then dismissed me with the statement that if my hairdresser was actually good at her job, she would've been able to make the bump in my hair happen. That was the last time I ever wore my hair naturally for a competition."
There exists an undeniable disparity in the rate of Black women in the cheerleading world as compared to white women. Cheerleading, since its conception, has been a predominantly white sport and while there have been steps made towards diversifying, there are still significantly less Black and African American women than white women involved in the sport. 
According to a nonscientific survey conducted by Mhkeeba Pate, a former Seattle Seahawks cheerleader, only about 17 percent of NFL cheerleaders are Black. The Eurocentric beauty standards of the cheerleading world makes it hard for Black and African American women to express themselves naturally, this is especially true when it comes to their hair.
Sadly, Providence is only one of the many Black or African American cheerleaders who has experienced discrimination for her natural hair. Niemah Young, an 11-year-old on the Diamond Elite All-Star Cheerleading team in Colorado, was not allowed to compete with her team after her coach said that she could not perform with her natural hair. Niemah had been using a hair piece for the entire season, but it eventually became too painful for her and when she tried to wear her hair in a natural style she was dismissed from the team. 
The struggle for Black and African American women in the cheerleading world dates back to as early as the 1960s. In the wake of the desegregation of schools, Black young women were fighting for and being denied acceptance onto cheerleading teams. Even now, decades later, Black women are still fighting for spots on cheerleading teams.
Providence agrees with the sentiment that Black young women are still struggling to make it onto squads. 
"When I first joined the team in 2018, there were six Black girls on the team, including me. Five of us were visibly Black and the last girl was more racially ambiguous," Providence said. "In 2019, there were a lot more black girls at tryouts, however only five of us made the team."
According to the Institute for Diversity and Ethics in Sport, NFL teams are 70 percent people of colour, but the diversity really ends there. Not only do Black athletes struggle to be a part of the cheerleading world, but Black women and men also struggle to find jobs as directors and coaches of cheerleading teams. 
Of the 26 NFL teams with cheerleading squads, only three of them (the Miami Dolphins, the Washington football team and the Atlanta Falcons) have Black directors.
"When I decided to become a coach, I knew that there was so much room to improve the diversity and intersectionality of the sport. When I look at the Board of Directors of the U.S. All Star federation for cheer and dance (USASF) and the International Cheer Union (ICU), it's really disheartening to see that the vast majority of the members are white," said Yolanda Alfaro, the assistant coach for the cheerleading team at the University of Toronto. "I really think we can start addressing racism within the sport, with proper representation."
In the Netflix series, "Cheer", Monica Almada, the head coach of the Navarro College cheerleading team, one of the country's top cheerleading squads, located in Corsicana, Texas, briefly discusses one of her cheerleaders having "the look." This cheerleader happened to be white, blonde and thin, which unfortunately is "the look" that most directors and coaches are looking for, underscoring cheerleading's notorious Eurocentric beauty standards.
Alfaro, as a woman of colour, argued that if there were more people of colour in directing or coaching roles in the cheerleading world then there would be more room for diversity and less of a chance of a disproportionate number of white women would be accepted over Black women. She went on to explain her own method for choosing which cheerleaders make the team, beyond their looks. 
"For our tryouts we use an extensive rubric to assess the athletes. Over multiple days we grade their overall skill level and technique, but our decisions are also based heavily on attitude, enthusiasm and willingness to learn," Alfaro said. "I don't want to speak for the rest of the coaching staff, but I myself know what it's like to be told that I don't fit the look or body type of a high caliber cheerleader. We accept members who show skill and promise, regardless of what they look like."
Team directors often have the last say when it comes to hiring or accepting cheerleaders for their teams. If most of the team directors are white, they might have a predisposition, whether it is conscious or not, to choose a white woman, who they feel have the right "look" for the team, over Black or African American young women. This does not leave enough space for diversity in the cheerleading world.
By not allowing Black or African American young women to wear their hair naturally during practices or for competitions, they are led to believe that something is wrong with their natural hair. They have no choice but to compare themselves to their white teammates with naturally long and straight hair and are left struggling to figure out ways to make their hair appropriate for competitions, no matter how painful or uncomfortable it might be.
"I spent years wishing that I looked like all of those white, slim "cheerlebrities" that I saw being celebrated all over social media," Alfaro said. "Even today it's blatantly obvious that famous cheerleaders of colour are judged more harshly and scrutinised on social media."