New York City's actors have been on a year long intermission and consensus holds that this summer promises more of the same. 
After a year defined by dark stages and unemployed actors, a handful of New York City theaters have announced goals to reopen this summer. Among them is the Public Theater, which plans to resume the tradition of Shakespeare in the Park after last year's cancelled season.
Still, New York City actors remain wary. 
"There's murmurings of things happening," says Britian Seibert, a recent graduate of New York University's Grad Acting. "But in terms of the sheer amount of opportunities, it's a really hard time to be a performer."
Seibert was in the middle of tech rehearsals for her final show in grad school when Covid-19 struck down New York's theater scene. She and her fellow graduates were "led out into the industry when nothing was going on."
One year later, not much has changed.
"I've had no theater auditions whatsoever, none, since before lockdown," says Seibert. 
Michelle Uranowitz, who teaches first year theater students at NYU, has encouraged her young actors to focus on their training and explore their creativity in their classes. She says auditions, job anxiety, and an existential crisis can be put on hold. 
"For many people in the theater community right now, the anxiety has been there all year," says Uranowitz. 
But in many ways actors are better prepared than most to live in a state of uncertainty, anxiously awaiting their next big gig. It's just part of the job — always.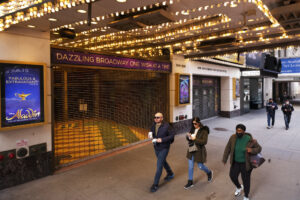 "Actors are sort of primed for this moment," says Uranowitz. Constantly being told 'No,' she says, builds a sturdy sense of resilience necessary for a career on the stage. 
But while there's been much discussion about reviving the magic of theater, those close to and inside the industry say the conversation should be focused on getting actors and artists back at work. 
"We're all trying to stay hopeful and stay positive, but yeah it's tough," said Seibert. She's one of the many New York actors who have pivoted to auditioning for television and film to make it through this drought.
"But theatre," she says, "is in my bones." Seibert says she's seen audition notices but fewer opportunities. 
New York Gov. Andrew Cuomo recently announced that arts venues can reopen starting on April 2 at 33% capacity, limited to 100 people indoors and 200 people outdoors. 
And some ushers at big Broadway theaters are ready for the show to go on. 
Christine Renee Snyder has ushered on and off in New York City theaters since 1997. And until last March, she served as an usher at the Broadway Musical Frozen at the St. James Theater. 
"Sometimes they just run up and hug you," says Snyder of the little kids who would arrive for the first Broadway show dressed up in Ana and Elsa princess costumes.
But she worries how the politics of mask wearing will translate for theater audiences, and if ushers will become de facto enforcers of health guidelines. She hopes not.
Others, like Steven Eng, a voice and speech teacher at NYU, are eager for the state's new guidelines to pave the way for swift reopenings. 
Eng was about to star in a one-person play, Hold These Truths, at the People's Light Theater in Pennsylvania, almost a year ago when production shut down before opening night. The play, which is about one man who challenges the US government's treatment of Japanese Americans during World War II, was instead recorded and aired on TV. He hopes to return to his role this fall. 
"My costume is there, the set is there, the lighting, the costume design," said Eng. "It's all there."