The Covid-19 health pandemic created a new set of hurdles for international students at New York University from travel restriction to securing visas, leaving many bewildered about what to do next and causing enrollment rates to  drop.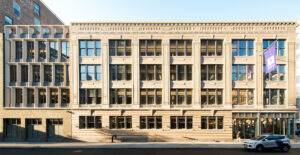 As student lives were abruptly uprooted across the United States last March, more than a million international students rushed to determine their visa status, and quickly decided whether to return back to their home countries and study virtually.
"When Covid was first starting, it was really confusing and weird," said Claire Herbert, a sophomore at Tisch from Australia shortly after the pandemic erupted in New York. "But I made the split-second decision to go home."
Herbert chose instead to attend the 'Go Local' option for her fall semester in Sydney.
For Aleksandra Shcherbinina, a freshman at NYU's Steinhardt who was living in Russia at the time, she didn't even get a say in the matter.  Shcherbinina was unable to get a visa to attend school in New York as government offices like the US Embassy in Moscow and other consulates around the country closed in her home country. 
"Oh, it was horrible because moving to the States has always been my dream," Shcherbinina says. "I was so depressed." 
The number of international students studying either virtually or in-person at US institutions plummeted last fall by 16% due to Covid-19, according to the Institute of International Education, a nonprofit organization that works to advance international education and access to education worldwide.
Students from around the world were also faced with geopolitical factors atop considering health risks and navigating online learning this past year.
Thomas Sirinides, director of the NYU Office of Global Services' Director of International Student Services, declined to comment.
In July, the U.S. Immigration and Customs Enforcement under former President Donald Trump notified F-1 and M1 visa-holding international students that they would not be able to remain in the US if they didn't attend in-person classes.
The abrupt change in policy left students panicking. "If I stay here, I'm going to be staying here illegally?" Zishan Sun, a sophomore at Tisch, who recounted her initial confusion at the ICE update.
Universities immediately intervened by supporting a bill against the policy change, prompting a swift reversal by the Trump administration a week later. 
Sun said when she learned that the policy change was being used as a tactic to pressure colleges and university to reopen in-person, she was upset. "We should not be used for politics," she said. "Why are you using us as your little pawn?" 
Sun, who is a Chinese citizen, had been separated from her family when she decided to remain in the US.
"It's been really, really hard," she says. While her parents are in Shanghai with her little brother, she is living in Seattle with her grandparents. "I can't even go out because my grandparents are so immunocompromised," she says. "It kills all creativity, really, for film students."
Students learning remotely overseas have also had to grapple with significant time zone differences.
Herbert, who spent last semester learning remotely from Sydney, says online learning has been difficult for that reason alone. "All my online classes were literally 11:00 pm or 7:00 am," she said, making it difficult to stay motivated and on top of schoolwork.
"I know I submitted a lot of assignments late," Herbert said. "I found it really difficult to keep up, which was a big reason I decided to come back this semester."
Shcherbinina had the added challenge of juggling online classes and working at a PR firm in Moscow.  
"I worked during the whole day and then I had to go on classes. It was very hard because I had to speak Russian the whole day, and I had to change." Now that she's in the US, Shcherbinina says she looks forward to the end of the pandemic. "The most important thing is that I want my family to finally come here."