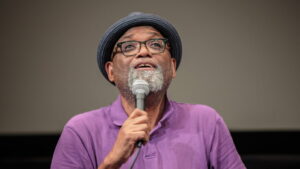 Harlem-born Sam Pollard, a filmmaker and Oscar nominated editor, has spent his entire career chronicling the Black American experience. 
Pollard, now a professor of film at New York University for the last 27 years, found his passion for movies by watching the works of Howard Hawks, John Ford, and Alfred Hitchcock. He credits them for his love of Hollywood. 
But Pollard, who has also worked as a writer, director, and producer, stumbled into film editing serendipitously in 1971 as a student at Baruch College. It was there he began to hone in his passion for the style of editing.
"I was majoring in marketing and I wasn't very happy so I went to my counselor and told her I was looking for an internship," said Pollard in an interview. "She recommended this Film and Television workshop that was at the public television station, WNAT, that started in 1968 to get more people of color in the editing room, shooting with cameras, producing, and doing sound. It was two nights a week and I gravitated towards the editing. That's what I felt most comfortable doing."
One year later, he got a job for a movie that would become a classic Black film, Ganja & Hess, as an apprentice editor. The editor, Victor Kanefsky, took Pollard under his wing and taught him the ins and outs of editing. "He really became a father figure to me," said Pollard.
He began to make many connections and relationships throughout the rest of his career. His most notable connection was Spike Lee for whom he produced and edited many of his films.
"I got a call from Spike Lee and he asked me to edit his film, Mo' Better Blues," said Pollard. "I turned him down the first time because I was working on another project (Eyes on the Prize) but he reached out to me a second time a couple months later and I finally said, 'Yes.' He's a phenomenal filmmaker."
Pollard went on to also edit Jungle Fever, Bamboozled, Girl 6, and many more of Lee's films. Because Lee also works as a professor at NYU, Pollard still keeps up with him every so often.
Pollard's time at NYU has been a very rewarding experience, giving him the opportunity to meet colleagues and students who have gone on to work for him in the future.
"We worked as producer-director together on a film, Love That Movie," said Laszlo Santha, one of Pollard's colleagues and NYU Film and TV professor. "Sam is a generous, wise and funny teacher. I love his films, his energy, his work-ethic. We have inspiring conversations about old and new films. I respect him a lot."
NYU freshman, Noelle Henderson, who took Pollard's Language of Film class during her 2021 Spring semester, spoke about the impact that Pollard's class had on her. "This is the first class I've taken that focused on films made by people of color," said Henderson. "It was inspiring to be taught by a professor as successful as him."
The Lincoln Center also put together a film tribute to Pollard, calling him one of "cinema's most dedicated chroniclers of the Black experience in America."
MLK/FBI, Pollard's most recent directorial project focuses on the government surveillance system and the harassment of Martin Luther King Jr. It's a story with that amount of weight and importance that would seem daunting to anyone, but not for Pollard.
"I have been directing for a long time and I've dealt with a lot of heavy subjects like slavery and Jim Crow," said Pollard. "For this documentary, I focused on the relationship between Dr. King Jr. and the FBI during the Civil Rights Movement and it wasn't daunting because I had done a lot with the Civil Rights Movement before. The thing I wanted to do though was to get it right and tell the story in a way that would hopefully keep the audience engaged."
The documentary was named Best Documentary at the 2020 San Diego International Film Festival and made the 2021 Oscars shortlist for Best Documentary Feature Film. 
His work has gone on to inspire many Black artists and many artists around the world, especially those of whom he has taught while at NYU.
"Sam always talked to me about when he was an up and coming editor, he had other editors that took him under their wing and gave him opportunities. He really believes in giving back and continuing that cycle. It's incredibly generous," said Arielle Amsalem, an NYU Film and TV Alumni and a former apprentice of Pollard. She worked alongside Pollard as an assistant editor until he gave her a full editor credit on a project that they worked on together: By the People: The Election of Barack Obama.
Pollard's advice for students and people hoping to one day enter the film industry.
"Simple. You gotta be tenacious. You gotta be hungry, and you gotta know that there's gonna be the ups and downs of being in the business," said Pollard. "It's a tough business."