In a line of pom poms extended toward the sky, a swinging towel suddenly breaks the uniformity of a sideline performance. Once a sea of short skirts and long hair, professional cheerleading is no longer one-size-fits-all. 
"I always thought to cheer in the NFL you had to be a woman. Tall, skinny, blonde hair, brown hair, extensions, all that. I just never thought one day I'd have a spot and an opportunity like this. It was really a dream come true," says male NFL cheerleader Jojo Almonte.
Eight months after receiving that callback in the summer of 2020,  Almonte found himself performing on the largest stage in all of sports, the Super Bowl. Alongside 25 female cheerleaders for the Tampa Bay Buccaneers, Jojo and two other male teammates made history.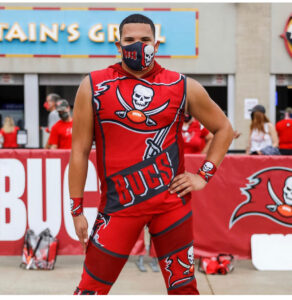 While men in the NFL have always dominated on the field and in coaching staffs, this was one sector that has traditionally kept them out. In three short years, all of that has changed.
In the 2018 NFL season, the Los Angeles Rams and the New Orleans Saints blazed a brand-new trail by adding male dancers to cheerleading rosters. While teams like the Baltimore Ravens have had male stunt cheerleaders for years, the new additions did the same routines alongside their female counterparts for the first time ever.
Dancers Quinton Peron and Napoleon Jinnies pioneered the position with the L.A. Rams. Shortly after, New Orleans' Jesse Hernandez followed suit on the Saintsaition's cheer squad. Today, the group of three has grown to almost 20 men across six teams.
Professional cheerleading has always come with a collection of accepted beliefs. The 2019 documentary A Woman's Work: The NFL's Cheerleader Problem touches on wage theft, illegal employment practices, and sexual harassment that women in the industry have faced. While some hope the addition of men indicates a heightened attention and accountability on behalf of the league, others worry it's a performative move.
The Washington Football Team is currently facing this dispute. At the start of this month, the organization announced its cheerleaders, the NFL's longest-running squad, will be replaced with a coed dance team.
While the team's president Jason Wright said the move was an effort to "modernize" the gameday experience, ex-cheerleaders argue it is a cop-out following claims of sexual harassment and exploitation just last year.
As ex-member Julia Camacho told the Washington Post, "Hearing this new dance team being announced as diverse and athletic — those are just buzzwords and things we already embodied," she said. "It's like it's easier for the team to cut ties with the word 'cheerleader' than to change the culture of the organization." 
While 11 NFL teams have added men to their rosters, 15 others prefer to stay true to the traditional all-female squad. The six remaining teams have no cheerleaders at all.
In Philadelphia, dancer Latik Jefferson joined the "brotherhood of firsts", as he calls it, as the Eagles' first African-American male cheerleader. Just two weeks after graduating with his BFA in dance from the University of the Arts in Philadelphia, Jefferson began performing on a cruise ship. When the COVID-19 pandemic began, he was forced to rethink his career plans.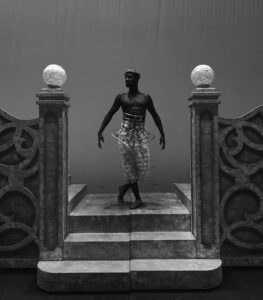 "I was just feeling really discouraged. Kyle Tanguay, the first male cheerleader for the Eagles, and I went to school together. He sent me the flyer for virtual auditions," Jefferson said.
Having no cheerleading experience, Jefferson turned to the advice of mentors, asking, "What would this look like for me? Do you guys think I would be moving in the right direction by doing this?"
"Then it dawned on me. I love dance so much to the point where I never thought I would be on a cruise, and I was doing that. So why would cheerleading be any different? That's another reason I became a cheerleader, not just because of my love and passion for dance, but because I wanted to change the stigma of what it means to be a cheerleader," Jefferson said.
After receiving news that he made the Eagles squad out of 576 applicants, Jefferson took to Instagram to reflect on the process. As a Black man in America, Jefferson recognized this accomplishment as larger than himself.
In the post he wrote, "This reveal and accomplishment is far greater than just me. This is for every little boy who felt like being in this position was never possible… I want to change the stigma on what it means to be a cheerleader while using my voice and platform to bring awareness to the everyday life of African-Americans living in this country. When I said I would be kicking down doors for my brothers and sisters in the hood, I meant that."
Both Almonte and Jefferson, having just completed their first seasons, have found a sense of community with other male NFL dancers around the country. After making their squads, both were welcomed into a group chat with Peron, Jinnies, and other dancers.
"I'm in a group chat with a bunch of 'firsts'. The first male cheerleaders for the NFL. It's like a fraternity or brotherhood. Growing up I didn't have older, queer people to look up to and give me the green light that this was okay… To be 24 years old and part of such an amazing community and circle, I'm a part of history. I'm a part of something huge," Jefferson said.
"It helped me so much because they took me under their wing and gave me advice on what they wore for auditions and what to expect from fans. Us guys have towels instead of pom poms, so they would even give me ideas for new moves, small stuff like that. It's like a brotherhood and we just encourage other guys out there that want to do this," Almonte said.
https://www.instagram.com/prodanceboyz/
Aside from the difficulties that come with navigating the female-dominated industry, the job is no easy task regardless of one's gender. While it might look like an easy part-time gig at first, NFL cheerleaders and dancers practice at least eight hours a week, not including public appearances and photoshoots.
In addition, home games are long days that demand high energy. Despite his 13 years as a dancer, Almonte found game days to be the most challenging.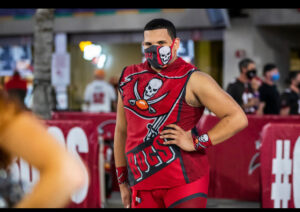 "For me the hardest part of the job is stamina. With COVID, we have to follow the guidelines and rules, so keeping our masks on and our distancing. I think my biggest challenge was keeping that energy for four hours straight as the sun was hitting me. The Tampa heat can be crazy."
While the job is demanding, Almonte and other male dancers in the league recognize their impact because of the boundaries they have broken.
"I've definitely gotten some messages from boys saying 'I saw you performing, thank you so much for inspiring me.' They know they can do it because they see us doing it," he said.
In Philadelphia, Jefferson was asked by a local dance studio to appear as a guest choreographer. Young students were decked out in Eagles gear and pom poms for the event. As a longtime dance student himself, teaching class was a rewarding full-circle moment.
As many organizations in the NFL strive to stay with the times, fans can expect to see more men on the sidelines in upcoming seasons. In efforts to diversify, and dismantle the longtime hypersexualization of NFL cheerleaders, some teams have replaced cheerleaders with dancers, another trend that could transform the league in years to come.
Regardless of gender or experience, NFL cheerleaders are a diverse group of performers whose actions on and off the field are inspiring to many.
"On the squad we have a U.S. veteran, scientists, doctors, nurses, professional dancers," Jefferson says. "At the end of the day, underneath the uniform, far beyond the poms, far beyond the brand of the NFL, we are human beings and we are people."