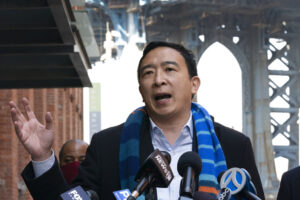 Andrew Yang's fresh face and bold ideas struck a chord with voters around the U.S during the Democratic presidential primary. Now the original members of the "Yang Gang" are ushering in his success in the New York City mayoral race. 
The Yang for New York campaign conducted a poll of 824 likely Democratic primary voters from April 20 to April 27. With 24% of first-choice votes, Yang leads the pack of mayoral hopefuls, which include Brooklyn Borough president Eric Adams, New York City Comptroller Scott Stringer, and professor and former legal analyst for NBC and MSNBC Maya Wiley. 
Yang's frontrunner status cuts across demographic lines — with leads in every borough, across every income level, and among men and women. He's the first choice of Asian, Black, Hispanic, and white voters. 
And the folks spreading the word about Yang have been in his corner all along. 
"First I laughed," says Mimi Schacht, a California native, when she first heard about Yang's presidential platform. His idea for universal based income, a no-strings-attached monthly $1,000 check to all Americans, seemed so far off from the realm of attainable economic policies. "We couldn't have something like that here." 
But she quickly embraced Yang's proposals, trading in her Vermont Sen. Bernie Sanders' hat for a Yang one. Three years later, she moderates the Yang for NYC Facebook account. 
"He brings an energy that gives people hope that they feel is genuine and pure," said Schacht. "Everyone else is the same old same old." 
It's a shared sentiment among Yang's campaign supporters. "If you talk to him, it's like you're talking to a person, not an aged old politician," said Ayesha Kiani, who has known Yang since 2015. "He's like one of us."
Yoon Jae Lee, a life-long New Yorker and piano teacher, said he became curious about Yang after scrolling past a "Yang 2020" Facebook ad in 2018. 
Before Yang's run, Lee had not seen many Asian Americans run in local races, much less take on the national stage. "Seeing an Asian American run for high office, especially coming out of nowhere…" said Lee, who is slightly younger than Yang and follows the same New York sports teams. "He really changed my view of politics." 
Lee made his first ever political contribution in support of Yang's presidential bid. Now, he knocks on doors and makes calls with other Yang supporters in his free time. 
He's especially drawn to Yang's non-ideological nature. "Before I met Andrew Yang and understood his philosophy, it would have been very difficult for me to talk to someone who is a conservative." 
Yang has championed the idea of "humanity first" — a  candidate who can bring together the varying interest groups of New York for a common cause. "He does not fall into a box," says Yang's campaign manager Chris Coffey. "He's not the moderate candidate, he's not the progressive candidate." 
Yang's openness to different viewpoints is one of the reasons Dan Kerpen supported his "longshot campaign" for president and now promotes Yang for mayor on social media. 
"He doesn't just run with the straightforwardly divided lines," says Kerpen, who grew up in Brooklyn and is registered to vote in New York. "That's really healthy."
Kerpen recognizes that the platform that he originally supported in Yang's plan for the U.S looks different from his plan for New York City. Yang's UBI agenda for the city is "neither universal nor basic," rather it gives money directly to the most impoverished. 
But the plan gives "credence to the idea that the government can do this," says Kepren. It opens the door to larger cash transfers in the future, especially as many low-and moderate-income New Yorkers are still struggling from the Covid-19 pandemic . 
"He feels much more in touch with where things really are than most politicians." says  Kerpen.