In the wake of Russian President Vladimir Putin's invasion of Ukraine, New York University students reflect on the costs of war on their own families and friends back home, fiercely held family traditions, and stories of their own grandparents fleeing their home country decades earlier. 
As they watch history once again repeated, here are some of their stories:
'I Froze For An Hour' 
Freshman NYU student Yana Bulavchenko remembers the exact moment the war in Ukraine began.  "It was Wednesday, a minute after midnight, and I got a notification from CNN," the Prague native recalls. 
"Then a bunch of texts started flooding in," said Bulavchenko. "I froze for an hour. I was in disbelief. It was predictable, but also unpredictable." 
Bulavchenko, who is of Russian descent, soon began calling immediate family scattered throughout Russia and the Ukraine. She reached out to fellow Russian friends in the U.S. and friends back home in the Czech Republic. 
She said family members are already feeling the burden of new global economic sanctions aimed at cutting off Russia's largest banks and richest oligarchs from much of the global financial system.  
"My family in Russia is worried about my family in Ukraine, and they've been struggling with the economic sanctions as well," she said. 
In a situation as adverse as this one, it is easy to feel powerless, Bulavchenko said. 
"A scary thing that a lot of people can't realize is that there is very little one can do in this situation," she said. "I would say the easiest thing someone can do is to simply be kind to those who the war is affecting and not make the situation about themselves." 
                                                                                                                                                                             – Farheen Khan
'I Can Hear It In Her Voice'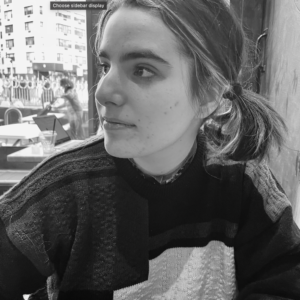 NYU freshman Kat Koopman smiled widely in a crowded coffee shop as she recounted tales of her Grandma E.   
Koopman said she sees her grandmother in all the little girls being forced to leave Ukraine at five years old. 
"It breaks my heart to see the stories in the news and pictures of people fleeing," Koopman said. "To know that my grandma has gone through this makes me devastated, but it makes me hopeful for all the people going through the same thing, because her life is one to really look up to."
Brought up in a cold, cramped house with her parents and two older siblings, Koopman said her grandmother remembers her home country with pride. 
"She's always sure to bring out her old Ukrainian china," Koopman said. 
Though she was poor, Koopman's grandmother was happy. She and her friends braided flower crowns—vinoks — for the holidays. Her childhood dream: to one day be rich enough to afford one piece of chocolate every day, Koopman shared.
Her grandmother's family fled Ukraine when E was five years old and gained asylum in a Ukrainian community on the outskirts of Victoria, British Columbia. She spoke no English, and her family struggled financially.
It took years into her early adolescence before Koopman's grandmother's family was established enough to move onto a small farm. Her first job was at a shoe factory around age 14, where she painted lacquer onto shoes she couldn't afford. 
Now at 92, her grandmother raises tortoises. She gardens. She helps organize the county fair.  She still shoots her rifle. 
Koopman said she rarely speaks of the current conflict in Ukraine with her grandma. 
"She doesn't like talking about it," she said. "But I know it's something that really bothers her and keeps her up at night. I can hear it in her voice." 
                                                                                                                                                                        – Gabriela Bernal 
'A Really Big Inspiration'
Victoria Carchietta, a rising senior and flute performance major at NYU, grew up listening to stories about how her maternal  grandparents fled Ukraine to escape the former Soviet Union. They eventually made it to the United States in 1951. 
"They told me so many stories," Carchietta reflected as she, like many other Ukrainian Americans around the country, has watched the invasion unfold on her television screen. "It's definitely been tough." 
"My grandparents have always been a really big inspiration to me since I was little," she said. "They both left Ukraine when they were so young." Carchietta believes they were both around ten years old. 
Born and raised in Long Island, New York, Carchietta said her Ukrainian heritage has always been an integral part of growing up.  
Even today, her family continues to honor the Ukrainian traditions her grandparents brought with them. The family will always sing "Happy Birthday" in English, and then in Ukrainian. They eat traditional Ukrainian food and celebrate traditional Ukrainian holidays. Even her parents were married in the Ukrainian Orthodox Holy Trinity Church on the Upper East Side. 
"[Ukraine] has a very different culture," Carchietta said. "My family tries to get together and celebrate it whenever we can." 
Carchietta recalls growing up and no one outside her family understanding what she meant when she called herself Ukrainian, with many assuming that Russia and Ukraine were the same country. 
"I'm not Russian. I'm Ukrainian. It deserves its own distinction," Carchietta said."Decades ago, people didn't know Ukraine existed. Now, that's all people are talking about."   
She said she speaks to her family about the war every day as they try to get through it together. And just like when she was growing up, Carchietta said that her family continues to draw inspiration and pride from Ukrainian people who are fighting fearlessly for their freedom and homeland.
"Wow," she said. "That's where I came from. I have that strength inside of me." 
                                                                                                                                                                  – Charlotte Farrell