On the afternoon of Saturday, March 5, a sea of blue and yellow clothing blanketed Times Square from 45th to 47th streets. Chants of "Slava Ukraini" and "Heroyam Slava" — "Glory to Ukraine" and "Glory to the Heroes" — echoed throughout the busy intersection. Countless signs reading "No Fly Zone," "Stand with Ukraine, Stand with Freedom," "Stop Putin, Stop War" and "The Whole World is Watching" were scattered throughout, hoisted in the air alongside waving Ukrainian flags. Thousands of New Yorkers joined together in solidarity for Ukrainians nearly 5,000 miles east.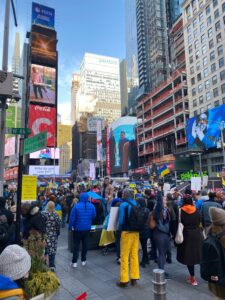 New Yorkers are coming out to vocalize their strong support for Ukrainians after Russia invaded the country on Feb. 24. Patrons are flooding Ukrainian businesses in New York City, eager to support in any way possible. Similarly, massive numbers of people from neighboring cities and states have taken to the streets to express their outrage at the actions taken by the Putin-led regime and encourage Americans to stay engaged. 
"People should be paying attention because this isn't just about Ukraine. This is a destabilization of everything that we hold dear, so pay attention," said Borys Jarymovych, a 45-year-old, first-generation Ukrainian-American who works as a graphic designer. 
New York leaders are also voicing their support for Ukraine. Mayor Eric Adams tweeted a statement of support for Ukrainian New Yorkers, writing that they "Run our hospitals, bring our neighborhoods to life and give back so much to our city. We're standing with them." On March 17, Governor Kathy Hochul announced that New York State agencies and public authorities will no longer do business with companies that have continued to do business with Russia. This comes after Governor Hochul previously signed an executive order banning state agencies from doing business with Russian companies. She also expressed that New York will continue to aid Ukraine and plans to send 100,000 pounds of medical supplies overseas.
New York City is home to the largest population of Ukrainians — nearly 170,000 — outside of Ukraine according to research data by "The Ukrainian Weekly." Many — including 37-year-old software engineer Semen Hzhesiak, who joined the Times Square protest — have family and close friends who are suffering back home.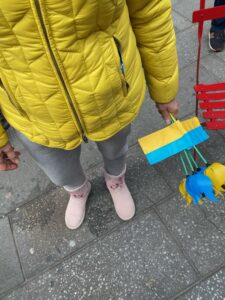 "My grandma who witnessed World War II now sits in a basement. My goddaughters sit in a basement. My father, my mother, the mother of my spouse all sit in basements . . . My whole family right now sits in basements, they need help now," said Hzhesiak, who emigrated from Ukraine to the United States three years ago.
Supporters at the Times Square protest expressed their outrage and fear over the war, with some worrying about what it would mean for Ukraine's future and independence.
"[Putin] invaded a sovereign nation," said 49-year-old Constantine Yaroslav Voyevidka, a first-generation Ukrainian-American who works in healthcare. "Ukrainians aren't just Russia's little brother, we're an independent people, an independent nation, and Ukraine has been fighting for that for literally hundreds of years." 
For Gabrielle Okun, a 27-year-old graduate student at Columbia University studying European History, seeing New Yorkers at the Times Square protest come together to stand in solidarity with Ukraine has been a welcome and heartening surprise, she said. 
"Everyone is so kind and supportive, it's really amazing," Okun said. "I think personally because we live in such a polarized climate and everyone is uniting about this. I think we all — regardless of your political ideology — can see that what's going on is awful."