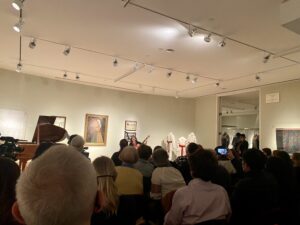 On Wednesday, March 2, around a hundred visitors sat in the main room of the Ukrainian Museum on East 6th Street in the East Village. On one wall, glass cases displayed traditional white handmade Ukrainian dresses adorned with red flowers; paintings by Ukrainian artists lined another wall. A makeshift stage with a piano, music stands and chairs faced the audience. 
At 7 p.m., musician Julian Kytasty started to strum his Bandura, a Ukrainian lute-harp.  Its gentle melodies had the audience swaying back and forth, eyes closed, smiling softly. Kytasty played in between performers' recitations of the poetry verses of Serhiy Zhadan, Ukraine's best-known poet. The night continued with more spoken word, folk music, tears and laughter as people found somewhere to "put all this death," as Zhadan wrote in his poem "Rhinoceros".
The hour-long event — organized by the Yara Arts Group, a company through La Mama, the acclaimed experimental theater — brought together New York-based artists, poets and musicians. Most attendees of the sold-out event heard of gathering through friends and on social media through the hashtag #StandwithUkraine.
It was one of many events that took place across New York City the past few weeks that gave New Yorkers a space to respond to the war in Ukraine and raise money for Ukrainians. The U.S. announced new sanctions against Russia as President Biden traveled to Brussels this past week to attend a NATO News Conference. New York Governor Kathy Hochul, also enforced stricter sanctions on March 17, preventing New York companies from conducting business in Russia. NYC Mayor Eric Adams released a statement on March 4 in response to President Biden extending Temporary Protected Status to Ukrainian immigrants living in the United States. "With the largest population of Ukrainian immigrants living in the country, this effort will protect thousands of New Yorkers in a time of crisis," the statement said.
But unlike the passionate protests that have unfolded across the city, the Yama Arts group event at the Ukrainian Museum and similar artistic gatherings — like those held at the Main Event and the Fragment Gallery earlier this month — have given New Yorkers space to process the war in smaller, more intimate settings and through artistic mediums including music and poetry. For performers and attendees, the events provide another channel to communicate their grief about the war, while preserving the now-threatened culture of the Ukrainian people, some said.  
Olena Jennings, 43, began the night by reciting Zhadan's poetry in English and Ukrainian translations. Jenning has authored various poetry collections and a novel. Her grandparents immigrated from Ukraine to the U.S. as political refugees after World War II, she said. Many of her colleagues and friends she's met through her translation work still live in Ukraine. To cope with the constant stress of fearing for her friends' safety, she's turned to poetry, she said.
"It's … a really worrisome situation," Jennings said after her performance. "And it was very shocking, really hard to deal with. But I've been trying to do it, translating poems that people are writing in the last couple days and writing my own poems like the one that I read today, and just dealing with it that way."
Ukraine-born East Village resident Eugene Hütz, 49, the well-known lead of punk rock band Gogol Bordello, ended the night of performances with his funky, crooning ballads. Hütz writes songs about genocide, poverty and war, finding solace through performing the pieces with his band.
"It's hard to express the rage through merry-making, but I hope it resonates," Hütz said. 
It seemed to resonate for audience members, who lept out of their chairs and clapped along to Hütz's vocals, accompanied by a guitar.
Hütz grew up in Ukraine, but moved to America with his mother and father in the 90s. The rest of his family still lives all over Ukraine. 
"It's very shocking to talk with them [his family in Ukraine] while they're in real-time, warfare, driving around, trying to rescue their children, fully armed through the places where we used to go out camping," he said. 
Despite their fear of what's to come, artists like Jennings and Hütz believe in their peoples' ability to raise awareness in sharing Ukrainian culture through art; they are especially proud of the support and love coming from the Ukrainian community in New York City, they both said. 
Hütz ended the night with a solo rendition of his band's song "When Universes Collide" from their 2010 album."Two helicopters with machine guns/Over the slums, proudly will glide/So when the universes collide/Son, don't get caught on the wrong side," he sang.