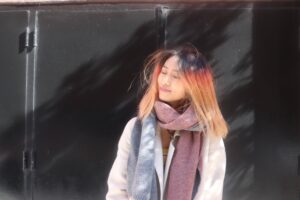 In a podcast that won a $5,000 prize, NYU sophomore Aria Young weaves together interviews and personal storytelling to explore how she is reclaiming her heritage through her Chinese name. Young's entry, "What's in a Name," placed first among 10 finalists and entries from 37 states in NPR's 2022 College Podcast Challenge. The other nine finalists received $500. The submitted podcasts had to be between three and eight minutes in length. 
"What's in a Name" follows Young's journey reconnecting with her Chinese roots and reclaiming her Chinese name, Yáng Qìn Yuè. Young moved to Lancaster, PA from her home, Shanghai, for high school at the age of 16. There, she was asked to choose a more American name because her Chinese name, Yáng Qìn Yuè, was too hard on the American tongue, according to Young. She chose the name Aria.
In Chinese culture, each character of a name has a specific meaning. While the whole first character of Young's name, "沁 (qìn)", means to seep, when it is separated, the left half means water and the right half means heart. While the second character, "悦 (yuè), signifies happiness. 
"That's what my parents wished for me," Young says in her podcast. "To be gentle, pure, and nurturing like water, to have a brave and kind heart, and to be joyful, happy, and carefree." 
For Young, her name allows her to remain connected to her culture and heritage while living in America. When she first moved here, she said she wasn't comfortable talking about her identity. She did her best to fit in at her school by bleaching her hair and rolling up her uniform skirt like her classmates did. 
Today, Young finds herself much more in touch with her Chinese heritage; that's why she decided to talk about it in her podcast. She told WSN that she had considered producing a submission about New York City or China Town, but, after listening to last year's competition winner, Anya Steinberg's "He's Just 23 Chromosomes," Young wanted her podcast to resonate more with herself and own experiences. 
"I think the reason why my podcast was successful is because it was really personal to me," Young said. "Before doing this podcast … I never acknowledged to myself what it means for me to reclaim my name and reclaim my heritage. But through this podcast, I was able to really go on this journey for myself, by myself." 
Deciding to focus on her name wasn't something she figured out right away. She explained that she was throwing around ideas with her friends and eventually landed on "What's in a Name."
"It was a discussion that we were having for a while back and forth," said Srirena Beard-Galati, Young's roommate, who also composed the music for the entry. "[Aria] was like, Sirena, what do you think I should do? And I suggested that she finds something that's personal and simple … I really believe that the more personal it is, the more meaningful it's going to be."
And Young's message certainly resonated with many of her listeners. "Since the story came out, [I've gotten] a lot of people emailing me and messaging me and saying they really relate to the story," she told WSN. "They're saying, 'oh, this is [my] experience as well.'"
"I remember [when I was] hearing the [podcast] for the first time I cried, because I was like, 'that feels like my story. I can relate to that,'" said Senaida Ng, a Tisch sophomore. 
In a segment towards the end of the podcast, Young asks three of her friends to explain the meanings behind their Chinese names. Ng, one of the interviewees, said that her name, Wǔ Sī Xíng, roughly translates to "think five times before you act".
"I think it's interesting seeing how big a role our names actually play and how Chinese people aren't accepted here, because we have to change our names because [they're] 'hard to pronounce,'" Ng told WSN. 
As Young's entry sits right on the edge of the contest's eight-minute time limit, there was more information that she wanted to include. 
"I was raised by my mom and my grandma and my dad was not in the picture at all," she said. "Because my dad mostly named me … and I also have his last name … I'm kind of still in this internal struggle with myself. Like, I have like that last name, and that makes me feel like somehow I'm still honoring him, even though he wasn't present in my life, and he didn't raise me."
Young knew she wanted to enter this competition as soon as she heard about it from her friend. She explained that she was involved in TV news broadcasting with her high school where she "developed a career interest in audio storytelling." In college, she became involved in WNYU 89.1 FM, NYU's student run radio station. 
With the station she is both a radio news reporter and podcast co-host. Young reports for WNYU's flagship news show, The Rundown, which airs Wednesdays at 7 p.m. EST. Her podcast, What the NY?!, is co-hosted with her friend Edward Wang and it airs every other Wednesday at 8:20 p.m. EST.