Stanley Goldberg, 83, and Richard Daniels, 70, went for a walk in the West Side Community Garden on an April afternoon in 2022. Daniels had a mission in mind: to help his husband Goldberg regain his passion for photography.
Goldberg used to visit this garden for hours at least four days a week to photograph the foliage. Yet he hadn't been there for months because of the health issues he has suffered over the years. With a heart surgery, hydrocephalus, and asthma, Goldberg dealt with walking difficulty and cognitive impairment, which strongly influenced his everyday life. His photography website's updates stopped in 2016, when he was last able to squat or lay down beside the flowers, seizing the fleeting beauty with the shutter sounds of his camera.
Goldberg now slowly walked around the garden again with a four-wheel walker, accompanied by Daniels. When Goldberg spotted a tulips bush, Daniels helped him stop the walker and position it from behind. Goldberg then settled himself on the built-in seat, leaned his body closer to the tulips and took photos with his iPhone. Although this was their first time trying this way of shooting, they were very tacit.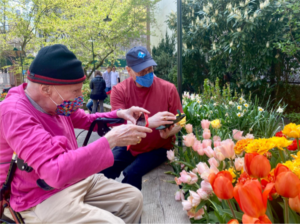 Recently, Goldberg had lost enthusiasm for his old passions and interests. Maybe it was due to his worsening physical condition, or a side effect of his sickness, but he'd become less keen about taking photos, unwilling to pull up the images on the computer and edit them. He'd also gotten picky about his favorite dishes, when he'd always been a lover of good food. 
Daniels witnessed Goldberg's struggles worsen over the years.
"That's hard to watch on somebody, to watch them lose interest in the things that they have enjoyed their whole life," Daniels said. "I keep trying to keep him active and engaging with things that he still finds joy in."
Ever since Daniels moved into Goldberg's apartment last year, Daniels has made a lot of changes to decor. The African wood crafts collected by Daniels were combined with the golden Buddhas that Goldberg has accumulated. Daniels rearranged Goldberg's storage room into Daniels' studio. A few weeks ago, Daniels replaced a new rug in Goldberg's office. 
"Richard works really hard on this place, and he's made some wonderful improvements." Goldberg said. "He is an incredible decorator. He can't stand to have something if not gorgeous and perfect. It's like having your own castle in New York."
"I just fix things." Daniels responded.
Next week, they are installing new windows that will allow them to see the outside more clearly, and in another two weeks, Goldberg will have a new Mac computer to replace his current one, which has some cracks in it.
"I'm hoping a new computer will make him excited," said Daniels.
In the 1970s, Goldberg moved to the Upper West Side from Atlanta, Georgia, and started his career in the audiovisual business. A few years later, Daniels found a tiny dark apartment in the East Village and moved in with his first husband, who died of AIDS in the '90s. Neither of them knew that they would meet each other in another 40 years.
They noticed each other on the Lovetastic dating website in 2007, when Goldberg was 68 and Daniels was 56. Photography was the first thing they connected over. 
"I have a good sense of what he was about because I saw his work," said Daniels, who himself was a filmmaker and dance artist, and responded to the colors in Goldberg's artworks immediately.
Later on, they discovered that they both had studied photography under the same teacher, Minor White. "​There was a philosophical underpinning to the teaching. It went far beyond the idea of just picking up a camera to take a picture," Daniels added. "So we sort of shared this whole point of view in training."
They had their first date at a Greek restaurant. When recalling his first impression of Daniels, Goldberg said, "you got the feeling that this was a real thoughtful person of substance, who has traveled, has many interests, was a deep thinker."
After seven years of dating, when same-sex marriage became federally legalized in New York, they finally decided to go to the courthouse. "I was really amazed when I decided to do it – it's kind of shocking." Goldberg said. "It finally seemed like the right thing to do, and had become a more comfortable idea. I didn't have any questions about it when I did it."
Their wedding ceremony took place in a little Victorian wrought iron pavilion in Central Park, surrounded by ducks, geese, turtles, and a small group of family and friends. Daniels described it as "the first beautiful day of spring" in 2014. They each had three pink roses pinned onto their suits and stood facing each other.
"Since your romantic beginning, you two have become partners in many ways, and you become collectors together," said the wedding officiant. "You collect great food, you collect great recipes, good friends, travel memories, Buddhas, fabrics, computers, cameras, electronic equipment, alabaster lights, and on and on. As artists, you share your love of beauty that surrounds you."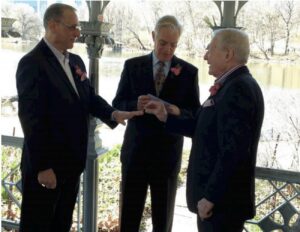 After the wedding, Daniels and Godberg continued to live in their own apartments. With their strong love and bond, the distance between the Upper West and Lower East Side did not seem so far. At least not until late last year, when Daniels decided to move in with Goldberg and left the place where he had lived for decades.
"[Stanley] got this walker in November, and up until that point, he still had some independence," Daniels said. "The walker has meant he no longer has [that]. And I would say that's brought about the biggest shift."
The changes in Goldberg's health and abilities have been challenging for both of them. "One of the challenges is that when he starts to not feel well his communication suffers, and I think he also gets scared," said Daniels. "Then it's like he can't talk and he's in a foul frame of mind. I don't always understand what's going on till we're really far down the road."
The day they went to see the tulips in the community garden, Goldberg was not very excited about going. However, Daniels pushed him to get into the taxi and come to the garden, which Goldberg later referred to as "manipulative". But when Goldberg saw the blooming flowers, his fading passion returned. Goldberg took photos non-stop for an hour, which, according to Daniels, was rare, as Goldberg tends not to focus on things for a long time anymore.
When I told Daniels that he is doing an incredible job as a husband, he responded, "I don't always think that."
"I annoy him and he's not always happy. But that's just part of it, part of the frustration. I think it's frustrating for everybody," he added. "What makes it hard is that we don't have children to participate. We don't have siblings here. There's really no other support. And all of our friends that are his age are all dealing with health issues. You see your friendships go away and it's really…it sucks."
But seeing Goldberg regain his passion for photography comforted Daniels. "That was fantastic. You can see he had no energy at the end, but he really didn't want to leave," Daniels said.
Daniels suggested that today showed both of them something important: "I think [Stanley] learned something new today. He learned that he can take photos with his chair, sitting, and using an iPhone," This moment makes Daniels hopeful for new possibilities for Goldberg, and their future together.