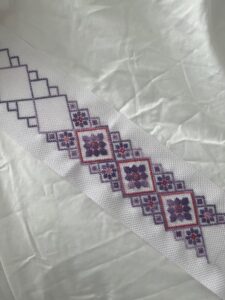 The Upper East Side is home to many luxurious fashion labels and stores selling exotic fabrics and intricate designs. It also houses the city's largest community of needlepoint and knitting in the city.
For those that prefer a craftier and more personal take on fashion than top brands like Chanel and Dior found on Madison Avenue, there are knitting and yarn stores, fabric stores and needlepoint stores to fulfill anyone's personal take on design.
"I do a lot of original designing for customers," says Valeria Kardos, owner and operator of Knitting 321 on 321 East 75th Street. Kardos makes patterns for customers who prefer to knit their own clothes. "'I tried this on but I don't want to spend 8,000 dollars,'" says Kardos, mimicking her clients.  She helps them create an alternative.
Clients come to Kardos with all kinds of custom requests. For example, Kardos says one client came to her asking: "'Would you design a little dress for my granddaughter so I can take her to the opera?'" So, she designed a pattern for the grandmother so she can knit the dress for her granddaughter herself. "We put little satin roses at the neck," says Kardos. "It came out very cute."
Regarding her demographic, Kardos says she gets a lot of clients from the Upper East Side, and her clients are of all ages. Many start learning to knit on Youtube but eventually want live, in person classes in order to master the craft.
Dow says that young people are coming in and stitching patterns on purses and wallets, even hats and jeans. Instead of buying a Chanel jacket on Madison Avenue, you can instead make one on Second Avenue. "You get a real sense of accomplishment," says Courtney Burgin, an employee at Rita's Needlepoint. "You've created something."
"There's a huge knitting community," says Annie Goodman, the owner of Annie & Company, a knitting and needlepoint store on Second Avenue and 92nd Street. Like Kardos, Goodman has clients ranging from their teens all the way to their 90s.
Goodman offers community knitting sessions and classes where people from all ages and backgrounds come to chat and knit. "Knitters do feel like they're in a community," says Goodman.
In her store, Goodman also carries needlepoint equipment. "Needlepoint is very popular too," says Goodman. It is what she initially started with when she opened her store in 2002.  Needlepoint uses a canvas to stitch a design, unlike knitting, in which a design starts from scratch. Knitters usually partake in needlepoint as well, and vice versa, which is why knitting stores could sell needlepoint canvas' as well.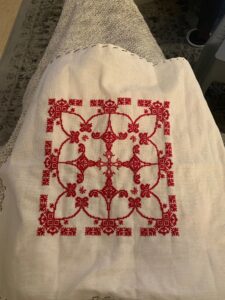 "I stitch, I knit, I sew," says Kimberley Dow, the shop owner of Rita's Needlepoint on the Upper East Side, "It's just a part of me." Dow, whose grandmother taught her to stitch and knit, bought the shop from Rita Kline in 2019 which is now located on Second Avenue and 81st Street.
While all these crafty alternatives are significantly cheaper than Chanel or Dior, knitting and needlepoint on the Upper East Side are not low-cost either. "It's not a cheap craft," acknowledges Liz Ciolek, a longtime employee at Rita's Needlepoint, adding that you won't find good needlepoint supplies at Michaels or Hobby Lobby. "You need to have a certain amount of disposable income," says Ciolek.
"My yarns are expensive because I carry high end yarn," says Kardos. "I carry 100% cotton and cashmere and wool." Kardos' yarns, which sell anywhere starting from $60 for a small ball of wool or cashmere, for example, cater to a certain group of people who can afford it. Because 97% of residents on the Upper East Side have an average household income of around $220,000, it's no wonder these crafts are so big in this area.
Knitting and needlepoint's attention to detail, delicacy and the time it takes to make a piece also add onto its price. "It's a lot of work," says Kardos about making patterns and bringing the designs to life.
But knitting isn't just a way to make beautiful clothes, it is also good for training the brain. "It is easy, but you have to focus and you have to be able to use both hemispheres of the brain," says Kardos. Because needlepoint and knitting require both hands, she claims it's a great way to practice using the hemisphere that isn't normally used. Kardos says some right handed people have difficulty commanding the left hand because "you're using the side of the brain you don't normally use."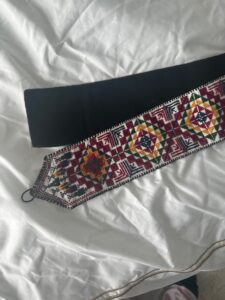 According to Kardus, this mental workout is great for the older residents of the Upper East Side, who make up a solid portion of the population. "It's very good for you to knit," says Kardos. She says that as people get older, they have more difficulty with spatial relationships, and knitting helps with that.
Dow mentions knitting and needlepoint are also a great way to meet new people. Because of recent spikes of interest among the younger generation to do knitting and needlepoint, "you are getting younger people coming in and making friends with older people who you would never expect them to interact with."
Ash Mierzejek, a knitting enthusiast, says that pretty much all of her friends are knitters as well, many of whom she's met at knitting groups. "My friends are among a really wide age range," says Mierzejek, who never imagined herself to have close friends who are 30 years older than her. Mierzejek, who is now an employee at a knitting store on the Upper West Side, says that knitting brings people together, because they're all "tied together by this passion."
"It gives them a sense of belonging and support," says Goodman about the crafts community on the Upper East Side. "It makes me feel proud to create a community."