When I worked as a server in a Korean barbecue restaurant in Koreatown, customers used to ask the following question after they ordered their food: "Does it come with Banchan?" They would look at me expectantly, as if they've already heard about the unlimited, free Banchan — small side dishes that will come with their food.
"Yes, of course," I would answer. "Your barbecue meat comes with six small side dishes — Kimchi, shredded radish, pickled jalapeños, broccoli, sweet-marinated fish cake and potato salad." The possibilities are endless with banchan, the most distinctive feature of a Korean restaurant.
"Wait, what about the lettuce-something?" someone would inevitably say. You've probably heard of the lettuce ssam set, which consists of garden-fresh lettuce, perilla, chrysanthemum leaves, lime-green cabbage stems, thinly sliced garlic and pepper and tricolor ssamjang (the sauce). Generally, people want to add some vegetables to their barbecue table that make them seem healthier and help them feel less guilty.
But what these customers proceeded to do with the lettuce ssam set would always bother me.
Most New Yorkers who came to the Korean barbecue restaurant where I worked didn't have any idea about the leaves or sauces in front of them. I usually let people do whatever they felt comfortable with, instead of correcting them and saying, "You're missing out on the chance to get a better taste, dude." 
But one weekend, when I visited Yoon Haeundae Galbi on 8 W. 36th St. as a customer, I couldn't help but interfere with the table right next to me.
Four Americans, seemingly in their 20s, were treating the perilla leaf as a salad and didn't even touch the ssamjang sauces. One man who seemed pretty confident to have enough Korean barbecue experience tried to guide his friends on how to deal with the ssam set, instructing them to "Pick any leaf and wrap up the meat with it, then sprinkle the salt on it." But I knew this is not how it is done, at least not in the correct Korean way.
With a distinct sense of duty as the only native Korean on the floor of the restaurant, I wanted to help them achieve a tastier meal. I spontaneously struck up a conversation with their table, asking if they knew the typical Korean way to wrap the meats. They roared with laughter, realizing that I caught onto their ignorance. Jack Grunberg, who introduced himself as a Korean-food lover, said "Well, that's a good point. Honestly, no. Please let us know."
Here's my tip on making the most delicious ssam — the meat wrap — that you might not know about unless you have a Korean friend. The key is using banchan and ssamjang, the tricolored special-made sauces that pair with the meat and vegetables, together.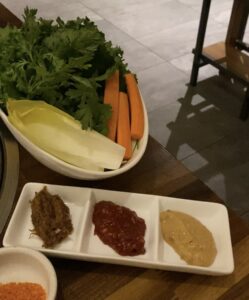 Making the best ssam is all about finding the best combination of meats and veggies with ssamjang. Among the yellow, red and brown ssamjang lies some additional fusion touches — sour cream ssamjang, tomato pepper paste and anchovy soybean paste — you have to discover your own unique preference with the different meats.
With clean, open hands, place two leaves on one hand, and add the lettuce and perilla. Dip the cooked meat in the ssamjang you prefer, and place it on the leaves. And here, the key difference is made — do not let the side dishes be alone. Put shredded radish, pickled jalapeños and Kimchi from your side dishes together. The finishing touch should be a piece of garlic and pepper, although you can skip this step according to your liking. Finally, fold the edges of the leaves carefully so that the food does not overflow on your hand and tuck in.
The significance of ssam in Korean barbecue restaurants dates far back in Korean history. Many people are likely to think that how you eat food is up to the individual, but Koreans would never really eat ssamjang just by itself because it's too salty.
"If you're not Korean and you weren't fed ssam or ssamjang or any of these types of condiments, a lot of people would eat them separately, but with our culture, it's a lot of matching and pairing," said Bernard Kim, the manager of Yoon since 2011.
Kim said that matching and pairings are all about balance.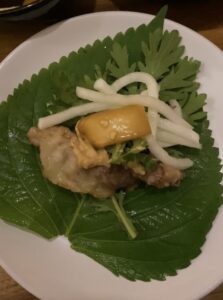 "The history involved why things are salty and fermented in Korea," Kim said. "Because it was a very impoverished country, we needed to build food that would last a long time. When there's something salty, in most cases, Koreans used to put something a little bit more bland like unsalted side dishes or barbecue meats so that you can balance out the flavors."
If blending is key in Korean food, you can also understand why and how Koreans balance out the different drinks: Somac. Somac, a neologism referring to Poktan (bomb) Ju (liquor), is a mixed liquor or bomb shot that you can easily hear in Korean drinking culture: "So" is from soju, and "Mac" is from [Mac-ju], which means beer in Korean.
In most Korean barbeque and drinking places, including Yoon, it's not difficult to encounter people trying to make a somac, placing the shot glasses in a row. To keep up the golden ratio with three of soju and seven of beer, you can pour soju into a shot glass and make it submerge into a bigger glass filled with beer.
You can also obtain the title of somac expert when you polish up your mixing skills with a spoon or chopsticks. Often, you can give the physical impact by head-butting onto your table so that soju and beer are mixed well — the slight sparkle rising upwards is the sign of well-mixed somac.
"I should've asked you before," Grunberg said, after having several ssams and somac shots. "It felt odd to me to mix different banchan or liquors at first, but now I totally trust you.
Anyone can eat Korean barbecue, but to truly enjoy it, you need to know how to eat it.