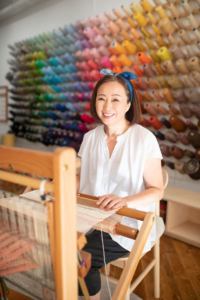 On Sept. 11, 2001, Yukako Satone stepped out of her house to take her daughter to school. When she opened her front door in Jersey City, she was greeted by the view of the twin towers in flames.  After witnessing this terror attack from so close by, she decided to move further from the city and into to the suburbs. That's where she picked up an old hobby of hers: the loom.
Satone, who now owns Loop of the Loom on the Upper East Side, uses a specific type of Japanese weaving, Saori, to release her emotional distress. Although the practice is an established weaving art in Japan and other parts of the world, Satone transformed it into a therapeutic release for those that find themselves unable to easily express their feelings.
"There's no judgment," Satone said about her weaving classes. What was once a hobby she did at home to relieve anxiety and depression suddenly turned into opening her first Saori studio in 2008.
The loom is the most important part of the Saori weaving process – it's the machine that holds the threads and allows the designer to move them in the direction they prefer. At first glance, it seems like an intricate and professional contraption, with pedals and segments moving back and forth, only to be used by extensively trained personnel. In reality, it is a simple wooden machine that is at anyone's service to express their feelings to the fullest extent. "I decided to use the loom for my therapy, my art therapy."
The studio itself seems like a safe haven for anyone who enters. It's cozy, yet bright, and it feels mellow and zen. "She supported me a lot," said Nobuko Tsuruta, an artist who discovered Loop of the Loom with her son 15 years ago.
At the start of her career, Nobuko found the confidence she needed with Satone, who pushed her to pursue her art and offered her a job once a week to make her own pieces.
"Each piece is so different," Satone said about her clients' work. "Each piece is so great." 
The first rule Satone tells her clients is that there are no rules. She believes in the right of freedom of expression, by whatever means possible. It is up to the person to figure out how the machine works, and it is up to them to decide what thread color, thickness or pattern they'd like their design to be. This allows clients to focus on themselves, their thoughts and how they'd like to express themselves without any criteria from others.
Because there is no art background or training required, Satone says it allows for equality: "Everyone's the same."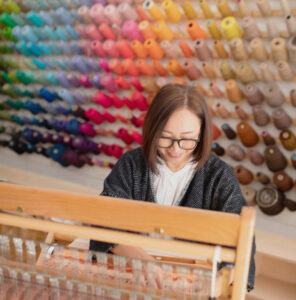 Ria G. Hawks, the president of Saori Arts NYC and longtime friend of Satone, said she was at the Loop of the Loom almost all day whenever she visited. "As I went, I would spend the entire day there," Hawks said. "I ended up going every Saturday for about five months." Eventually, Hawks and Satone created Saori Arts NYC, a non-profit organization that brought Saori weaving to hospitals.
Hawks, who previously was a nurse practitioner for pediatric bone marrow transplants, said that she and Satone started their nonprofit organization to bring Saori weaving to inpatient and outpatient centers as part of their journey to recovery. "The day I retired she said, 'OK it's time to start the nonprofit." Hawks said about her and Satone's journey. "It was a dream for her."
One year after the 9/11 attacks, Satone decided to contribute to the city's remembrance of the event. She saw the black sheets that covered Ground Zero, and it brought back the trauma and stress she endured from that day. She quickly decided she needed to do something, thinking "We need color."
"I decided to make a banner with everybody that wanted to do something," said Satone, who dragged the heavy and delicate loom around New York City so that people could weave and add to the banner. "I did it at the park, at the Botanical Garden." 
When the banner was finished, more than one hundred people had added to it. It displayed an array of colors, designs, and textures and sizes within each other, representing a lively image amid the darkness that surrounded the day. "I put the banner to hang over the Trinity Church and people put their pictures and flowers around it," said Satone.
"It felt very freeing, and it felt very natural," said Juliet Martin, an artist from Brooklyn and former student of Satone. Juliet's father found Satone's studio online after she had finished ceramics and didnt feel "particularly connected to it." Martin, who visited the studio four to five times per week, said that Yukako taught her Saori, which eventually led to her certification in the practice. "She was very good at stepping back," Martin said. "She really knows when to give instruction and when to give you time to yourself."
Aside from her Upper East Side studio, Satone opened a new location in DUMBO in 2019 – a relaxing and mellow place that is conducive to the release of emotions. It is bright, but soothing and small, but cozy. Dozens of assorted threads allow anyone to weave to their fullest potential. 
"You just walk in and it's so lovely," Martin said about the studios, where you take off your shoes at the entrance and are guided by the fountain and nature noises to your loom.
Ever since 9/11, Satone has found a haven in her work, and has taught others how to follow her lead. "She really was a mentor," Martin said. "She really pushed me in a very positive direction."
After using Saori as a form of therapy, Satone said she grew more confident in her weaving.
"She has been like a guide to me," said Anna-Maie Southern, a studio manager at Loop of the Loom. Southern moved from England in 2018 and met Satone the same year. After helping Satone set up her new DUMBO studio, she has been enchanted with Saori ever since. "She has a lot of energy," Southern said about her boss. "She never seems to get tired."
Satone, who has clients of all ages and all abilities, says the best part about her job is seeing her clients' expressions through their work. Eight-year-old children can stay concentrated on the loom for hours, and a blind client was able to operate the loom perfectly by touch alone. "She's so passionate about what she does," said Southern, who has been working at Loop of the Loom for three years. "People love Yukako."