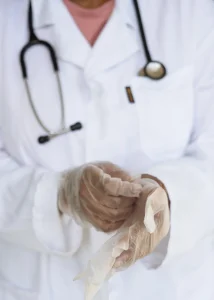 "I'm not lying when I say half of the people here would prefer us dead," said Chloe Monette of Czech society's view on the transgender population. She is the founder and president of Jsem Trans, a Czech NGO committed to education and counseling for the transgender community. "This is a very stressful environment to live in."
In a country often dubbed the most sexually progressive of the former Eastern Bloc countries, the transgender population in the Czech Republic is battling with a recent court ruling. Earlier this year, the Constitutional Court of the Czech Republic ruled that for a person to change their preferred sex on legal forms they must undergo gender reassignment surgery, which only comes after approximately a year of psychological evaluation and sexologist doctor's appointments. The Czech Republic remains one of few countries in Europe that have this strict requirement, and many transgender activists claim it is a violation of human rights in a society many already find unsafe.
Chloe Monette came out as transgender during her time at Masaryk University in Brno, the second largest city in the Czech Republic. She says she endured discrimination and bullying from teachers and faculty, but that, "99% of it was from my classmates." 
She feels lucky to have done virtual university during the COVID-19 pandemic because of the veil of security it offered her in the face of constant discrimination from her peers. Ultimately, even a digital screen could not stop these hateful comments. Monette claims to have received constant online criticism posted on a public university forum for the whole institution to see. When she went to the university dean to report these instances, she claims he said nothing could be done without concrete evidence. 
According to the United States National Library of Medicine, people who identify as transgender have higher rates of mental health complications compared to the general population due to discrimination.
The hateful posts Monette received included messages urging her to commit suicide, amidst what she called 'the usual' taunting and jokes. "I was basically forced into withdrawing from the university," Monette said, "I had to pick my mental health which, I mean, suffered greatly."
A mental health and psychological evaluation is mandatory in the Czech Republic for people looking to undergo gender reassignment surgery to change their legal gender. The head doctor in charge of these tests is called a sexologist. Sexologists specialize in all things human sexuality. Dr. Petr Weiss, president of the Czech Sexological Society, explains his job includes everything from erectile dysfunction, to low sex drive, to helping those wishing to transition to another gender. 
The history of sexology in the Czech Republic is well linked to the country's communist past. From 1948 to 1989, former country Czechoslovakia was under communist rule and regarded as under the Soviet Union's sphere of influence. In the 1960's, demographic changes, like increasing divorce rates and decreasing birth rates, prompted the government to focus on "cementing the family," according to Kateřina Lišková, a Czech sociologist from Masaryk University. A new era of state politics, officially called Normalization, was ushered in and new facilities were opened to admit sentenced sexual deviants. Anyone who strayed from the government idea of the "family norm" was suspected of sexual deviance and were eligible to be taken to these facilities and for therapeutic castration. Lišková cites the state politics of that era as the cause for the creation of this treatment program including therapeutic castration. Now, these same sexologists are responsible for conducting evaluation and giving the final 'okay' to transgender people looking to undergo surgical castration to change their legal sex.
Dr. Petr Weiss explains that included in these required evaluations to undergo gender reassignment surgery is a Rorschach test, a psychological personality evaluation and an arousal test, where a device is placed on the person's genitals to measure arousal when shown certain 'erotic' pictures. "It's very traumatizing," said Monette.
According to Monette, the thoughts behind these required evaluations are based on inaccurate and antiquated ideas on transgender people. This is a feeling shared by many in the transgender community.
"They're really treating people as sexual deviants," said Lenka Kralova, 41-year old Transgender activist, on the sexologists in the Czech Republic. "This also applies to the legal system, because they make an impression that it's all about sex, then, of course, we do it because we need our sex organs to be changed."
This is not the first time in recent history that the Czech Republic has been criticized for its use of arousal tests. In 2010, the The European Union Agency for Fundamental Rights published a report condemning the Czech Republic's use of these arousal tests for people seeking asylum from homophobic countries. The test is supposedly used to confirm if the person seeking asylum is homosexual and, therefore, in need of asylum. The agency for fundamental rights said this testing could breach a human rights convention barring torture and humiliating treatment, according to Radio Prague International, a local news source. 
Not only do transgender people face possible harassment and bias in general society, in the Czech Republic the legal system, and the doctors that abide by it, make living here that much harder compared to other EU countries.
In neighboring country Slovakia, people wishing to change their legal sex must either be surgically castrated or undergo hormonal therapy for at least a year, along with undergoing a 'Real-life' test, which entails living as their preferred gender for a period of time. In June 2022, the German government unveiled plans to enact a self-determination law, meaning people wanting to change their legal sex would simply have to declare it and register for it. 9 of the 27 EU members already have self-determination laws enacted. The remaining 18 countries require either hormone therapy, a series of tests, or gender reassignment surgery.
The consequences of not undergoing the surgery as a transgender person can be severe. For many, choosing to live as someone they are not can be very traumatizing and lead to lasting mental health issues such as anxiety and depression. Legally, it can cause issues for things that require a driver's license or passport. If your passport says your sex is male and you get stopped at the border as a female presenting person, passport control may not let you in or you may be led into questioning. This could hinder the ability of transgender people in the Czech Republic from leaving and reentering the country. 
Part of this required gender reassignment surgery to obtain a legal sex change in the Czech Republic includes permanent reproductive sterilization. 
"For an administrative procedure you are required to get a part of your healthy body cut off," explains Kralova.
Kralova is a software developer by day and a Youtube channel host of one of the most viewed sources of information on transgender people in the Czech republic, V Tranzu, on the side. She calls the sterilization more like "castration" and heavily condemns the government for its continued enforcement of this regulation and aims to bring greater awareness of it to the general public.
"I would compare it to: imagine a situation where you would be studying university, you finish university, and do all the exams," said Kralova, "and then they tell you 'Okay we will give you a diploma but, only in the case you cut your finger off."
Many transgender activists and blogs call this regulation a human rights violation.
"It is a scandalous violation of human rights that we do not encounter almost anywhere else in Europe," said Kralova to Expats.cz in April 2022, a Czechia based English language news source.
When a formal case on this subject was brought to the Administrative Court of the Czech Republic in early 2022, 8 out of 15 judges were in favor of striking down this law. A strong minority, but not strong enough to change the final decision.
"For very procedural reasons they avoided the issue, they said the law was not applied here," said Zdenek Kuhn on the court's final decision in 2022. He is a Judge of the Supreme Administrative Court of the Czech Republic based in Brno. Kuhn himself was not involved with this case. "They did not address the substance of the complaint."
This law in the Czech Republic says the complete opposite of the European Union's Court of Human Rights. According to the ECHR decision from court case A.P, Garçon and Nicot v France (2017), "mandatory infertility, in order to obtain gender recognition, violates the right to physical and moral integrity under Article 8 ECHR."
This case in the Czech Republic has been appealed to the EU Court of Human Rights for them to review. Kuhn believes only their jurisdiction could change the gender reassignment requirements in this country and the final decision could take years. He claims to have just gotten a case for review that was submitted over 10 years ago.
Along with reversing this court decision, Jsem Trans founder Chloe Monette hopes the Czech government works towards criminalizing gender based violence, making it easier to access hormone therapy and medication, and allowing same-sex marriage. All things currently unavailable to the LGBTQ+ community in the Czech Republic.
Although many in the Czech community are unhappy with the regulations, Dr. Petr Weiss holds up a meager pile of only three manila folders — the only patients he's ever had that have been left unsatisfied with their gender reassignment surgery after completing said requirements. He boasts a 99% satisfaction rate among his patients and later tells me of the colorful abstract painting of penises decorating his office, gifted to him by a satisfied patient.