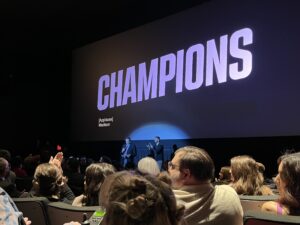 Produced by and starring Woody Harrelson, Champions is a comedy film set to be released in early March. At the world premiere on February 27 at the AMC Lincoln Square in New York, the cast, featuring several actors with intellectual disabilities, couldn't be more ecstatic about this film. 
Champions, directed by Bobby Farrelly, tells the story of a former minor-league basketball coach named Marcus (Woody Harrelson). After drunkenly crashing into a cop car, he is given community service coaching a basketball team called "The Friends," which is filled with players who have intellectual disabilities such as Down Syndrome, including Johnny, Arthur, Marlon, and Blair. Throughout the film, Marcus' prejudice and pessimism change as he and the players work together to compete in the Special Olympics.
"This story is a beautiful, heartwarming story that has feelings and emotions, and in this landscape of comic book movies, it's a story that has real feeling," said Julie Garcés, the editor of Champions. 
The cast expressed their appreciation for the experience they had while making this film. "I'm just beside myself. Being on set with Woody was something truly magical," said Kevin Iannucci, who plays Johnny.
For many of the actors, this film was a dream come true, the experience of a lifetime. "When I was growing up, I didn't see myself starring in an A-list movie," said Alex Hintz, who plays Arthur. "It's my first time working alongside an A-list actor. It was kind of crazy at first."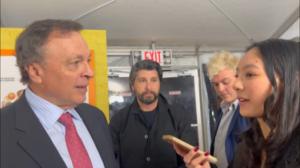 Many also praised Harrelson for his insistence on bringing this film to life, as well as the hard work of Farrelly in making the stars shine. "In real life, [Woody] was teaching them acting as well, it was beautiful to watch. He was really sweet and kind with them, and very supportive of them as actors," Garcés said. 
"[Bobby Farrelly] has just a really kind heart, he's really enlightened about the way the world works, and we've always had a really awesome time," said Casey Metacalfe, who plays Marlon. "He is very respectful of everyone on set. If I said something wrong or didn't say it the way he liked it, he never lost his cool."
Several actors got emotional talking about how they feel being represented in Champions and how important this film is for them. "This means a lot to me, showing what I am and I'm proud of people who have disabilities and am proud to represent them," said Tom Sinclari, who plays Blair.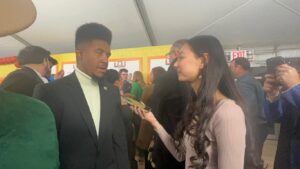 "I'm just so happy to get ten different actors playing basically versions of themselves, but keeping it real," said Farrelly. "It was a great honor to get to direct them." 
Champions will be released in theaters on Friday, March 10. "I hope you guys are inspired by all of us with intellectual developmental disabilities," Joshua Felder, who plays Darius, said. "We're just like you guys. There's no such thing as perfection, but there is such a thing as achieving something that you like."