A pop-up show at a Brooklyn gallery this weekend highlighted women artists from across New York City. Visitors enjoyed a variety of artistic talents, shopped from vendors, and networked with fellow artists. 
"Everyone here has such unique styles and you can really tell how personal all of the artwork is to these people who are coming from all different partops of New York," said Emily Greenberg, a New York resident who heard about the show through TikTok. She praised the diversity of art and people present as she strolled through with two of her friends. "I love the idea of local artists showcasing their work. It also seems like they're all women, and women of color. I'm definitely trying to go to more events like this."
The two-day event, "Blooming Babes," was hosted by Muse Gallery Inc., a non-profit arts organization dedicated to supporting underserved artists, in honor of Women's History Month. Guests were welcomed by lively music and free rosé as they browsed the dozen vendors lining the walls of the gallery. Each displayed company cards and placards with social media handles, Venmo QR codes, and website links.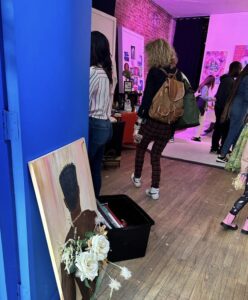 The flow of visitors was nonstop. Large tapestries, intricate jewelry, designer clothing, and more sold for anywhere between $20 and $200. But Cecilia Valdes, one of the vendors, says these events are not about financial profit. 
"If you come with high expectations about making a lot of money, you're gonna leave disappointed," she said. "It's more about meeting people and being on a journey together to share our art and share what we like." A jewelry stand is propped up at one end of her table, carrying beaded earrings from Guatemala and Kenya. Shell-encased coin bags and coasters from Ghana are fanned out before it. Three dolls are propped up in a wide bowl of incense at the center of the table, a mixture of mint leaves and sage from Africa that Valdes herself curated. 
Her table is full of treasures from her travels and reselling them lets her share her Afro-Cuban heritage. "It's my roots. I know my roots and I want to go deeper in my roots. It makes good art and I love it." She already has plans to return to Ghana next year.
Across from her, Lara Arbore, an artist inspired by astrology, also considers the event to be an opportunity for expression and connection. "You never know what's gonna happen and I'm all about it. I just show up and spread love and color. All of my art here…it tells this story in a sense." Colorful acrylic paintings with different compositions of beautiful faces, mermaids, and landscapes are displayed on her table and adorn the wall behind it. "It's beautiful to just be out here and connected to people." She appreciates the artist community that makes events such as this possible. "There's this really beautiful artist network in New York and New Jersey and you just kind of connect. Thank God for the 'gram!" 
Muse Gallery director and event host Nidia Yvette Franco held an open call on Instagram to gather the artists for this event. She strives to make a difference by offering the creative support system for artists that she feels is often lacking, at home or within the community. 
"Through the non-profit, we're able to get spaces like this and none of the vendors, none of the artists here, have to come out of pocket because we sponsor them. You just come in and show what you got." Blooming Babes is the first event by the organization since it became officially tax-exempt as a non-profit in September 2022. "Everything in here starts off with an idea," said Franco. "You see something, it inspires you, it triggers something inside of you. But if you don't give it energy and you don't nurture it, it won't come alive. That's what Blooming Babes is about." 
Franco plans to establish Muse Gallery as a more permanent fixture in the New York City artist scene. "The future of Muse Gallery is to open up its own gallery in every borough, minus Staten Island. I want a Muse Gallery in Brooklyn, in Queens, in the Bronx, Uptown, and Westchester County. That's the goal."
A street artist in attendance at the gallery introduced herself to Franco on her way out, presenting the art painted on the back of her denim jacket, an example of her work. She was inquiring about possible consideration in the next showcase.