By Amelia Chang
On Thursday, May 4, the New York City Ballet held their 2023 Spring Gala: Invention. The night featured the world premiere of two new pieces: Christopher Wheeldon's "From You Within Me" and Alysa Pires' "Standard Deviation." The performance was closed with Justin Peck's 2017 piece, "The Times Are Racing."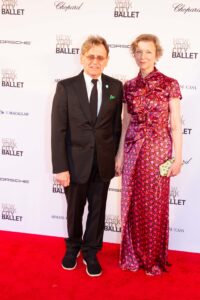 The New York City Ballet, founded by choreographer George Balanchine and Lincoln Kirstein, raised a record $3.45 million at the Gala, and featured guests such as Mikhail Baryshnikov, Michael Bloomberg, Diana Taylor, Wheeldon, Pires, and Peck, and the dancers of the company.
"The New York City Ballet is all about the legacy of innovation," said Peck. "Tonight is going to be really exciting in that sense, because we have two new works by two exciting choreographers that we're gonna see for the very first time."
"From You Within Me" is Wheeldon's 22nd ballet created for the company. "I joined New York City Ballet when I was 19 and danced with them for 10 years and it's been 6 years since I've made a piece here. So it feels a little bit like coming home in a way," he said. 
Wheeldon collaborated with painter Kylie Manning to create the world "From You Within Me" is set in. "Working with [Wheeldon] is such an honor. I'm so excited and thrilled and to have the work in this capacity is just remarkable," Manning said. Unlike other ballets, Wheeldon's work was choreographed to support Manning's already finished work.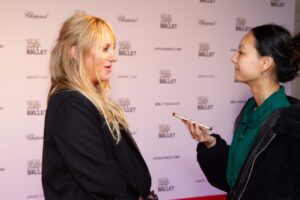 Manning's inspirations started from the music, set to Arnold Schoenberg's Verklärte Nacht. "The New York City Ballet means being current in the moment and alive and expressive, and it's expressive of the music," said Wendy Whelan, associate artistic director of the company. "It's all about the music at the New York City Ballet."
Premiering alongside "From You Within Me" is Alysa Pires' "Standard Deviation." A previous choreographer for the National Ballet of Canada, Ballet Kelowna, and the New York Choreographic Institute, this is the first ballet Pires has choreographed for the New      York City Ballet.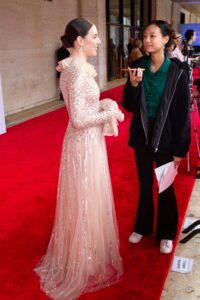 "[Pires] was wonderful to work with. From the beginning, the process was so lovely and very collaborative and always super positive," said Tiler Peck, principal dancer of the New York City Ballet. She performed in both the new Pires piece and was part of the original cast of Justin Peck's, "The Times are Racing." 
Uniquely, Pires' new piece features a section of saxophone improvisation. While this makes it a very tough score to count, it keeps the ballet interesting, Peck says.
Also in attendance were several of the company's dancers, who shared advice to aspiring dancers. "Just keep working hard," said Isabella LaFreniere, recently promoted to principal dancer in February 2023. "There's going to be ups and downs and through those downs, just keep chugging day by day, take it day by day, and eventually you'll get where you want to be."