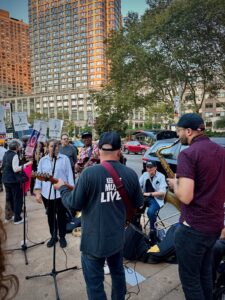 The New York City Ballet Orchestra rallied for a new contract outside of Lincoln Center before the ballet's opening performance Tuesday night.
Ticket sales to the New York City ballet have surpassed pre-pandemic levels. However, the orchestra musician's wages have not recovered. The current contract puts the orchestra musicians' wages  9.5 percent below wages in 2019. 
"We thought, now that they're doing so well financially, when we got to the bargaining table this time they'd say, you know, we really appreciate your sacrifice," said Ethan Silverman, the Chairman of the Orchestra Committee. "But we saw nothing in the contract."
The ballet furloughed Orchestra musicians for 15 months without pay during the pandemic. When the ballet reopened, the musicians took a 15% pay cut from prior to the pandemic. 
The musicians, unionized under the American Federation of Musicians (AFM), criticize the New York City Ballet for not restoring their wages to pre-pandemic levels despite their $263 million dollar endowment. 
"It's not fair when our share keeps getting smaller and smaller, and theirs is getting larger and larger," said Will DeVos, a French horn musician for the orchestra. "We keep taking cuts, and they've got a huge endowment."
Wages are not the only issue. Healthcare costs have also risen because of inflation. The union wants a contract that does not put the full burden of rising premiums on employees.
"Health benefit premiums have gone up significantly, and they want us to pay that as well with no increase in pay," said DeVos. 
Artists at the rally were fed up not only with their compensation, but also the lack of appreciation for their craft. 
"A lot of people don't recognize the hard work that we put in," said DeVos, "We had a three hour rehearsal for tonight and seven hours of rehearsal yesterday. It's just time that no one really sees." 
Other unions, such as the Writer's Guild and SAG-AFTRA, showed up in solidarity to support AMF. 
"Together we have more leverage, and together we have more attention in the public eye," said Writer's Guild member Micharne Cloughley. 
Cloughley, who has been striking for 141 days, said the orchestra's rally demonstrates a tipping point for the labor movement.
As ballet attendees walked by the rally, Cloughley said, "Their money is not appropriately compensating the musicians– world-class orchestra musicians– in the ballet that they go and see."
The orchestra has already authorized a strike if negotiations continue to delay. 
AMF has received no response or a new contract from the New York City Ballet. The next meeting between AMF and the New York City Ballet is in nine days.
Until then, the New York City Ballet's Orchestra joins other entertainers in the struggle for fair wages.
"It was a joke that it was going to be a 'hot union summer,' and now I'm joking that it's going to be a 'hot union fall,'" Cloughley said.