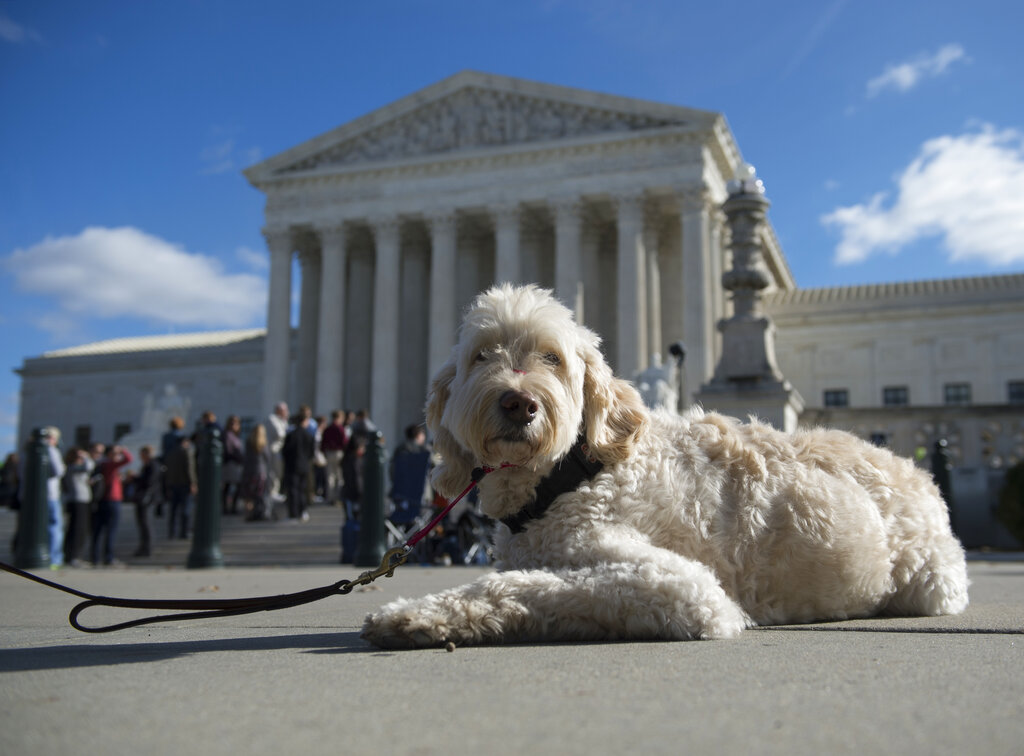 On a chilly February morning in lower Manhattan, the courtroom bustled with attorneys poring over legal documents. Judge Diane Keisel, wearing a sweeping black judicial robe and sipping iced coffee, presided over the pre-trial procedures, her steady demeanor belying the gravity of the upcoming trial. The air was hushed as Keisel's austere instructions silenced the murmuring attendees. A date rape case, People v. Luke Mitchell, loomed over the courtroom, and tension hung thick in the air.
Following the prosecutor's opening statements, 28-year-old Anne (name changed to maintain the rape victim's anonymity) walked in to testify against Luke Mitchell, her ex-boyfriend, and alleged rapist, who sat cold-faced at the defendant's table, seemingly unfazed by the charges on him. Anne walked in from the back door; she appeared underweight, and her skinny frame shook uncontrollably. Her eyes were squeezed shut, and she clung to the guard's hand for support as she made her way to the witness box.
Anne's anxiety made her testimony incoherent. She was hyperventilating and sobbing. "Breathe in, breathe out," said the guard in a futile attempt to calm her. The prosecutor's questions made Anne relive the torturous relationship. She went nearly mute, at which point Judge Keisel ordered a break, sent the jury out, and began an inquiry on Anne's ability to testify.
After the inquiry, Judge Keisel permitted PK, a chunky golden retriever, to accompany Anne. Holding his leash, she stroked his soft, golden fur and gazed into his warm eyes. "Such a good doggie," she said in a high-pitched voice as PK, a therapy dog trained by Puppies Behind Bars, sat near her feet, his paws stretched forward. Her anxious energy dissipated in his presence. She finally testified.
—
Furry canines have been instrumental in assisting minor victims in legal settings since the late 1980s. But their assistance to adult victims is rare, according to Courthouse Dogs Foundation, a Seattle-based non-profit that advocates the benefits of support dogs in courtrooms.
Ellen O'Neill-Stephens, the non-profit's founder and policy director has devoted her life to connecting support dogs with vulnerable victims who need them. After a career spanning 26 years as a prosecuting attorney in Seattle, Stephens established the Courthouse Dogs Foundation in 2011. "I started in the United States, but the practice [of using dogs in courts] has now grown to be an international affair," she told me via Zoom from a hotel room in Cork, Ireland, where she was traveling to introduce the "courthouse facility dogs program."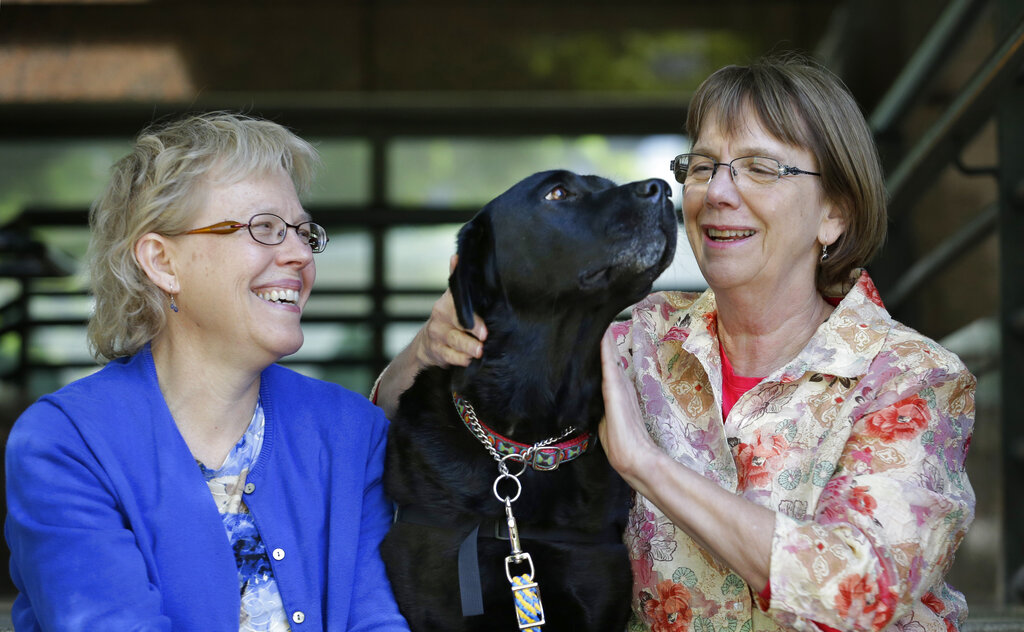 Stephens' voice is husky and has a measured cadence that projects years of experience in the criminal justice system. The inspiration to start the non-profit stemmed from her son Sean's service dog Jeeter, a Labrador Retriever. Sean had cerebral palsy, and he passed away in 2021. Jeeter assisted Sean and sometimes accompanied Stephens to the King County Juvenile Drug Court in Seattle, where she was a deputy prosecuting attorney.
In 2003, the King County Juvenile Drug Court decided to sentence Chelsea, a 13-year-old struggling with cocaine addiction, after she failed in her rehabilitation program multiple times.
On the day of the sentencing, Chelsea couldn't stop crying and was allowed some cuddle time with Stephens' service dog Jeeter. When he "put his two paws up on a table and reached his head towards Chelsea, she dissolved into tears," Stephens writes in an essay. "See Jeeter thinks I can get sober, please give me another chance," she pleaded to the court. The court granted her a final chance to complete the rehabilitation program.
When Stephens met Chelsea four years later, she was "sober, crime-free, and living with her family." "Jeeter saved my life," she told Stephens. Her case sparked the use of courthouse dogs to help others like her.
As of March 2023, 296 courthouse dogs are serving in 41 U.S. states. That number could be much higher when you factor in the service dogs in district attorneys' offices, children's advocacy centers, police departments, hospitals, and many other establishments that employ them. Their mission? To comfort troubled victims. To melt their stress away. To transform somber environments into happier spaces. And sometimes, to be the difference between incarceration and another chance at life.
—
Back in the lower Manhattan courtroom, defense attorney Glenn Hardy staunchly opposed therapy dog PK's presence. The "extraneous object," could make the jurors sympathetic towards the plaintiff, he told Judge Keisel during the inquiry. Since PK wasn't the victim's personal dog, "they don't share a bond," said Hardy, wearing his reading glasses near the tip of his nose, reading out aloud a related precedent.
He referred to Michigan v. Dakota Lee Shorter (2018), where an appellate court stated that "a fully-abled adult witness may not be accompanied by a support animal while testifying." The court added that "a juror can readily accept a child's need for support," but, "with a fully able adult, a juror is more likely to conclude that the reason for the support animal is because the complainant was traumatized by the actions for which the defendant is charged."
"I am not going to subscribe to your statements," Judge Keisel told Hardy. "I am going to permit this [the therapy dog]."
Another precedent showcased that People v. Mitchell wasn't the first case where a support dog assisted an adult victim. In Jones v. State (2020, Georgia), where an adult victim suffered severe PTSD because of the defendant's actions, the court said, "We cannot assume that the dog had any impact on the jurors, much less that it endangered sympathy in them," allowing the victim to be accompanied by a support dog.
However, in Jones v. State, the dogs' carefully choreographed ingress and egress avoided exposure to the jury. The dog entered the courtroom before the jury's entry and exited the courtroom after the jurors left.
Nine U.S. states—Arizona, Arkansas, Colorado, Hawaii, Idaho, Illinois, Louisiana, Virginia, and Washington—have passed some form of legislation related to facility dogs, with a common statute requiring dogs to remain outside the jury's presence.
—
In People v. Mitchell, Judge Keisel instructed the jury to not let the dog's presence cause prejudice against either party. She voiced the instructions with austerity, to ensure strict adherence to law. But on day one of the hearing, PK tried to escape the witness box, Anne's right arm stretched outwards as she grabbed the leash to contain him. He also whined softly. Both facts were later confirmed by audience members I spoke to. At least two jurors remembered the whining.
In a tense trial, when the air is often filled with numbing silence, it's hard to ignore even the faintest of sounds, let alone a dog's whining. He also entered and exited the courtroom in the jurors' presence on at least one occasion. Stephens expressed her dismay upon learning this, "I'm appalled by this," she said. "This is a huge problem for dogs to be doing this. Their actions can negatively impact the trial's outcome," she added.
A therapy dog is essentially a pet dog, unfit for courtroom duties, according to Stephens. Facility dogs are the ones paired with legal professionals. "We strongly recommend that only professional handlers and trained facility dogs are selected to do this work," said Stephens sternly.
—
Puppies Behind Bars, the organization that trained PK, wrote in an email to Stephens that the judge 'accidentally' allowed him into the courtroom thinking he was a facility dog. The court ordered PK to accompany Anne on the second day of the hearing as well. For the remainder of the trial, PK did not return to the courtroom. Another dog, belonging to the victim's current partner, comforted Anne. But on two consecutive days, an untrained dog sat in the courtroom next to a trauma victim.
New York County Assistant District Attorney Shanda Strain wrote in a letter that "PK did not create or cause a disruption during the trial," an accusation never said or written by the two journalists reporting on the case, including myself. Additionally, Puppies Behind Bars, the organization that trained the dog, reportedly accused us of 'sensationalizing' the incident for a 'better story'. A member of Puppies Behind Bars in charge of PK did not respond to my request for comment.
—
For insights into the training of support dogs, and to understand what can cause them discomfort during trials, I visited the northeast training center of Canine Companions for Independence in Medford, Long Island. The organization trains and breeds support dogs and was the first of its kind in the U.S. to officially place a dog in the legal system, back in 2003.
"A facility dog is a dog with a master's degree and a therapy dog is one with your regular associate's degree," said Jessica Reiss, the Client Services Manager at Canine Companions for Independence. "They're both important and they both have distinct jobs but there's a huge difference in the training," she added.
The sprawling Medford campus was eerily quiet during my visit. Hundreds of framed pictures of dogs and their handlers hung over its long corridors, and the floor appeared uncannily clean. From one window, I peeked into an ice hockey rink-sized indoor training hall. In a storeroom on the opposite side, a dozen 30-pound sacks of Eukanuba 'work dog dry food', lay stacked vertically.
Labrador Winnie greeted me in the staff area. She was seated in her handler's cubicle, which appeared like an amalgamation of a child's daycare center and a kennel. Funky objects of all shapes and sizes lay around Winnie: a Spiderman bowl, a human skeleton wearing a magician's hat, a fluffy pillow with a starry cover, and a "stay paw-sitive" sign. The part-animal shelter and part-toy shop theme was visible everywhere on the campus.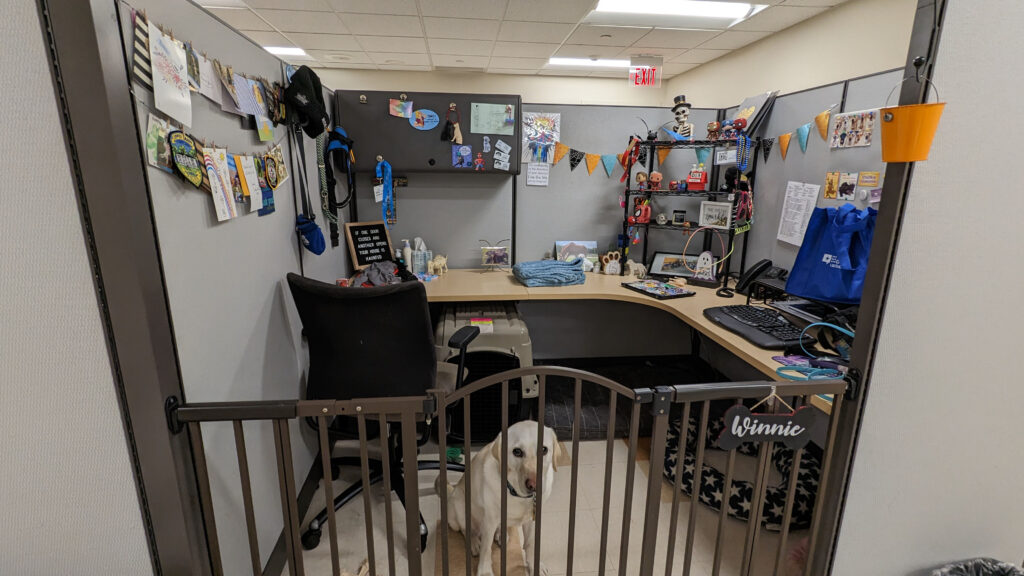 As I began interviewing Reiss, Jasmine, a velvety black cat, jumped onto my lap and dozed off. "If one of our dogs gets distracted by the cat, it's not a good fit for the facility dogs program," said Reiss, suggesting that cats were one of the performance indicators for the dogs. Jasmine enjoyed the nap, oblivious of her consequential role at the facility.
Reiss, who has been with the organization for 17 years, questions the courtroom environment when asked about PK's behavior. "Was there a lot of crying? Were there a lot of people? Maybe the dog wanted to use the bathroom," she said with concern. "Dogs are not robots; we have to anticipate at what point they may feel uncomfortable."
More importantly, Reiss differentiated facility dogs, therapy dogs, and service dogs. "A therapy dog's temperament is suited to be a loving companion," she said. They enjoy engaging with people and their therapeutic intervention yields "physical and psychological benefits" to humans, according to her. Service dogs, unlike therapy dogs, are trained to respond to 40 commands. They're obedient and "can pull a wheelchair, open and close doors, pick up and hand over items, and even turn the lights on."
After the training, Canine Companions for Independence assigns their 'graduates' to handlers at hospitals, rehab clinics, and special victims units among other establishments. 'Courthouse facility dogs' are the ones employed in legal settings. They receive identical training as service dogs and can also respond to 40 commands.
—
In the training hall, kennels and fluffy mattresses lay unused. Instructor Alex, seated in a wheelchair, drew my attention. She was training Neera, a two-year-old Labrador, to be a service dog. Neera's golden fur sparkled in a ray of sunlight that entered the hall from a west-facing window, and her floppy ears, skinny legs, and tiny paws were indicative of how young she was.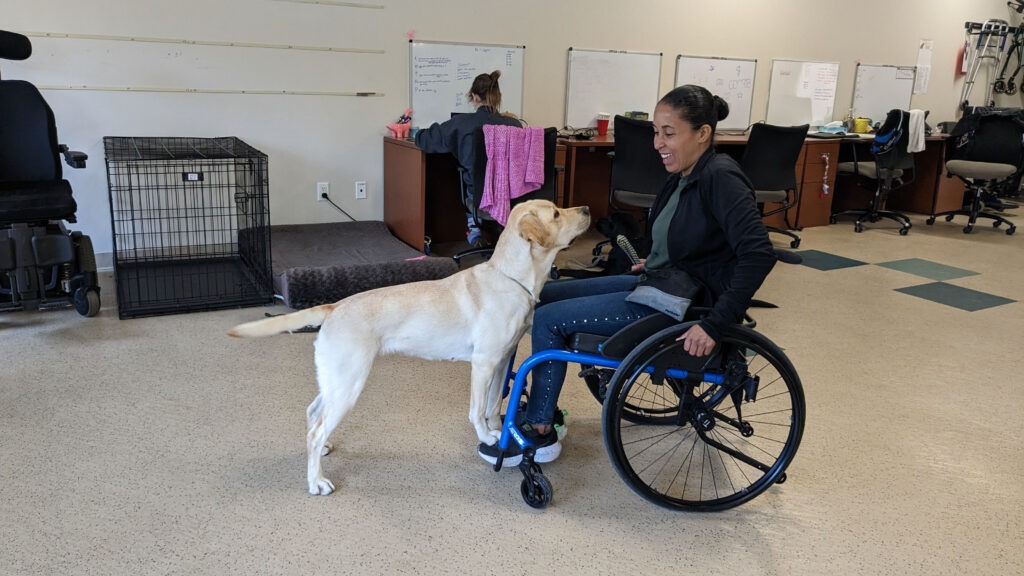 "Neera, grab that," pointed Alex to a green plastic shovel.
Neera held it gently between her teeth and handed it over to Alex. Her submissive brown eyes yearned for more commands.
"Neera, sit."
Sans hesitance, Neera sat parallel to the wheelchair, wagging her tail.
"Turn the light on."
She paused for two seconds, reached up to the switch by placing her front legs on the wall, and flicked the switch up with her nose.
Alex rewarded her with treats.
—
Like a master's degree, facility dogs train for two to three semesters, spanning six to nine months. Their handlers undergo two weeks of training at the facility, where they simulate real-world scenarios, learn to use commands and develop an emotional bond with the canine.
Canine Companions doesn't charge its clients—attorneys, disabled individuals, victims of abuse, autistic children, war veterans, etc.—for obtaining support dogs. Access is equitable, and trained dogs are handed over free of charge, thanks to generous corporate donations that keep their operations running.
—
After returning to New York from Medford, I spoke to Jerri Rook, a Facility Canine Handler at Pennsylvania's Lycoming County Courthouse. Rook recently recruited Ludo, a black Labrador, from Canine Companions.
"I'd hear kids crying in the hall, and I wished I had my dog," said Rook. After her service dog Jedi passed away in November 2021, Rook felt the need for his successor.
Now, she brings Ludo with her to work every day. Together, they deal with children, dependency, delinquency family cases, DUI cases, treatment and drug cases, and anybody who can benefit from his presence. Ludo's job is simple, to be an unconditional love-giver, and let victims feel the warm-embrace-like tactile sensations oozing from his soft fur.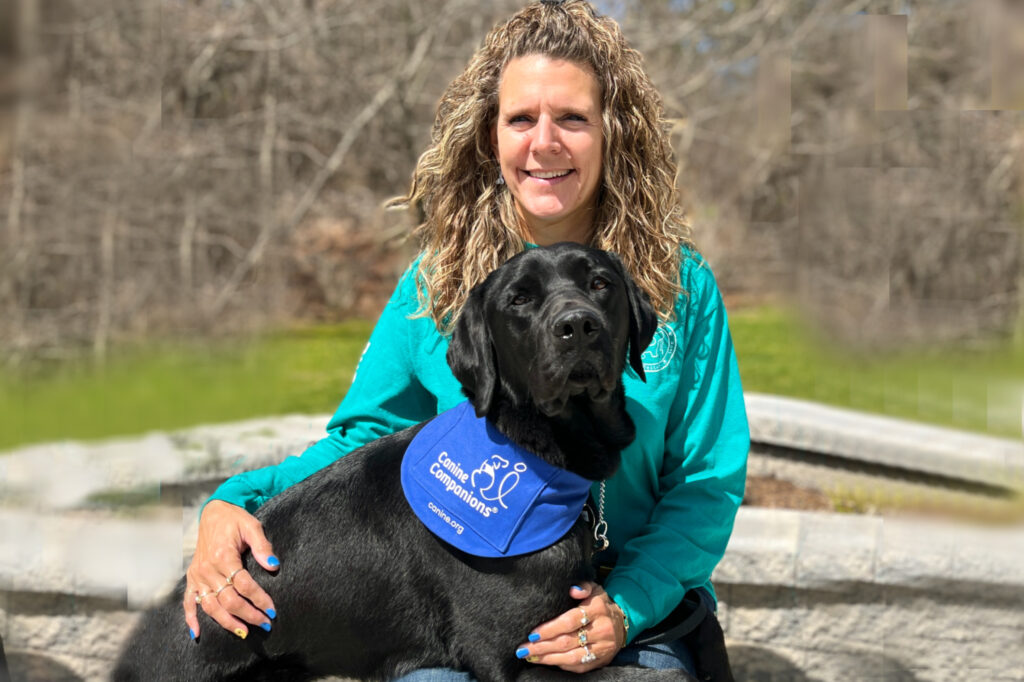 After learning about PK's discomfort in the Manhattan courtroom, Jerri reiterated the importance of a dog's courtroom behavior. "If a dog creates a mistrial, or does something that creates a precedent, then nobody would want to deal with a courthouse dog program," she said. "Everything we do as handlers can affect other facility dogs in the U.S."
—
In People v. Mitchell, Judge Keisel sentenced the defendant to 12 years in prison on charges of rape, assault, burglary, unlawful threats, and obstruction of breathing.
As she read her decision, a palpable sense of justice permeated the air in the hushed courtroom. The convict, Luke Mitchell, wearing a faint yellow prison jumpsuit, stood surrounded by four armed guards, his movements restrained by the clanking handcuffs and shackles.
Defense attorney Glenn Hardy continued to contest the court's decision, describing the dog's use as 'drama'. In a bizarre moment, he even walked up to Anne (the rape victim), seated in the audience wearing a long fur jacket, to see if any dog accompanied her. But Judge Keisel, yet again, dismissed his attempt. No dog entered the courtroom that day.
If PK's ingress and egress had been carefully orchestrated to avoid exposure to the jury, Hardy probably wouldn't have fought against his presence so resolutely, which highlights the importance of professional handlers and trained facility dogs in such a high-stakes environment.
However, a silent but powerful truth reverberated in the courtroom: the dogs were more than just cuddly companions. Their impact extended beyond the courtroom walls; their contribution prevented a dangerous man from inflicting further harm upon innocent individuals.