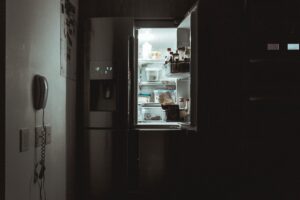 On a hazy morning in April, Daniel-José Cyan, a 26-year-old from the Bronx, opens his deserted fridge to find a single piece of moldy mozzarella cheese. He holds it up to the light and knowing he had to eat something, against his better judgment, takes a bite.
"Even looking in the fridge can cause me to shut down," Cyan says. "Whenever I get asked what goes through my head when I think about cooking, I have no answer. I just feel the incompetence." Cyan was sick for days after eating the cheese.
He shares that, as a transgender man, even though he knew he didn't want to grow up to be feminine-presenting, he still felt pressure to fit into the mold of a perfect feminine body. "It was understood that I had to be desirable by my peers as a girl," he said. "I didn't have a boyhood. I had a girlhood. That's how I was taught to understand my body and food because it was these impossible beauty standards of what it meant to be a girl."
A 2022 study shows that transgender men have emerged as the most vulnerable of any group to develop an eating disorder. These disorders are serious illnesses, marked by disturbances to one's eating behaviors and are the second deadliest mental illness in the US.
According to Lydia Rhino, program director at The Eating Disorder Foundation, eating disorders are not just about food––they often stem from psychological factors. "Eating disorders are rooted in control," she says. "It's scary to be a trans person in the United States. When there's no safety or acceptance in a lot of places, eating disorders are a way to express 'I can't control what other people are doing outside of me, but I can control this.'"
Rhino says it is not surprising that trans men are the most susceptible. "If you have lived in a body that does not feel like yours, where people have identified you one way, and you know that it didn't feel accurate, why would your body be something that you respect and treat well?"
When Cyan was seeking gender-affirming surgery two years ago, he said the way his doctor talked about his weight was triggering. "My surgeon had told me that he refused to operate on me unless I lost weight," he recalls. "With no recommendations on how to do it, he was just like, you need to lose this amount of weight and I didn't realize how big of a trigger it would be until I spiraled and spent the entire year basically going from restricting myself from eating to like, ending up binging because I had to make up for the fact that I wasn't eating."
Cyan struggled with food restriction and binging. "I spent a lot of last year being too anxious to be in kitchens," he says. "I always thought I had some sort of form of Anorexia, but according to a nutritionist I'm seeing, it's binge-restricted eating disorder."
Transitional phases are also one of the biggest triggers, explains Adee Levinstein, nutrition manager at The Eating Recovery Center. She says that developing in ways that go against your gender is a massive activation for disorders, explaining that trans boys will use restriction as a tool to prevent their bodies from maturing in more feminine ways. "Going through puberty for people assigned female at birth means hips are getting wider, starting periods, growing breasts, and more estrogen is coming into the picture," she says. "When you restrict [food], there are fewer body changes happening because the nutrition is prioritized for the brain. Their goal is not to feel more feminine."
Natalie Allen, an eating disorder therapist, says that one of the reasons people raised as girls statistically experience more eating disorders is because of socialization. "[People assigned female at birth] have historically received a lot more pressure to maintain specific physical beauty standards and ideals," she says.
Cyan felt a lot of pressure from peers and doctors to lose weight since he was nine. "I was not a skinny kid. And that was pointed out to me," he shares with me.
Sitting on his couch and watching Girl Code on MTV, Cyan recalls one of the "diet tips" was chewing ice cubes, pretending they were food. "I remember seeing that and being impressionable. I was like, this feels like the right thing, and maybe I could finally lose weight."
As he got older, his disorder escalated. When he was a teenager, he said it was at its worst. "I would spend the entire day not eating and waiting to see how long I could go before I fainted," he says. "That was a goal of mine."
Emmy Johnson, a clinical psychologist who frequently works with trans men, says trauma is another element. "Eating disorders can numb unpleasant emotions such as gender dysphoria, shame, hurt, and hopelessness about the future," they say. "These are related to lack of representation of happy, healthy trans adults of all body sizes."
Johnson says that steps toward gender affirmation transitions show support in eating disorder recovery. "I have seen how motivating it is for patients to receive gender-affirming care," they wrote to me in an email. "A lot of eating disorder recovery, for anyone, is about exploring and developing identity, and affirming gender identity is critical in eating disorder recovery."
But recovery can be difficult for trans men. Cyan found it easier to be open about his struggles when he was feminine presenting, but now that he has transitioned, he gets nervous talking about it. "I feel like it's taken less seriously because I look like a man, and it's more embarrassing to have to deal with it as a man."
Cyan says one of the things he understood about manhood was that they had different expectations from society. "When I was considering my gender I always thought, men don't have to care about what they look like," he says. "But that was not the case when I ended up transitioning. Men are also held to standards. Just different ones."
Cyan says that most of the research he found was only centered around girls. Nutrition manager Levinstein agrees, saying that when she works with doctors and tries to refer patients, they often assume the patients are cis women.
While trans men experience the highest prevalence of eating disorders, their struggles remain largely under-discussed. "I wish people were more accepting that people can struggle with eating disorders and live in anybody," Rhino shares. "The whole reason why people don't get care is because they're not recognized as having the eating disorder that's talked about the most."
After he got food poisoning last year, Cyan realized he needed to seek care. "I hadn't gone grocery shopping in a while my fridge was really empty. So I was eating whatever I could muster up like I avoided the kitchen a lot," he says. "It was scary for me. The way that I think about food has never been just food, always something more. I felt alone because I didn't know how to have conversations about it, and because I felt like everybody else could eat just fine, like I was the only one dealing with it. I thought to have an eating disorder I had to be underweight, so it must not be that. But thanks to the possible E. Coli I gave myself [from the cheese], I began research on treatment. I'm in a better place now. I'm not disgusted by food anymore"
"Eating disorders by nature are isolating," Levinstein concludes. "And being part of the trans community can also feel very isolating in our current world." She says it makes sense that they overlap. "The idea that a man can struggle with an eating disorder? While it's getting better, we're still lightyears away from people understanding that."