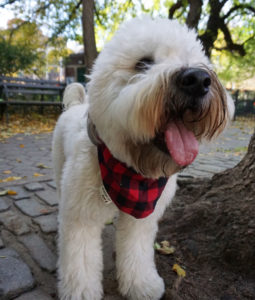 Charlie, better known as @Charlienycwheaten on Instagram strutted into Stuyvesant Square Dog Park  and paraded around in his signature red and black plaid scarf. Charlie was not the only fashion icon in the dog park.
Owners pulled out all the stops for their pups recently at this trendy dog park runway. Puppy-sized jean jackets over stylish heather-grey t-shirts, loose fitting sweaters and flannels, and even shoes or booties were sported by almost every dog in the dog park from Chihuahua to Doberman. It's fall in New York City and the season's dog fashions were on full display.
"They just look so cute," said dog enthusiast Joan Mukogosi. "It's like fashion week, but fluffier."
Charlie's Instagram following is consistently growing as his owner have turned his profile into a fashion blog for dogs of sorts. This wheaten terrier's iconic look is the plaid scarves he wears.
"We get a lot of ideas for new dog trends coming to dog parks," said  Charlie's owner, AlyssaPham.
The snazzy outfits didn't stop the dogs from running, jumping, and playing. Packs ran together in search of a squirrel to chase or just shuffled and sniffed around. Others raced in laps around their owners or towards the balls and toys they tossed.
But even the most stylish outfits were not without utility.
Rocky, a French bulldog sported a denim vest over a stylish grey t-shirt with black booties. Rocky chased Charlie and Buck, a well-dressed pit bull. Buck was clad in an ombre red sweater that covered his front paws and draped over most of his back. The three dogs made a strong case for fashion forward, comfortable dog apparel.
Minnie, a shiba inu, was one of the few dogs in the park not sporting any fall apparel.
"I didn't know dogs could still play like that when they're dressed up," said new dog owner, Kelsey Minnery.
But fashion forward dog owners want their dogs to be as stylish and comfortable as they are.
"I usually choose outfits for Buck based off what I want to wear," said owner, Greg Adcock. "But his comfort is always the deciding factor, if he can't run around and have fun it's not worth it."